A Beer Lover's Weekend in Philadelphia
It's beer, beer and more beer in the best beer-drinking city in America.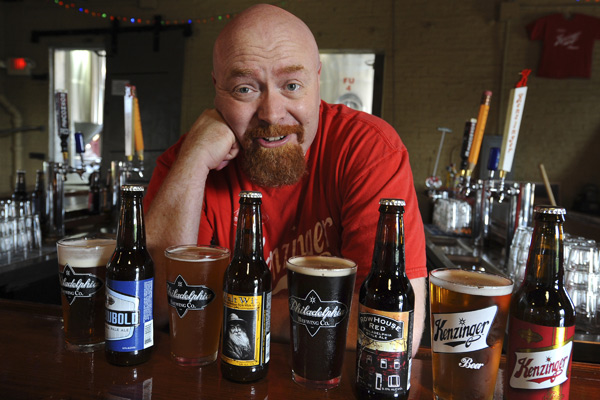 Description
Philadelphia has always been a beer-drinking city. The Declaration of Independence was drafted in Philly's earliest taverns, we're home to the nation's oldest brewery, and with Philly Beer Week (June 4-13, 2010), we make a festival of our love for beer.
These days, it's physically impossible to hit all of Philly's great drinkin' spots in a single weekend. So this itinerary shines a light on some of the very highest points on an ever-growing landscape of awesome breweries, pubs and gastropub.
And here in Philly, you can get just about everywhere via public transportation. So leave your car at home or the hotel and do your drinking sans wheels.
Friday 5:30 p.m.
Bank Shots
Once you've checked into your hotel, get yourself ready for a solid weekend of food and brew in America's best beer-drinking city.
Start things out by heading to National Mechanics in Old City. It's a single, high-ceilinged room that started out life as a bank and then became a storage facility, a church and finally a raucous dance club.
This most recent incarnation, as a friendly and not-too-hip bar and restaurant, seems to be sticking. Their menu is full of well-prepared pub food and the beer choices number more than 30, making it a great place to grab dinner and the evening's first round of beer.
22 S. 3rd Street
National Mechanics
Philadelphia, PA 19106
Friday 7:30 p.m.
Belgium, Ho!
Next we're heading to Eulogy Belgium Tavern on Chestnut Street for the next round of drinks. If you chose not to eat dinner at National, consider some authentic Belgian moules (mussels) or the Belgium fish and chips to accompany your Robust Blonde (Eulogy's house brew).
136 Chestnut Street
Eulogy Belgium Tavern
Philadelphia, PA 19106
Saturday 10:00 a.m.
Greasy Spoon Brunch
After a night of solid drinking, the thing you need now is a nice, greasy breakfast accompanied by plenty of coffee. Try Little Pete's in Rittenhouse, Mrs. K's in Old City or the Dutch Eating Place at Reading Terminal Market (even if they don't drink, the Amish sure know how to make good hangover food).
221 Church Street
Old City Coffee
Philadelphia, PA 19106
Saturday 11:30 a.m.
Lunch to Go
Time to pick up lunch for later. If you're at Reading Terminal , head over to DiNic's for hoagies (their roast pork and greens hoagie is amazing, but it'll leave you hungry for more). Other good places to grab a Philly hoagie include any Wawa, Campo's Deli or Primo Hoagies.
1136 Arch Street
Reading Terminal Market
Philadelphia, PA 19107
Saturday 12 p.m.
Take a Ride to the Brewing Side
Now you're going to explore a Philly brewing staple — but you're going to need some help finding it.
Walk to one of the Market-Frankford El stops (all along the east side of Market Street), buy a five-pack of tokens from a machine or the clerk (it depends on the stop) and get on a train going towards Frankford. Get off at the York-Dauphin stop and walk northeast on Jasper towards Arizona Street. Turn right on E. Hagart Street and then turn right again on Martha Street. Philadelphia Brewing Co. will be on your right, on the corner of Amber Street.
Philadelphia Brewing Co. is open for tours on Saturdays between the hours of 12 and 3 p.m. They don't serve food (hence the sandwiches) but are happy to sell you all the tasty beer you can consume (or carry).
2423 Amber Street
Philadelphia Brewing Co.
Philadelphia, PA 19125
Saturday 2:30 p.m.
Get Liberated
Hop back on the El and get off at Front and Girard Streets. Walk south a couple of blocks on 2nd Street until you reach Liberties Walk.
Take a few moments to give your beer-soaked liver a chance to dry out a little as you wander the shops (you'll find everything from a pet shop to a dominatrix boutique) and get yourself a treat (the cupcakes at the Brown Betty Dessert Boutique are melt-in-your-mouth amazing).
Further down 2nd Street, you'll find Standard Tap , which is believed to have been the very first gastropub in the country. Across the street from "The Tap" is The Foodery , something of a haven for beer lovers with 800+ domestic and imported brews for your mixed six.
837 N. 2nd Street
The Foodery
Philadelphia, PA 19123
Saturday 4:30 p.m.
Disco Nap
Pile into a cab (they're pretty easy to hail on 2nd Street) and head back to your hotel to grab a short bit of shut-eye and spruce up for your second night on the town.
120 S. 17th Street
The Sofitel
Philadelphia, PA 19103
Saturday 7 p.m.
Tempting Treats at Tria
As you tackle your night o' beer, remember: beer drinking is a marathon, not a sprint.
Your first stop of the evening is Tria at 12th and Spruce, Philly's paean to beer, wine and cheese. Match up some beer with 3-5 cheeses (or a few plates of mixed appetizers and light entrees) and enjoy chatting with the knowledgeable staff.
If it's nice outside, try to score a sidewalk table — they're some of the most coveted seats in Philly.
1137 Spruce Street
Tria
Philadelphia, PA 19107
Saturday 9 p.m.
To Ireland We Go
Time to visit Ireland — without ever leaving the City of Brotherly Love. Fergie's is the most authentic Irish pub in town, mostly because it's owned and operated by the very Irish Fergus Carey.
Often, you'll walk in to find a local band playing and a bevy of agile waitresses dodging patrons in order to get you your beer more quickly.
If you're still peckish, they serve an assortment of delicious and comforting pub classics. Right about now, it'll probably hit the spot.
1214 Sansom Street
Fergie's
Philadelphia, PA 19107
Saturday 11 p.m.
Oldest Ale House Around
McGillin's Old Ale House opened in 1860, making it the longest continually operating tavern in the city. They have more than 30 beers on tap and in bottles, including two made by Stoudt's in Adamstown just for them.
To put it simply, this is where Philly drinks. Enjoy.
1310 Drury Street
McGillin's Old Ale House
Philadelphia, PA 19107
Saturday 1 a.m.
When in Philly…
Alright, cheesesteak time.
Finish off your evening by hailing a cab to 9th and Federal, the intersection dominated by the dueling Pat's and Geno's . It's a Philly tradition to end the evening with a pile of thinly sliced, grill-cooked beef on a good Italian roll. If you want grilled onions and Cheese Whiz — which would grant you good social standing with the locals — ask for a "whiz wit."
1237 E. Passyunk Avenue
Pat's King of Steaks
Philadelphia, PA 19147
Sunday 11:30 a.m.
Best Belgian Bar in Town
We've saved the best for last. Monk's doesn't just have a beer list; they keep their beer collection cataloged in a three-ring notebook for your perusing pleasure.
Order up brunch or lunch (we suggest one of their eight varieties of mussels) and toast your weekend with a cup of coffee or — who are we kidding? — a tall draft.
264 S. 16th Street
Monk's
Philadelphia, PA 19102
Hotels + More
The Basics
Transportation
If you're traveling from New York, New England, DC, Baltimore, Harrisburg, etc., Amtrak is easy — book online at Amtrak or call 1-800-USA-RAIL.
Driving
If you drive here, stash your car off-street until you leave. Though you might enjoy an occasional cab, trolley or carriage ride, most of these places can be reached on foot. Parking regulations are strictly enforced in the historic area, and you may find yourself getting towed with un-municipal efficiency.
Start at the Center
The Independence Visitor Center (IVC) — the exclusive pick-up location for free tickets to Independence Hall — offers personalized trip-planning services, free WIFI, brochures and maps, informational exhibits and films, a gift shop, two cafes and tickets to all major tours and attractions in the Philadelphia region. Located at 6th & Market Streets across from the Liberty Bell, the IVC is your one-stop-shop for tickets, souvenirs, itinerary planning, maps and more. Stop at the IVC when you arrive in Philadelphia, or call 800-537-7676 to speak to a live concierge.
Accommodations
The Holiday Inn Philadelphia :: Historic District is right in the thick of everything and has a sunny rooftop pool with a view (if you're visiting during the warm months).
The Sheraton Society Hill Hotel is just four blocks from Independence Hall and a block from Penn's Landing in beautifully restored Society Hill. It has a bit more greenery than most city hotels and a heated indoor pool.
The Hyatt Regency is one of Old City's newest hotels, a tower right on the Delaware River. Sit at the outdoor bar and listen to the creak-creak of moored boats.
The Sofitel , located in the former Philadelphia Stock Exchange Building, places you right in the center of the Rittenhouse Square shopping and dining district.
The Philly Overnight® Hotel Package is a great deal. It's available throughout the Spring and comes with free hotel parking with a two-night stay. Click here to check out the package, then choose your favorite hotel!
More food and drink, please!
Of course, this itinerary is just a sample of the amazing range of food and drink in Philadelphia. Take a closer look at our Dining and Nightlife opportunities and chart your own course across the city!
201 S. Columbus Blvd.
Hyatt Regency at Penn's Landing
Philadelphia, PA 19106
Details
View On Map
Location
Center City Philadelphia and its great neighborhoods
Transportation
Foot, Cab, or Public Transit
Duration
36 hours (Friday evening to Sunday afternoon)
Neighborhood
Neighborhood:
/
/
/
/
/
/
/
/
/
/