A Weekend in Historic Philadelphia…on a Budget
A cost-conscious weekend full of food, historic sites, concerts and cocktails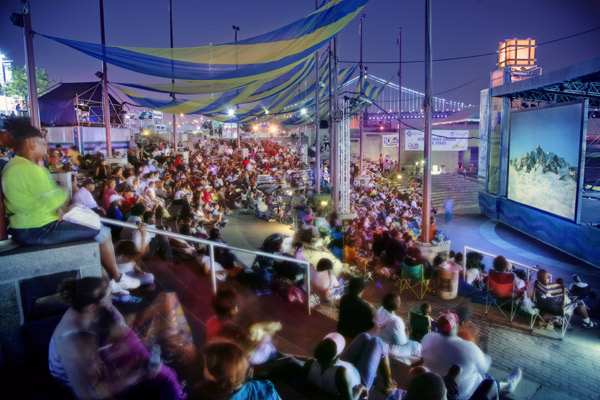 Description
So you're on vacation. Believe it or not, that doesn't mean you have to splurge!
In Historic Philadelphia, you'll find plenty of places where prices haven't changed much since our Founding Fathers were milling about town.
And we've put an entire weekend itinerary together for you, a step-by-step guide full of budget-conscious meals, fun stuff for the family and even a few cost-effective cocktails.
For even more fun on the cheap, check out our weekly-updated Food and Drink Deals.
So read on — and we'll see you when you get here!
Friday 5 p.m.
Happy Hour
Welcome to Philadelphia, "America's best beer-drinking city." To start your vacation on the right foot — rather, the right barstool — head to The Khyber, a charmingly gritty bar in the middle of 2nd Street.
This is a great spot to get a casual burger and fries, knock back a few local microbrews and catch an up-and-coming live act. And for authentic Philadelphia attitude, you really can't do much better than The Khyber.
Just up the street is National Mechanics, a newer bar known for its gastropub-esque menu and quirky decor. Try a delicious salad or a gourmet burger — everything is tasty and light on your wallet.
22 S. 3rd Street
National Mechanics
Philadelphia, PA 19106
Friday 8 p.m.
Rockin' on the Riverfront
From Old City, it's just a short, breezy walk down to Penn's Landing where, on Friday nights, you can catch free concerts all summer long. Ranging from gospel to jazz to R&B, the music is family-friendly and the scenery — the Delaware River to the east and the Philadelphia skyline to the west — is pretty much unbeatable.
Extra credit: If you visit Philadelphia for a mid-week stay, you can get cinematic on Thursday nights in the Summer with Penn's Landing's free Screenings Under the Stars.
And if you visit during the colder months, lace up and skate at the Blue Cross RiverRink. This ice rink comes equipped with a heated pavilion, snack bar and lessons for the whole family.
199 S. Columbus Boulevard
The Great Plaza at Penn's Landing
Philadelphia, PA 19106
Friday 10 p.m.
The Night is Still Young
Before you close the lid on your Friday night, head to Race Street Cafe, located just on the edge of Old City. A quiet spot filled with quiet conversations — and possibly some live music — Race Street serves up top-notch pub fare and a diverse set of brews. Meanwhile, the late-night menu features bar staples hovering around the $5–10 range.
If you want a more happening scene, Triumph Brewing Company is a two-story architectural wonder where beer is the starring act. Their late-night menu is a little pricier than Race Street's, but the European-style grub is still quite affordable.
117-121 Chestnut Street
Triumph Brewing Company
Philadelphia, PA 19106
Saturday 9 a.m.
A Philly Breakfast
Mrs. K's Koffee Shop (3rd and Chestnut Streets) is a Philadelphia legend, for a few reasons. First, you can get generous portions of your favorite breakfast plus a cup of coffee for under $8. Second, if you're so inclined, you can try a delicious plate of scrapple — a real Philadelphia pastime. Finally, you'll meet a waitress who calls you "Hon" and gently chides you if you don't finish your meal.
In short, you're getting a generous dose of authentic Philadelphia to help wake you up.
325 Chestnut Street
Mrs. K's Coffee Shop
Philadelphia, PA 19106
Saturday 10 a.m.
Classic Stops — on the Cheap!
Head over to the Independence Visitor Center to get your free, timed tickets to see Independence Hall.
You can also check out the gift shop and re-fill your water bottles here (bringing a reusable water bottle is a great way to keep costs down, as you won't be tempted to spring for a soda).
Spend the rest of the morning touring Independence Hall (FREE) and Congress Hall (FREE), seeing The Liberty Bell (FREE) and wandering through Franklin Court (FREE, but with a suggested donation).
5th and Chestnut Streets
Independence Hall
Philadelphia, PA 19106
Saturday 12:30 p.m.
A Bite Between Sites
Lunchtime! And you're in luck — Philadelphia is a city that loves to eat.
Campo's has been dishing out delicious-but-cheap cheesesteaks and hoagies since 1947. You'll be getting one of the best sandwiches (under $8) you've ever had, plus a peek at a thoroughly charming corner deli.
Or for a more exotic option, take the short walk to Chestnut Street, where Spanish tapas restaurant Amada offers the Catalan Express lunch for just $14.50. Not a bad price, considering that Amada is one of the very best restaurants in the city.
217-219 Chestnut Street
Amada
Philadelphia, PA 19106
Saturday 2 p.m.
Getting the Story Straight
Head north to historic Christ Church (FREE, but with a suggested donation), Elfreth's Alley (FREE) and The Betsy Ross House ($3 for adults, $2 for students and ages 12 and under). During the Summer, there are re-enactors who regularly perform in the courtyard at Betsy Ross' place, which offers a nice opportunity to rest and enjoy the shade of the old trees.
While you're in the area, try to find a Once Upon a Nation bench, where you can sit and listen to professional storytellers spin tales about Philadelphia's earliest days, free of cost.
126 Elfreth's Alley
Elfreth's Alley
Philadelphia, PA 19106
Saturday 6 p.m.
Supper in the City
For a no-frills, comfortable dinner that's easy on your wallet, Sassafras International Café — which is more of a bar, really — may be your best bet. The locals swear the burgers are "the best in town" and that even James Bond himself couldn't mix up a better martini.
Not feeling like a burger? Try a gourmet pizza at Pizzicato, where the ingredients are fresh and the crust is light and fluffy. And you can't beat the sidewalk seating, putting you right in the center of Old City's growing Saturday night scene.
But before you commit to a plan, check over our Food and Drink Deals for something in the area. Great restaurants like Zahav and Cuba Libre are known to offer prix-fixe meals or half-priced appetizers, so keep an eye out!
48 S. 2nd Street
Sassafras International Café
Philadelphia, PA 19106
Saturday 8 p.m.
Make Mine a Double Scoop!
If you still have energy and a little cash in your wallet, head over to Franklin Fountain for a treat. This ice cream parlor serves more than 15 homemade flavors — like teaberry gum and pistachio, plus vanilla and strawberry — and every bite is a guaranteed trip back in time to the roaring '20s.
The options are a bit pricey, but small scoops are available and the sundaes are big enough to share. Bottoms up!
116 Market Street
Franklin Fountain
Philadelphia, PA 19106
Saturday 10 p.m.
Taste and See
Tonight, you'll be choosing your own adventure — your gustatory adventure, that is. At Beneluxx, which is actually located below ground along 3rd Street, you can try samples of chocolate, cheese, wine and beer (where a whopping 30 brews are on draft).
Beneluxx is the only restaurant in the world with glass rinsers built into the tables, so you can sample and cleanse as you go. Happy tasting!
33 S. 3rd Street
Beneluxx
Philadelphia, PA 19106
Saturday 12 midnight
More Cheap Drinks
Why end your vacation early? Get one final round of drinks at Sugar Mom's, a hip, subterranean bar where you'll find cheap beers on tap, corn dogs on the menu and pinball machines lining the walls.
Or stay above ground with a quick jaunt to Skinners Dry Goods Tavern on 2nd and Market, an everybody-knows-your-name kind of bar where pitchers and booths are the way to go.
225 Church Street
Sugar Mom's
Philadelphia, PA 19106
Sunday 9 a.m.
Brunch Bets
For a quick breakfast, take a short walk to Cosi at 4th and Chestnut Streets — they have a nice selection of bagels, eggs, coffee and smoothies, and you can't beat it for affordability.
Or for a more authentic (though slightly more expensive) Philadelphia breakfast, visit Old City Coffee for bagels, croissants and a few cups o' Joe, their version of which is consistently voted one of the best in town.
221 Church Street
Old City Coffee
Philadelphia, PA 19106
Sunday 10 a.m.
Down on the Farm
Starting at 2nd and Lombard Streets, you'll find the newly revived Headhouse Square Farmers' Market. You can pick up coffee, fresh fruit, bread and cheese here, perfect for a late-morning picnic.
There are a few tables set up around the Market, or you can take your goodies over to Penn's Landing and eat while enjoying the breeze by the Delaware River.
2nd and Lombard Streets
Headhouse Square Farmers' Market
Philadelphia, PA 19106
Hotels + More
The Basics
Transportation
If you're traveling from New York, New England, DC, Baltimore, Harrisburg, etc., Amtrak is easy – Book online at Amtrak or call 1-800-USA-RAIL.
Driving
If you drive here, stash your car off-street until you leave. Though you might enjoy an occasional cab, trolley or carriage ride, most of these places can be reached on foot. Parking regulations are strictly enforced in the historic area, and you may find yourself getting towed with un-municipal efficiency.
Start at the Center
The Independence Visitor Center (IVC) — the exclusive pick-up location for free tickets to Independence Hall — offers personalized trip-planning services, free WIFI, brochures and maps, informational exhibits and films, a gift shop, two cafes and tickets to all major tours and attractions in the Philadelphia region. Located at 6th & Market Streets across from the Liberty Bell, the IVC is your one-stop-shop for tickets, souvenirs, itinerary planning, maps and more. Stop at the IVC when you arrive in Philadelphia, or call 800-537-7676 to speak to a live concierge.
Accommodations
You can't get much closer than the "Holiday Inn Philadelphia :: Historic District"/hotels/philadelphia/holiday-inn-philadelphia-historic-district/ , which is right in the thick of everything (distance: 0 miles) and has a sunny rooftop pool with a view.
The Sheraton Society Hill Hotel is just four blocks from Independence Hall and a block from Penn's Landing in beautifully restored Society Hill. It has a bit more greenery than most city hotels and a heated indoor pool.
The Hyatt Regency is one of the historic area's newest hotels, a tower right on the Delaware River. Sit at the outdoor bar and listen to the creak-creak of moored boats.
The Philly Overnight® Hotel Package is a popular getaway — and a terrific deal. It's available throughout the year and gives you free parking (worth $50 or more) and special offers and discounts — in addition to deluxe accommodations in Center City. Check out the package, then pick your favorite hotel.
More Food and Drink, Please!
Of course, this itinerary is just a sample of the amazing range of food and drink in Philadelphia. Take a closer look at our Dining and "Nightlife"/nightlife opportunities and chart your own course across the city!
201 S. Columbus Boulevard
Hyatt Regency At Penn's Landing
Philadelphia, PA 19106
Details
View On Map
Location
Historic Philadelphia
Transportation
Walking. Cabs, horse-drawn carriages, and trolley optional.
Duration
Approximately 36 hours (Friday evening to Sunday afternoon)
Neighborhood
Town:
/
/
/
/
/
/
/
/
/
/
/
/
/
/
/
/
/
/
/
/
/
/
/
/
/
/
/
/
/
/
/
/
/
/