A Weekend in Historic Philadelphia… with Kids
A family-friendly weekend in the Birthplace of Freedom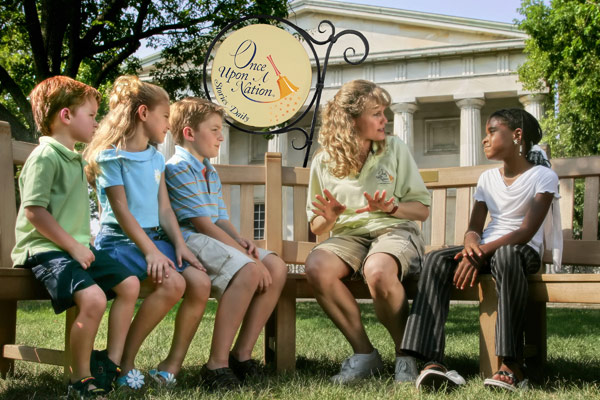 Description
Ready for a vacation that your kids can enjoy too? In Historic Philadelphia, your children's history lessons from school will come to life — they can examine The Liberty Bell, stroll through Independence Mall and even stand in Betsy Ross' living room. And the fun doesn't end there.
With carriage rides, vintage ice cream parlors and amazing dining destinations around every corner, Historic Philadelphia is an affordable, accessible and educational vacation destination that the whole family can enjoy.
So read on, pack your bags and have fun in the Birthplace of America!
Friday 5 p.m.
Gourmet People-Watching
Your family weekend in Philadelphia starts with dinner at Pizzicato. This casual and kid-friendly restaurant is filled with the aromas of gourmet pizzas with fluffy crusts and only the freshest of ingredients.
But Pizzicato's best characteristic may be its location — at the corner of 3rd and Market Streets, where the excitement of Friday in Old City is starting to build right in front of you. Our advice? Sit outside and get there early enough (before 7 P.M.) to beat the crowds.
248 Market Street
Pizzicato
Philadelphia, PA 19106
Friday 7:30 p.m.
Getting Ghoulish
After dinner, head over to 5th and Chestnut to meet up with your Ghost Tours of Philadelphia guide. These well-informed storytellers will walk you around Old City, with a lantern to the light the way, spinning tales of Philadelphia's spooky past.
The tour lasts 90 minutes and does involve a lot of walking — so if you've got real little ones, bring your stroller. Pre-registration is required — so visit Ghost Tour to reserve your family's spot.
After your tour, there's a good chance Penn's Landing is hosting one of its famous free summertime concerts . Check out the concert schedule and head down to the riverfront!
And if you're here during the colder months, it's time to lace up and skate at the Blue Cross RiverRink ! This ice rink comes equipped with a heated pavilion, snack bar and lessons for the whole family.
5th and Walnut Streets
Ghost Tours of Philadelphia
Philadelphia, PA 19106
Saturday 8 a.m.
Sunny Side Up
Give your kids a taste of true Philly attitude with a quick diner breakfast at Mrs. K's. Sit at one of the two horseshoe-shaped counters, where the waitresses call you "Hon" and gently chide you if you don't finish your plate.
After you've had your fill of eggs and toast, head over to the Independence Visitor Center , where you can get free timed tickets for the tour of Independence Hall and get a brief refresher on Philadelphia history. (If you want to lock in a time for your family to visit Independence Hall, you can order tickets online from the National Park System for $1.50 a piece.)
6th and Market Streets
Independence Visitor Center
Philadelphia, PA 19103
Saturday 10 a.m.
Kids, This is Where History Was Made
Spend the rest of the morning visiting some of the pinnacles of American history — The Liberty Bell and Independence Hall .
You can easily see the famous freedom ringer while walking past the glass-walled Liberty Bell Center, but step inside to explore interactive exhibits and films and even get an x-ray view of the Bell's inter-workings. Your kids will marvel at the size of the Bell — not to mention the clumsiness of the people who cracked it.
And Independence Hall is just across the street. Here, you'll stand in the same room where George Washington, John Adams and Philadelphia's own Benjamin Franklin debated ideas and helped build a nation. And the chair over there with the rising sun at the top? That's where George Washington sat for nearly three months straight in 1776.
6th and Chestnut Streets
The Liberty Bell Center
Philadelphia, PA 19103
Saturday 12 p.m.
Do Lunch Like the Locals
It's lunchtime, and in Philadelphia that means hoagies and cheesesteaks. Luckily, you can sample both on the same block — between 2nd and 3rd on Market Street.
Here, you can visit Sonny's to get some of Philadelphia's favorite cheesesteaks. And if you want a delicious, and authentic Philadelphia hoagie, head to Campo's for a sandwich to write — or at least text — home about.
Another great option for families is the brand new outdoor cafe, Independence Al Fresco, at the Independence Visitor Center, where not only can you take in a delicious alfresco meal right on Independence Mall but you'll also be able to enjoy Philly favorites like cheesesteaks, water ice and fresh salads.
Or you can walk just across Independence Mall to the historic Bourse building, where you can get lunch from an assortment of vendors — or even order ahead with the Bourse's box lunch program.
214 Market Street
Sonny's
Philadelphia, PA 19106
Saturday 1:30 p.m.
A Hot Spot for Tots
Now that you've had a restful lunch, it's time to get back to business exploring Historic Philadelphia. And for the pint-sized set, there's no more fun place to explore Philadelphia's history than Franklin Square .
First created as one of the city's five original squares, Franklin Square is now home to a miniature golf course, a vintage carousel, storytelling and concession stand.
So spend a good part of your afternoon here — playing, snacking and enjoying a few history lessons.
6th and Race Streets
Franklin Square
Philadelphia, PA 19103
Saturday 4 p.m.
Flag-Waving Fun
It's time to visit another staple of Philadelphia's rich history — The Betsy Ross House .
See where the most famous seamstress applied her needle and thread to the first American flag, where she lived with her children and where she's buried. They also have a fun gift shop where you can buy tri-corner hats and old-fashioned mob caps — so your kids can continue the colonial fun when you get home.
239 Arch Street
The Betsy Ross House
Philadelphia, PA 19106
Saturday 5 p.m.
We All Scream for Ice Cream
Both kids and kids-at-heart love an afternoon scoop of ice cream. Head over to Franklin Fountain for a cone or cup. Modeled after early 20th-century ice cream parlors, you'll be waited on by servers who dress the part.
The menu features ice cream sodas, sundaes and other treats from the days of yore – try Dr. Dovey's Classic Banana Split, named after the doctor who first introduced the treat to Philadelphia around 1904.
116 Market Street
Franklin Fountain
Philadelphia, PA 19106
Saturday 6:30 p.m.
Supper in the City
After a quick stop at your hotel to change, rest up and check on the ballgame, it's time to enjoy a well-deserved dinner.
For quality comfort food and a dining room reminiscent of the Brady Bunch's family room, check out Jones . With a 1970s-themed menu full of fried chicken and waffles, chicken noodle soup and "Thanksgiving Dinner," you know your kids will find something they like.
Farmicia is one of Philadelphia's leaders in the Buy Fresh, Buy Local charge. Entrées like London broil and duck breast may be more high-brow than your kids are used to, but you know that they're getting only the freshest ingredients in their dinners.
700 Chestnut Street
Jones
Philadelphia, PA 19106
Sunday 9 a.m.
A Fresh Start to Sunday
For a quick breakfast, take a short walk to Cosi at 4th and Chestnut Streets — they have a nice selection of bagels, eggs, coffee and smoothies.
For a more hearty affair, head to The Plough and the Stars on 2nd Street. You can get a great Irish brunch here, with your choice of omelets, Shepard's Pie and eggs Benedict filling the menu — and the space is very kid-friendly.
123 Chestnut Street
The Plough and the Stars
Philadelphia, PA 19106
Sunday 10:30 a.m.
Sweeping You Off Your Feet
Now that you've had a delicious breakfast, it's time for a leisurely tour of Historic Philadelphia. Give your feet a break and try taking a ride in one of the horse-drawn carriages that line 5th Street.
The knowledgeable drivers will guide you down cobblestone streets and give you a chance to see the major historic attractions as well as the area's abundance of charming brick row houses, many of which have been around since the 18th Century.
5th and Chestnut Streets
Independence Hall
Philadelphia, PA 19106
Sunday 12 p.m.
Freedom Rising
Devote the rest of your time in Philadelphia to the National Constitution Center , an incredible, highly interactive museum dedicated to that famous four-page document.
Your kids can take the Presidential Oath, don judicial robes, come face-to-face with our Founding Fathers (life-sized bronze models, of course) and watch "Freedom Rising," an incredible interactive presentation that asks, "What will you do with your freedom?" A good question, indeed.
525 Arch Street
National Constitution Center
Philadelphia, PA 19106
Hotels + More
The Basics
Transportation
If you're traveling from New York, New England, DC, Baltimore, Harrisburg, etc., Amtrak is easy – Book online at Amtrak or call 1-800-USA-RAIL.
Driving
If you drive here, stash your car off-street until you leave. Though you might enjoy an occasional cab, trolley or carriage ride, there's nothing you can't reach on foot. Parking regulations are enforced in the historic area, and you may find yourself getting towed with un-municipal efficiency.
Start at the Center
The Independence Visitor Center (IVC) — the exclusive pick-up location for free tickets to Independence Hall — offers personalized trip-planning services, free WIFI, brochures and maps, informational exhibits and films, a gift shop, two cafes and tickets to all major tours and attractions in the Philadelphia region. Located at 6th & Market Streets across from the Liberty Bell, the IVC is your one-stop-shop for tickets, souvenirs, itinerary planning, maps and more. Stop at the IVC when you arrive in Philadelphia, or call 800-537-7676 to speak to a live concierge.
Accommodations
You can't get closer than the bustling Holiday Inn Philadelphia Historic District , which is right in the thick of everything (distance: 0 miles) and has a sunny rooftop pool with a view.
The Sheraton Society Hill is just four blocks from Independence Hall and a block from Penn's Landing in residential Society Hill. It has a bit more greenery than most city hotels and a heated indoor pool.
The Hyatt Regency is one of the historic area's newest hotels, a tower right on the Delaware River. You can sit at the outdoor bar and listen to the creak-creak of moored boats.
The Philly Overnight® Hotel Package is a popular getaway — and a terrific deal. It's available throughout the year and gives you free parking (worth $50 or more) and special offers and discounts – in addition to deluxe accommodations in Center City Philadelphia. Check out the package, then pick your favorite hotel.
More food and drink, please!
Of course, what we've recommended is just a sample of the amazing range of food and drink in Philadelphia. Take a closer look at the city's Dining and Nightlife offerings and pick your favorites.
201 S. Columbus Boulevard
The Hyatt Regency
Philadelphia, PA 19106
Details
View On Map
Location
Historic Philadelphia
Transportation
On Foot
Duration
36 hours or so (Friday evening to Sunday afternoon)