A Weekend on the Parkway
Explore the Benjamin Franklin Parkway, Philadelphia's Champs-Elysées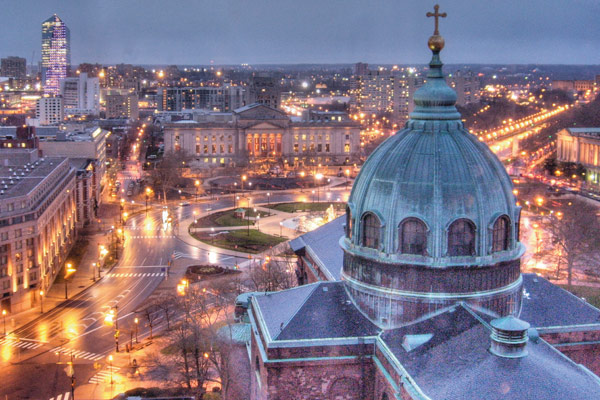 Description
The Benjamin Franklin Parkway, or simply "the Parkway," is in many ways the cultural heart of Philadelphia. Designed in 1917 to emulate the Champs-Elysées, the Parkway has been host to the nation's oldest Thanksgiving Parade, Live 8, a free Bruce Springsteen concert and Sunoco Welcome America!, Philadelphia's July 4th party.
Lined with flags from around the world, the Parkway begins at City Hall and ends dramatically at the Philadelphia Museum of Art. Between these two points, you'll discover 4,000-year-old books, 120 sculptures by Auguste Rodin, America's most historic prison and much, much more.
Friday 5 p.m.
An Artistic Entrance
Since it's Friday night, and it's just slightly after 5 p.m., there's no better place to be than Art After 5, a Friday night ritual at the Philadelphia Museum of Art fully stocked with jazz acts, appetizers and spirit-lifting spirits.
You can enjoy your music, food and drinks from the stone steps at the heart of the Museum (we're talking about the steps inside — but feel free to run up the outdoor steps Rocky-style on your way in). Then wander around the Museum's exhibits while jazz notes waft through the halls.
2600 Benjamin Franklin Parkway
Philadelphia Museum of Art
Philadelphia, PA 19130
Friday 7:30 p.m.
Take Me To the River
We're treating you to something special for dinner tonight (in other words, jacket required) — the Water Works Restaurant , a new space just below the Philadelphia Museum of Art with exquisite views of the Schuylkill River and Boathouse Row.
Since water is the theme, seafood is especially apt for ordering — we recommend the Mediterranean-influenced grilled octopus. Thirsty? You're at the right place. In addition to a generous wine list, the restaurant offers an international list of waters to try.
After dinner, step outside to enjoy the promenade along the river, the sculptural gardens and the illuminated Philadelphia skyline.
1 Boathouse Row
Water Works Restaurant and Lounge
Philadelphia, PA 19130
Friday 9:30 p.m.
Belgian Suds and Snacks
To cap off your night, it's just a short walk to Belgian beer authority Bridgid's. (Note: you'll walk past the stunning art deco façade of the Perelman Building, the newest addition to the Philadelphia Museum of Art.)
Bridgid's was Philly's first bar to specialize in Belgian beer and cuisine. Nowadays, the theme is emulated throughout the city — but you still can't beat Bridgid's pairing of comfortable, fireside digs and just plain good food and beer. And luckily for your late-night cravings, their kitchen stays open until 11 p.m. on Friday nights.
726 N. 24th Street
Bridgid's
Philadelphia, PA 19130
Saturday 9 a.m.
Putting on the Ritz
Your day starts just southeast of the Parkway at the Ritz-Carlton .
10 Arts, the restaurant on the hotel's ground floor, sits beneath the impressive dome visible from Broad Street. Guided by the culinary genius of internationally renowned chef Eric Ripert, 10 Arts specializes in sustainable American cuisine made with local ingredients — and, of course, a breathtaking setting befitting a Ritz-Carlton.
For breakfast, we suggest the 10 Arts Banana Pancakes or organic Eggs en Cocette.
10 Avenue of the Arts
10 Arts
Philadelphia, PA 19102
Saturday 10:30 a.m.
L-O-V-E
No trip to Philadelphia is complete without a photo in front of Robert Indiana's LOVE sculpture .
Those famous four letters are known to have quite the aphrodisiacal effect — as evidenced by our LOVE video .
15th and Arch Streets
LOVE Sculpture
Philadelphia, PA 19102
Saturday 11 a.m.
Wear Your Saturday Best
While walking along the Parkway, one can see the green dome of the Cathedral Basilica of Saints Peter & Paul rising above office buildings and restaurants.
Upon closer inspection, the largest Catholic Church in Pennsylvania (and largest brownstone structure in Philadelphia) reveals itself to be one of the city's greatest architectural achievements.
Built in 1864 to resemble the Lombard Church of St. Charles in Rome, the Cathedral Basilica hosted Pope John Paul II for mass services in 1979. In addition to its main sanctuary (which holds 2,000 worshippers), the Cathedral has eight side chapels.
1723 Race Street
Cathedral Basilica of Saints Peter & Paul
Philadelphia, PA 19103
Saturday 12 noon
Scholarly Sights
Set within the Free Library of Philadelphia's Central Branch at 19th and Vine Streets, the Rare Book Department houses manuscripts and first editions dating back 4,000 years.
Venture up to the library's third floor to view the 100,000-book collection, which includes the Edward IV scroll and works by Beatrix Potter, Howard Pyle and Edgar Allan Poe, whose pet bird Grip — the inspiration for his poem "The Raven" — lives here, stuffed for all eternity.
Once you've finished browsing, step outside to get a photo in front of the Swann Fountain in Logan Park.
1901 Vine Street
Free Library of Philadelphia Rare Book Department
Philadelphia, PA 19103
Saturday 1:30 p.m.
Lunch With a Past
Café Cret is a new spot on the Parkway, but its name goes back a ways: Paul Phillipe Cret (October 24, 1876 – September 8, 1945) was the French architect who designed Philadelphia's Benjamin Franklin Bridge and co-designed the Parkway itself, as well as the Rodin Museum (we'll get there yet!) and the Barnes Foundation in Lower Merion, the latter of which will be moving to the Parkway in the near future.
The café has any number of items that could suit your strolling fancy — stop in for a quick cup of Joe, a breakfast burrito, sandwiches, salads or even a milkshake.
16th and Benjamin Franklin Parkway
Café Cret
Philadelphia, PA 19103
Saturday 2:30 p.m.
Head to the Pen
Walk off your lunch or take a cab to Eastern State Penitentiary , a Gothic-style, castle-like prison on Fairmount Avenue.
Eastern State is considered a "who's who" of the underworld: Bank robber Willie Sutton, who staged a breakout in 1945, and Al Capone, who furnished his cell with antiques, rugs and oil paintings, both served time here.
The hour-long prison tour ends at the fascinating prison museum, but not before taking a peek at Capone's cell, which is still adorned with the belongings he left in 1929.
22nd Street and Fairmount Avenue
Eastern State Penitentiary
Philadelphia, PA 19130
Saturday 4 p.m.
Good Thinking
The Thinker greets you outside the Rodin Museum , the largest collection of French sculptor Auguste Rodin's works outside of Paris.
Included in the 120+ piece collection are The Kiss, Eternal Springtime, The Burghers of Calais and a cast of The Gates of Hell.
Co-designed by Paul Phillipe Cret and French landscape architect Jacques Greber, the museum opened in 1929.
22nd Street and Benjamin Franklin Parkway
The Rodin Museum
Philadelphia, PA 19101
Saturday 7 p.m.
Going Dutch
In keeping with this weekend's European influence, dinner tonight is at Rembrandt's, a restaurant modeled after the bars and cafés of Amsterdam — and, of course, named after Dutch artist Rembrandt van Rijn.
Try the monkfish, steak frites or award-winning pizzas and — weather permitting — try to score a table outside.
741 N. 23rd Street
Rembrandt's
Philadelphia, PA 19130
Saturday 10 p.m.
End of the Road
Alas, it's the end of the night. The Rose Tattoo Café is built for moments like this, its romantic ambiance and extensive wine list perfect for that last before-sunrise conversation over a few nightcaps.
1847 Callowhill Street
Rose Tattoo Café
Philadelphia, PA 19130
Sunday 10 a.m.
Get Your Fill of French Toast
This morning, you're going to enjoy a real Philadelphia treat — brunch at Sabrina's Café and Spencer's Too , the second edition of the beloved BYOB restaurant in the Italian Market. And while the original Sabrina's is famous for its long lines, at Sabrina's Too, you can usually enjoy your stuffed French toast, omelets and frittatas somewhat free of waiting time.
And once you've had your fill of brunch — and those are some serious helpings — you can walk it off at our next stop.
1804 Callowhill Street
Sabrina's Café and Spencer's Too
Philadelphia, PA 19130
Sunday 11:30 a.m.
State of the Art
Wildly colorful and extravagantly detailed, the Pennsylvania Academy for the Fine Arts — a 1876 National Historic Landmark building designed by Frank Furness and George W. Hewitt — provides an extraordinary setting for its collections, which include works by Thomas Eakins, Charles Willson Peale, Mary Cassatt and Andrew Wyeth. (His Young America painting depicts a young boy on his bike.)
Take your time browsing the artwork and walking off your brunch.
118 N. Broad Street
Pennsylvania Academy of the Fine Arts
Philadelphia, PA 19102
Sunday 1 p.m.
Science!
The first incarnation of The Franklin Institute Science Museum opened in 1824 inside Independence Hall to honor — who else? — Benjamin Franklin, Philadelphia's finest scientist.
In 1934, The Franklin Institute reopened on the Parkway. Set within an expansive building modeled after the Pantheon, The Franklin is now one of the nation's top-ranked science museums. Don't miss the Giant Heart (climb on in and explore!) and the Tuttleman IMAX Theater.
222 N. 20th Street
The Franklin
Philadelphia, PA 19130
Sunday 2:30 p.m.
Dino-rama
Continuing your scientific afternoon in Philadelphia, head down the street to the Academy of Natural Sciences. Founded in 1812, the Museum is the oldest of its kind in the Western Hemisphere.
Here, you can climb inside a tyrannosaurus rex skull, dig for fossils and view a fully constructed gigantosaurus skeleton (he's a big guy!).
1900 Benjamin Franklin Parkway
The Academy of Natural Sciences
Philadelphia, PA 19103
Hotels + More
The Basics
Transportation
If you're traveling from New York, New England, DC, Baltimore, Harrisburg, etc., Amtrak is easy — book online at Amtrak or call 1-800-USA-RAIL.
Driving
If you drive here, stash your car off-street until you leave. Though you might enjoy an occasional cab, trolley or carriage ride, there's nothing you can't reach on foot. Parking regulations are enforced in the historic area, and you may find yourself getting towed with un-municipal efficiency.
Start at the Center
The Independence Visitor Center (IVC) — the exclusive pick-up location for free tickets to Independence Hall — offers personalized trip-planning services, free WIFI, brochures and maps, informational exhibits and films, a gift shop, two cafes and tickets to all major tours and attractions in the Philadelphia region. Located at 6th & Market Streets across from the Liberty Bell, the IVC is your one-stop-shop for tickets, souvenirs, itinerary planning, maps and more. Stop at the IVC when you arrive in Philadelphia, or call 800-537-7676 to speak to a live concierge.
Accommodations
A great choice for your stay is the Marriott Downtown Philadelphia. Located in the center of Center City, the Mariott is one of Philadelphia's biggest hotels. And with its newly completed, $6.3-million renovation, the Marriott offers guests a modern and interactive lobby, as well as "13," the hotel's new signature restaurant.
Since you'll be dining at 10 Arts, a stay at the Ritz-Carlton would be a convenient choice — albeit an expensive one. But go ahead and treat yourself.
No hotel will put you closer to the Parkway than the Four Seasons. With a view overlooking the Swann Fountain at Logan Circle, the Five-Diamond, award-winning Four Seasons would ensure you'll have a luxurious weekend.
The Philly Overnight® Hotel Package is a popular getaway — and a terrific deal. It's available throughout the year and gives you free parking (worth $50 or more) and special offers and discounts — in addition to deluxe accommodations in Center City Philadelphia. Check out the package, then pick your favorite hotel.
More Food and Drink, Please!
Of course, what we've recommended is just a sample of the amazing range of food and drink in Philadelphia. Take a closer look at the city's Dining and Nightlife offerings and pick your favorites.
18th and Race Streets
The Four Seasons Philadelphia
Philadelphia, PA 19103
Details
View On Map
Location
Benjamin Franklin Parkway
Transportation
On foot or in a taxi
Duration
36 hours (Friday evening to Sunday afternoon)
Neighborhood
Neighborhood: