Exploring Gay Philadelphia
Keep your history straight and your nightlife gay with this guide to gay life in Philadelphia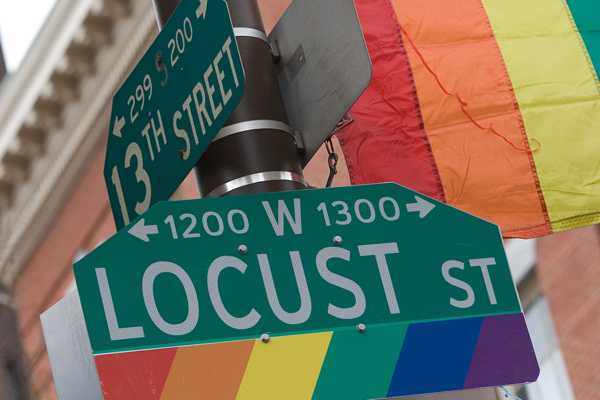 Description
Over the past few decades, the City of Brotherly Love has evolved into a place that lives up to its gay-friendly billing. Philadelphia has history on its side: It was the site of some of the nation's first gay rights pickets, and in 1982 was one of the first cities in the country to pass an anti-gay discrimination law.
Today, the city is home to a large and vibrant gay and lesbian community. And at the heart of gay Philadelphia is Center City's Washington Square West, a neighborhood of handsome town homes and charming, narrow back streets where many gay businesses and much of the nightlife is located.
Friday 5:30 p.m.
Time to Wet the Whistle
Your visit to Philadelphia starts in Midtown Village, a particularly gay-friendly area of Center City that's been growing by leaps and bounds for the past five years. Settle into a booth or grab a seat at the bar at Stephen Starr's Mexican-themed restaurant El Vez for a lovely sangria or mojito. And don't miss the guacamole cart, which will be happily wheeled to your table.
121 S. 13th Street
El Vez
Philadelphia, PA 19107
Friday 7 p.m.
BYOTequila
Dinner at El Vez is always a great choice. But our pick for the best Mexican in the neighborhood is Lolita , a labor of love owned and operated by partners Valerie Safran and Marcie Turney, who also own Bindi, the Indian restaurant across the street, as well as one-stop-convenience-shop Grocery and homewares shop Open House.
Like Bindi, Lolita is a BYOB — but in this case, you may want to bring your own tequila. You can stop at the liquor store at 1218 Chestnut Street, and Lolita's freshly made margarita mix will take care of the rest.
106 S. 13th Street
Lolita
Philadelphia, PA 19107
Friday 9 p.m.
Sing Us a Song
Tonight's post-dinner plan is Tavern on Camac, a traditional piano bar with a sing-along on the first floor and an intimate cabaret on the second. Ready to dance? DJ Salotta Tee will keep you bumping until close. The Tavern's varied ambiance makes it a perfect date spot – or a good choice if you're looking to meet a friendly Philadelphian.
243 S. Camac Street
Tavern on Camac
Philadelphia, PA 19107
Saturday 9 a.m.
Work up a Sweat
In the morning, pick yourself up with a workout at the gay community's favorite health club, 12th Street Gym, where the equipment is as well-kept as the members are buff. Amenities include a weight-training circuit, cardio machines, pool, steam room, sauna, a multitude of classes and a sun deck.
204 S. 12th Street
12th Street Gym
Philadelphia, PA 19107
Saturday 10:30 a.m.
Post-Workout Refuel
After your workout, walk down a few doors and consider your plans for the rest of the day at Brew Ha Ha!, a local favorite for caffeine reloading. Sip on a delicious latte, nibble on scones or simply feast in the pleasure of prime people-watching.
212 S. 12th Street
Brew Ha Ha!
Philadelphia, PA 19146
Saturday 11:30 a.m.
Stimulate Your Brain
Head south on to Giovanni's Room at 12th and Pine, one of the nation's oldest and best gay, lesbian and feminist bookstores. The extremely varied selection of fiction, non-fiction, compact discs, tapes and magazines is displayed in a series of cozy rooms in two adjoining townhouses.
345 S. 12th Street
Giovanni's Room
Philadelphia, PA 19107
Saturday 12 p.m.
More Than Just Antiques
From here, stroll east on Pine along Antiques Row (between 9th and 12th Streets), where you'll find a wealth of stores featuring antiques and collectibles, as well as funky jewelry, contemporary art and home goods. Noteworthy stops along Antiques Row include Blendo , which carries new and vintage furniture and accessories, and the cool modern style of the Seraphin Gallery.
1002 Pine Street
Blendo
Philadelphia, PA 19107
Saturday 1 p.m.
A Little Cuban Flair
It's time for lunch, so grab a table by the French doors of Mixto and order a pitcher of sangria and a platter of empanadas to sip and munch while you scan the menu. During the warm weather months, the doors are opened and the seating area spills out onto the sidewalk, making for a pleasant, casual meal.
1141 Pine Street
Mixto
Philadelphia, PA 19107
Saturday 2:30 p.m.
Independence Starts Here
After lunch, walk up to 6th and Chestnut to pay a visit to Independence Hall (you can get tickets at the Independence Visitor Center or order them here in advance).
In addition to being the site of our nation's founding, Independence Hall was also the site of the first gay and lesbian rights demonstration. On July 4, 1965, a group of activists from around the country — all in their Sunday best, as a dress code was enforced to make a good impression on the straight public — marched around the Hall. After the Stonewall riots of 1969, the national march moved to New York.
5th and Chestnut Streets
Independence Hall
Philadelphia, PA 19103
Saturday 3:30 p.m.
Let Freedom Ring
Across Chestnut Street is the Liberty Bell Center , which provides a more contemplative experience to view this enduring symbol of freedom. The Liberty Bell's new home is part of a dramatic $314 million transformation of Independence National Historical Park.
After you've paid homage to the bell, walk up Independence Mall to the National Constitution Center , a major new museum celebrating the U.S. Constitution through interactive, multimedia exhibits. The Constitution Center's inclusive content notes the document's impact on the rights of gays and lesbians and other minorities.
6th and Chestnut Streets
The Liberty Bell Center
Philadelphia, PA 19106
Saturday 7 p.m.
Ring the Dinner Bell
For dinner try the aforementioned Bindi — you'll be glad you did. Don't forget our favorite liquor store at 1208 Chestnut Street! Other options include Valanni, whose sleek dining room and happening bar provide a stylish setting for imaginative Mediterranean cuisine; and the Venture Inn, a favorite of older gay men for its steaks and traditional fare.
105 S. 13th Street
Bindi
Philadelphia, PA 19107
Saturday 9 p.m.
Find Your Scene
The rest of the evening is yours! But here are some of our recommendations.
For hanging out: The Westbury , sort of a Cheers for the gay set; Uncle's , which caters to a 40-plus crowd; and Woody's , Philadelphia's largest and most popular gay bar.
For dancing: Shampoo , with drag queens, go-go boys and the latest club music, is gay on Friday nights only, while ICandy and Woody's offer dancing almost every night.
For women: The aptly named Sisters offers a little of everything for the club-going lesbian: a restaurant, bar and second floor dance area.
02 S. 13th Street
Woody's
Philadelphia, PA 19107
Sunday 11 a.m.
A Bumpin' Brunch
Brunch this morning is at Bump, one of the most popular gay bars and restaurants in town. On Sunday mornings, this happening Gayborhood hot spot turns into a comfy brunch location, where you can settle in for coffee, pear pancakes and a side of turkey bacon while you recover from your night out on the town.
1234 Locust Street
Bump
Philadelphia, PA 19107
Sunday 12:30 p.m.
Post-Meal Shopping
After brunch, shop-til-you-drop types will want to check out the furniture and home items at gay-owned shops Urban Décor and Open House. Top off your continuing shopping adventure with luscious homemade gelato or a decadent pastry from Capogiro.
And don't forget Rittenhouse Row, a shopping district on Walnut Street from Broad to 20th Streets, which is the site of some of the city's finest boutiques and luxury shops.
107 S. 13th Street
Open House
Philadelphia, PA 19107
Hotels + More
The Basics
Transportation
If you're traveling from New York, New England, DC, Baltimore, Harrisburg, etc., Amtrak is easy – Book online at Amtrak or call 1-800-USA-RAIL.
Driving
If you drive here, stash your car off-street until you leave. Though you might enjoy an occasional cab, trolley or carriage ride, most of these places can be reached on foot. Parking regulations are strictly enforced in the historic area, and you may find yourself getting towed with un-municipal efficiency.
Start at the Center
The Independence Visitor Center (IVC) — the exclusive pick-up location for free tickets to Independence Hall — offers personalized trip-planning services, free WIFI, brochures and maps, informational exhibits and films, a gift shop, two cafes and tickets to all major tours and attractions in the Philadelphia region. Located at 6th & Market Streets across from the Liberty Bell, the IVC is your one-stop-shop for tickets, souvenirs, itinerary planning, maps and more. Stop at the IVC when you arrive in Philadelphia, or call 800-537-7676 to speak to a live concierge.
Accommodations
Located right off the Avenue of the Arts on Walnut Street, the Holiday Inn Express Midtown occupies one of the city's most ideal locations.
Stay at boutique hotel Alexander Inn , located in the heart of the gayborhood. The décor of the hotel's 48 designer rooms is inspired by the grand cruise ships of the 1930s, which makes for an elegant overnight.
The beautiful and historic Radisson Plaza-Warwick Hotel is located in the Rittenhouse Square neighborhood of Center City Philadelphia amidst some of the city's trendiest retail and restaurant areas.
More food and drink, please!
Of course, this itinerary is just a sample of the amazing range of food and drink in Philadelphia. Take a closer look at our Dining and Nightlife opportunities and chart your own course across the city!
12th and Spruce Streets
Alexander Inn
Philadelphia, PA 19107
Details
View On Map
Location
Center City Philadelphia: Rittenhouse Square, Old City, Bella Vista and beyond
Transportation
On foot or in a taxi
Duration
36 hours