Family Friendly New Year's Itinerary
Ring in the New Year in Philadelphia with the whole family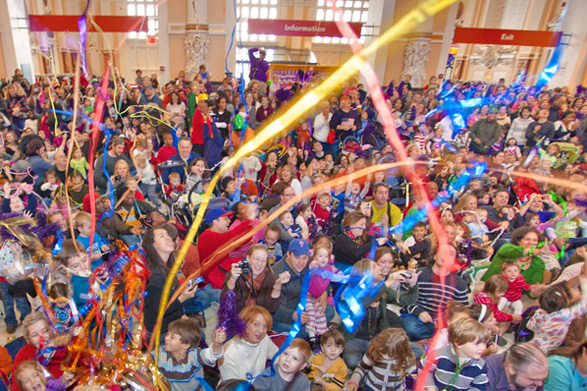 Description
New Year's Eve falls on a Saturday this year, and that's great news for families looking to make the most of a whole weekend of fireworks, festivities and special goings-on.
Explore Philadelphia's wealth of historic attractions, world-class museums and ongoing holiday happenings before ringing in 2013. Celebrate the New Year at 12 noon at the Please Touch Museum, watch the "square" drop at Franklin Square or head across the river to Adventure Aquarium as SugarHouse Casino presents Twice the Fireworks, Twice the Fun.
As always, take advantage of the popular Philly Overnight® Hotel Package and get free parking for the weekend.
Sunday, December 30 3 p.m.
Holiday Lights
After checking into your hotel, get to the Comcast Center to see The Comcast Holiday Spectacular, featuring festive imagery set to the lush sounds of a 64-piece orchestra and shown on the 2,000-square-foot, 10 million-pixel LED wall in the building's lobby.
Afterwards, you'll have just enough time to catch the traditional Macy's Christmas Light Show, with almost 100,000 LED lights and sounds from the Wanamaker Organ, before the last show at 6:00 p.m.
Comcast Center
17th Street & John F. Kennedy Boulevard
Sunday, December 30 7:30 p.m.
Dining Out
Dinner depends on your mood. A casual dinner at Jones is budget-friendly, and their comfort-food menu is also picky-eater friendly.
If you're looking for a place where mom and dad can enjoy a hand-crafted cocktail, head to Red Owl Tavern where you can enjoy fine cuts of meat and chicken pot pies for the little ones.
Jones
700 Chestnut Street
(215) 223-5663
Monday, December 31 10 a.m.
Get Presidential
After breakfast, pop into the National Constitution Center (yep, they're open) and let the kids take the presidential oath of office, vote on historic legislation or give their verdict on key court decisions.
National Constitution Center
525 Arch Street
(215) 409-6700
Monday, December 31 12 noon
Countdown to Noon
Get a head start on celebrating even before you check into your hotel by joining in the Countdown to Noon festivities at the Please Touch Museum®, where games, music and confetti come together for a festive pint-sized celebration. Or partake in the noon-time Kids' New Year's Eve festivities at Franklin Square.
Please Touch Museum
4231 Avenue of the Republic
Memorial Hall in Fairmount Park
(215) 581-3181
Monday, December 31 2 p.m.
Market Time
Depending on your mood, you could brunch at Sabrina's Cafe in the Italian Market, where you'll meet other locals who line up for hearty omelets, waffles and other daily homemade specials.
However, a whole different vibe awaits at Di Bruno Bros. in Rittenhouse Square, where the casual second-floor cafe setting features many of the gourmet items they sell in the first-floor upscale grocery.
Sabrina's Cafe
910 Christian Street
(215) 574-1599
Monday, December 31 5 p.m.
Ice Skates & Fireworks
Show off your triple axel or just go for a lap around the Blue Cross RiverRink during the family-friendly New Year's Eve Party on Ice. If it gets too nippy, slip into the warming pavilion for a cup of hot chocolate.
At 6:00 p.m., head back outside for the SugarHouse Casino presents Twice the Fireworks! Twice the Fun! show, featuring dazzling pyrotechnics over the Delaware River.
For those who prefer to countdown to midnight, there's a second skating party at 11:00 p.m. and a second fireworks show that begins when the clock strikes midnight.
Penn's Landing
Columbus Boulevard at Market Street
(215) 925-RINK
Tuesday, January 1 11:30 a.m.
Mummers Parade
New Year's Day in Philadelphia means the Mummers Parade, a day-long affair during which thousands of elaborately costumed men, women and children strut, dance and play music up Broad Street.
Begin your day of Mummery at the Pennsylvania Convention Center, where you can mix and mingle with the Fancy Brigades, snap pictures with performers on the show floor and join in a giant Mummers' Strut. Then, catch the Fancy Brigades Finale—complete with with Broadway-style music and dance performances—at 12:00 noon.
Still want more? Head over to Broad Street to watch the famous, feathered String Bands do their thing. And if the kids want a change of pace, duck into the Kimmel Center for the Performing Arts, where family-friendly entertainment and kids' activities take place all day long.
Mummers Parade
Broad Street and Washington Avenue
(The Parade marches north on Broad Street to City Hall)
Tuesday, Janaury 1 2:30 p.m.
Get Enchanted
If you didn't make it to the Please Touch Museum® yesterday, make it a must on your to-do list today. First, pop into the Please Taste Café for a healthy, tasty lunch, and then explore the Enchanted Colonial Village, featuring animated figures in seven memorable holiday scenes that have delighted generations of locals.
Please Touch Museum
4231 Avenue of the Republic
Memorial Hall in Fairmount Park
(215) 581-3181
Details
Get Directions
Location
Center City, Penn's Landing
Transportation
Foot, taxi or SEPTA
Duration
Three days and two nights
Neighborhood
/
/
/