Family Fun in Philadelphia and The Countryside
Gardens, galleries, tours and theme parks entertain visitors of all ages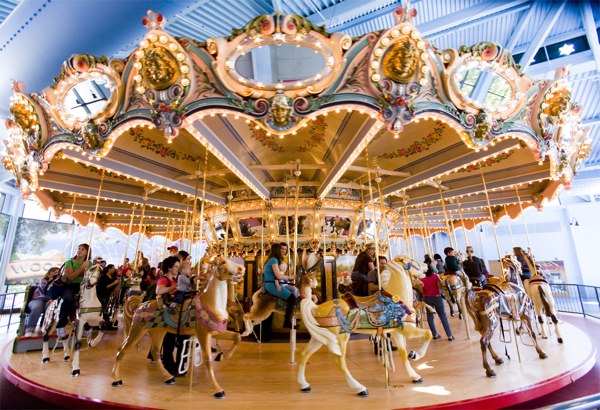 Description
With a wide array of family-friendly attractions, the Philadelphia region is a kid's kind of place, where history and horticulture, art and animals, gardens and galleries, tours and theme parks come together to offer loads of family fun.
Besides being the birthplace of our nation and bubbling with historic attractions and exhibits, Philadelphia is also a great place to have fun and play. So grab the fam and hit the ground running with this family guide to Philadelphia and its Countryside!
Friday 12:30 p.m.
Foodie
Begin your historic adventure with lunch at the Reading Terminal Market, the nation's oldest continuously operating farmers' market. You can get a traditional Amish-style meal at the counter of the Dutch Eating Place, or get an authentic Philadelphia cheesesteak at Rick's Steaks. But those are just two of myriad options at this gustatory paradise — look around and see what you like!
12th and Arch Streets
Reading Terminal Market
Philadelphia, PA 19107
Friday 2 p.m.
The Birthplace of Freedom
After grubbing on some delicious Philadelphia cuisine, head east to the Historic District, where you'll find The Liberty Bell , Independence Hall and Carpenters' Hall. First check in at the Independence Visitor Center to get your free timed tickets (or order them online for a small fee before you arrive) before heading off to see the sights. Scattered throughout this area are also several Once Upon a Nation storytelling benches, where you can rest your feet and hear a tale about Colonial Philadelphia.
6th and Chestnut Streets
The Liberty Bell Center
Philadelphia, PA 19107
Friday 3:30 p.m.
Knowledge is Power
Once you've gotten your fill of history, head to the reimagined Please Touch Museum, where children ages seven and under are the focus of the fun. Interactive experiences abound in displays such as Move It!, an exhibit that teaches children about various forms of transportation; and Alice's Adventures in Wonderland, a display that explores what life is like down the rabbit hole. A snack/lounge area is on the premises, so you can re-fuel before dinner.
If you've got older kids, you may want to check out the Franklin Institute instead. The Franklin is the area's premier science museum, housing a planetarium, IMAX movie theater, several permanent exhibits and rotating special exhibits (advanced tickets are typically required for the special exhibits).
4231 Avenue of the Republic
The Please Touch Museum
Philadelphia, PA 19131
Friday 6 p.m.
It's a Marathon, Not a Sprint
End your first day in Philly with a casual dinner at one of the Marathon Grill restaurants (we like the location at 10th and Walnut Street). It's a homegrown chain that serves sandwiches, soups and salads, as well as an assortment of more upscale meals.
It's perfect for families, because they serve lots of kid friendly fare and still have tasty and interesting food (as well as a full bar) for the adults in the crowd. The multiple locations also make it easy to find one close to your hotel, which makes for an easy transition to bedtime.
As Ben Franklin says "Early to bed and early to rise, makes a man healthy wealthy and wise." Make sure to get a good night's rest — tomorrow is another fun-filled day in Philadelphia!
929 Walnut Street
Marathon Grill
Philadelphia, PA 19107
Saturday 9 a.m.
Coffee with the Classics
Start the day with juice, coffee and baked goods at Old City Coffee, tucked away on a charming cobblestone street behind Christ Church and just a stone's throw from Betsy Ross's former home. Grab an outdoor table and imagine how the street looked 200 years ago.
221 Church Street
Old City Coffee
Philadelphia, PA 19106
Saturday 10 a.m.
To the Jersey Side
Now you're off to Penn's Landing, where you take a short trip on the ferry across the Delaware River to Camden, New Jersey's Riverfront. From here, it's just a quick walk to the Adventure Aquarium, home to more than 5,000 marine animals.
The aquarium offers equal measures of entertainment and education with additional attractions including the Touch-a-Shark tank and the Caribbean beach, home to tropical fish and birds.
1 Riverside Drive
Adventure Aquarium
Camden, NJ 08103
Saturday 12 p.m.
Getting Back to the Garden
Time for a visit to Camden Children's Garden, a four-acre horticultural wonderland featuring a host of interactive habitats and exhibits — including the Dinosaur Garden, Storybook Garden, Tree House and Picnic Garden. Children can even take a train ride around the grounds or hop on the Garden's beautiful carousel.
3 Riverside Drive
Camden's Children's Garden
Camden, NJ 08103
Saturday 1:30 p.m.
Lunchtime Libations
It's lunchtime and the kids are starting to fade. When you get off the ferry, walk a couple of blocks to 2nd and Chestnut Streets, where you'll find Triumph Brewing Company.
They have a full, family-friendly menu and a fun, industrial décor. And if so inclined, the grown-ups can choose from their selection of house-made microbrews.
117-121 Chestnut Street
Triumph Brewing Company
Philadelphia, PA 19106
Saturday 2:30 p.m.
America's Oldest Zoo
The next stop is the Philadelphia Zoo , which was actually the very first zoo to be established in America. The Zoo offers the incredible Bank of America Big Cat Falls exhibit — featuring plenty of lions, tigers and leopards — plus the Children's Zoo and Treehouse, allowing kids to get some up-close critter contact.
The Zoo's newest adventure is the Zooballoon, which rises 400 feet above the treetops and overlooks giraffes, zebras and the Philadelphia skyline.
To get to the zoo, simply board the new Zoo Trolley back at the Independence Visitor Center (6th and Market Streets). The ride is only $2, while kids 2 and under ride free.
3400 Girard Avenue
The Philadelphia Zoo
Philadelphia, PA 19104
Saturday 6 p.m.
A Visit to the Old Country
For dinner tonight, you and the fam are going to venture down to South Philly for some authentic Italian food. Marra's is the place to go for some of the best pizza in town. They've been cooking their pies in the same clay-floored oven since 1925 and manage to achieve the perfect crust — unburnt, fluffy and lightly crunchy — every time. If you aren't a pizza person, they also serve up an assortment of pastas, salads and classic Italian dishes like Chicken Parmesan.
1734 E. Passyunk Avenue
Marra's,br>
Philadelphia, PA 19148
Sunday 9 a.m.
Botanical Slip 'N' Slide
Today's going to be the only day during which you'll need a car. Grab breakfast at your hotel's coffee shop, make sure everyone uses the bathroom and head out. Start off with a trip to Longwood Gardens, one of the world's finest horticultural display centers, with 1,050 acres of gardens, woodlands and meadows, 20 outdoor gardens, 20 indoor gardens and 11,000 different types of plants.
Indoors, you'll find the Children's Garden, featuring an ever-changing water curtain and leaping water "glow worm," comprised of a maze and flower-shaped water jets. It's kind of like a botanical slip 'n' slide.
1001 Longwood Road
Longwood Gardens
Kennett Square, PA 19348
Sunday 12 p.m.
Berries for the Road
Once everyone has had their fill of Longwood Gardens, you'll be heading to Linvilla Orchards, one of the last working farms in the Delaware Valley. With more than 300 acres, Linvilla hosts a variety of family-friendly events throughout the year. Hayrides, tours, swimming and fruit and vegetable picking are offered in season.
After getting a nice lunch at the food stands, head out into the fields to pick some blue- or blackberries — they'll make a nice Philly-style souvenir for your ride back home!
137 Knowlton Road
Linvilla Orchards
Media, PA 19063
Hotels + More
The Basics
Transportation
If you're traveling from New York, New England, DC, Baltimore, Harrisburg, etc., Amtrak is easy – Book online at Amtrak or call 1-800-USA-RAIL.
Driving
If you drive here, stash your car off-street until you leave. Though you might enjoy an occasional cab, trolley or carriage ride, there's nothing you can't reach on foot. Parking regulations are enforced in the historic area, and you may find yourself getting towed with un-municipal efficiency.
Start at the Center
The Independence Visitor Center (IVC) — the exclusive pick-up location for free tickets to Independence Hall — offers personalized trip-planning services, free WIFI, brochures and maps, informational exhibits and films, a gift shop, two cafes and tickets to all major tours and attractions in the Philadelphia region. Located at 6th & Market Streets across from the Liberty Bell, the IVC is your one-stop-shop for tickets, souvenirs, itinerary planning, maps and more. Stop at the IVC when you arrive in Philadelphia, or call 800-537-7676 to speak to a live concierge.
Accommodations
You can't get closer than the bustling Holiday Inn Philadelphia Historic District, which is right in the thick of everything (distance: 0 miles) and has a sunny rooftop pool with a view.
The Sheraton Society Hill is just four blocks from Independence Hall and a block from Penn's Landing in residential Society Hill. It has a bit more greenery than most city hotels and a heated indoor pool.
The Hyatt Regency at Penn's Landing is one of the historic area's newest hotels, a tower right on the Delaware River. You can sit at the outdoor bar and listen to the creak-creak of moored boats.
The Philly Overnight® Hotel Package is a popular getaway — and a terrific deal. It's available throughout the year and gives you free parking (worth $50 or more) and special offers and discounts – in addition to deluxe accommodations in Center City Philadelphia. Check out the package, then pick your favorite hotel.
More food and drink, please!
Of course, what we've recommended is just a sample of the amazing range of food and drink in Philadelphia. Take a closer look at the city's Dining and Nightlife offerings and pick your favorites.
400 Arch Street
Holiday Inn Historic District
Philadelphia, PA 19106
Details
Get Directions
Location
Center City Philadelphia: Rittenhouse Square, Old City, Bella Vista and beyond
Transportation
On foot or in a taxi
Duration
3 days
Neighborhood
/
/
/
/
/
/
/
/
/
/
/
/