Holiday Family Fun in Philly
Ice skating, chocolate, shopping and more in the City of Brotherly Love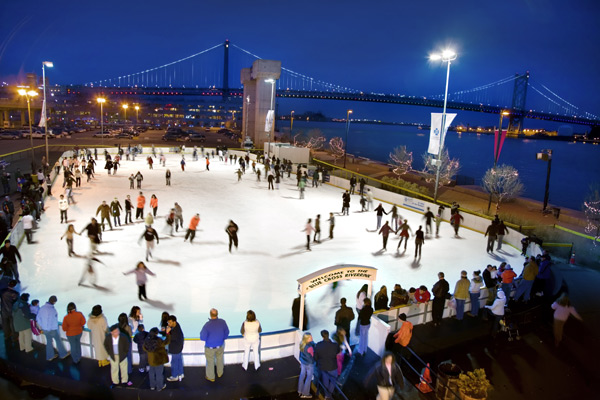 Description
Holiday time is family time, but too often, busy schedules and bustling activities have everyone running in different directions.
So start a new holiday tradition and head to Philadelphia for a weekend of memory-making, affordable family fun!
And with the Philly Overnight® Hotel Package available at more than 30 hotels, hotel parking is free — so you're already up to $75 ahead!
Friday 5 p.m.
A Show of Lights, Please
After you've checked into your hotel, stroll over to Macy's , located in the former Wanamaker building. Join the locals who gather around the iconic Eagle sculpture in the middle of the Grand Court and look upward for the several-stories-tall Holiday Light Show.
First installed in 1956, the updated show includes more lights than ever and narration by Julie Andrews. There are more magical moments to be had in this historic building, and they're just an escalator ride away. Head to the third floor to see the delightful Dickens Village. They're all there —Tiny Tim, Ebenezer Scrooge and the Ghosts of Christmas Past, Present and Future—and scaled down so the whole family can walk through a real-life Christmas Carol.
1300 Market Street
Macy's
Philadelphia, PA 19107
Friday 6 p.m.
Menus That Make Everyone Happy
Dinner depends on your mood. A casual dinner at Marathon Grill is budget-friendly, and their wide selection of menu items is also picky-eater friendly.
For a white-tablecloth dining experience, head to McCormick & Schmick's . While the kids order from a special children's menu, mom and dad can satisfy their tastes with seafood specialties, grilled items, micro-brewed beers and international wines.
1339 Chestnut Street
Marathon Grill
Philadelphia, PA 19107
Friday 8 p.m.
Visions of Sugar Plums
Once the last nibble of dessert is done, plan to take in some family-friendly entertainment with the Pennsylvania Ballet's The Nutcracker at the Academy of Music (December 8-30).
Over at the Kimmel Center for the Performing Arts , the Philadelphia Orchestra performs seasonal favorites and classical compositions (December 20 – 23), perfect for setting the holiday mood.
240 S. Broad Street
The Academy of Music
Philadelphia, PA 19102
Saturday 9 a.m.
Everybody Up and At 'Em
You have a busy day ahead of you, so make breakfast at the historic Reading Terminal Market your first stop of the day. Watch the kids' faces light up when you tell them they can take their pick from more than 80 food stands and vendors. They can pour syrup over homemade buttermilk pancakes at the Down Home Diner or nibble crisp hickory-smoked bacon at the Dutch Eating Place.
While the kids are finishing up breakfast, you can pick up some fresh fruit to snack on later. And it's the holidays, so go ahead and treat them to the classic chocolate chip masterpieces at the Famous 4th Street Cookie.
51 N. 12th Street
Reading Terminal Market
Philadelphia, PA
Saturday 10 a.m.
Giggles on Ice
You can burn off the extra calories at the Blue Cross RiverRink. the skate rental booth, then lace up and join Olympic wannabes for a few laps around this outdoor riverfront ice rink. If it gets too nippy, slip into the warming pavilion and order a cup of hot chocolate. In a few minutes, you'll be ready to join the rest of the family back out on the ice.
531 N. Columbus Boulevard
Blue Cross RiverRink
Philadelphia, PA 19106
Saturday 12 p.m.
Be There and Be Square
Make sure you are dressed warmly because your next stop is Franklin Square . One of William Penn's original squares, it has become a real hot spot—even in cold weather. Celebrate the holidays with appearances by Santa, rides on the carousel Philly-themed mini-golf and holiday treats at SquareBurger.
6th and Race Streets
Franklin Square
Philadelphia, PA 19103
Saturday 1 p.m.
Please Touch. Really.
Take the short drive to Fairmount Park and spend the afternoon at the Please Touch Museum® in its newly renovated historic Memorial Hall location. Before you turn the kids loose to explore, you may want to have a light, healthy lunch at their no-nuts-zone café.
Once you're finished eating, go explore the museum in all its colorful, hands-on glory. Don't miss the supermarket, hospital, transportation center, shoe store and dozens of other interactive displays. And be sure to allow time for a visit to the animated toymaker, clockmaker, bake shop and other scenes from the Enchanted Colonial Village. Nine scenes from the long-time holiday fantasyland have been restored, and the animated figures, dressed in velvets and lace, are set to delight new generations of wide-eyed visitors.
4231 Avenue of the Republic
Please Touch Museum
Philadelphia, PA 19131
Saturday 5 p.m.
Dinner and Lights That Dazzle
Let the kids take a much-needed power nap during the 45-minute drive to Longwood Gardens in Kennett Square. When you arrive, grab a quick bite at Longwood's Yuletide Buffet or treat the family to their special multi-course holiday dinner. Then, head outside where hundreds of thousands of twinkling lights outline the trees, adorn the bushes and seem to float in the evening sky.
Even the fountain shows are lit up in brilliant colors. Indoors, the Conservatory and the Children's Garden are all wrapped up in holiday style with even more lights and holiday floral displays.
1001 Longwood Road
Longwood Gardens
Kennett Square, PA 19348
Sunday 10 a.m.
A Yummy Start to Your Day
Depending on your mood, you could brunch at Sabrina's Café in the Italian Market , where you'll meet other locals who line up for their hearty omelets, waffles and other daily homemade specials.
A whole different vibe awaits at Di Bruno Bros. in Rittenhouse Square, where the casual second-floor café setting features many of the gourmet items they sell in the seriously large first-floor upscale grocery.
18th and Chestnut Streets
DiBruno Bros.
Philadelphia, PA 19103
Sunday 12 p.m.
A World of Nature, A World of Magic
Now that everyone is fueled up for the day, make your way to the Benjamin Franklin Parkway. You'll dig the dinosaur skeletons and fossils at The Academy of Natural Sciences , where plenty of really cool creepy-crawlies are also on display.
1900 Benjamin Franklin Parkway
The Academy of Natural Sciences
Philadelphia, PA 19103
Hotels + More
The Basics
Transportation
If you're traveling from New York, New England, DC, Baltimore, Harrisburg, etc., Amtrak is easy — book online at Amtrak or call 1-800-USA-RAIL.
Driving
If you drive here, stash your car off-street until you leave. Though you might enjoy an occasional cab, trolley or carriage ride, most of these places can be reached on foot. Parking regulations are strictly enforced in the historic area, and you may find yourself getting towed with un-municipal efficiency.
Start at the Center
The Independence Visitor Center (IVC) — the exclusive pick-up location for free tickets to Independence Hall — offers personalized trip-planning services, free WIFI, brochures and maps, informational exhibits and films, a gift shop, two cafes and tickets to all major tours and attractions in the Philadelphia region. Located at 6th & Market Streets across from the Liberty Bell, the IVC is your one-stop-shop for tickets, souvenirs, itinerary planning, maps and more. Stop at the IVC when you arrive in Philadelphia, or call 800-537-7676 to speak to a live concierge.
Accommodations
You can't get closer to Philadelphia's greatest sightseeing treasures than the bustling Holiday Inn Philadelphia Historic District , which is right in the thick of everything (distance: 0 miles) and has a sunny rooftop pool with a view.
The Sheraton Society Hill is just four blocks from Independence Hall and a block from Penn's Landing in residential Society Hill. It has a bit more greenery than most city hotels and a heated indoor pool.
The Philly Overnight® Hotel Package is a popular getaway — and a terrific deal. It's available throughout the year and gives you free parking (worth $50 or more) and special offers and discounts – in addition to deluxe accommodations in Center City Philadelphia. Check out the package, then pick your favorite hotel.
More food and drink, please!
Of course, what we've recommended is just a sample of the amazing range of food and drink in Philadelphia. Take a closer look at the city's Dining and Nightlife offerings and pick your favorites.
400 Arch Street
Holiday Inn Historic District
Philadelphia, PA 19106
Details
Get Directions
Location
Center City and Chester County
Transportation
Feet, cab and automobile
Duration
Two days and Two nights
Neighborhood
/
/
/
/