Life, Liberty and the Pursuit of Lunch
A blissful weekend of eating, shopping, touring and eating again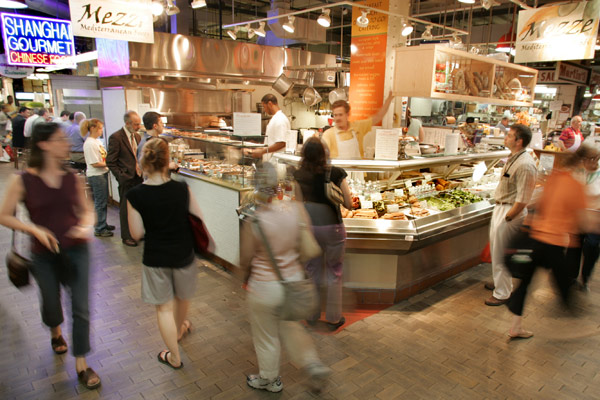 Description
Philadelphia's food renaissance began more than 30 years ago, and to many of Philadelphia's locals, it's as exciting a part of the city's history as that other revolution in 1776.
Historic Philadelphia , in particular, is foodie heaven. Some of the most celebrated dining destinations in America are just steps from Independence Hall and the Liberty Bell.
So here's a step-by-step insider's guide to history wiz with — a blissful weekend of eating, shopping, touring and eating again in Philadelphia.
Note: Calories didn't exist in the 18th Century, so you won't gain an ounce.
Friday 6 p.m.
Oh Look, A Party
If you arrive on the First Friday of the month, a party is waiting. Galleries and shops in Old City, the 19th-century loft district that wraps around the historic area, will be open for free tours and lively until around 9 p.m.
If a plastic cup of gallery white wine doesn't quench your thirst, stop at Mulberry Market for water or beer to go.
Your nose will tell you that you're near Tartes, a tiny hole-in-the-wall bakery with a walk-up window. Their pecan tart, in particular, is easy to eat while continuing on your tour of the neighborhood.
230 Vine Street
Old City Arts Association
Philadelphia, PA 19106
Friday 7 p.m.
We're Grazing, We're Walking
Start grazing at Beneluxx on 3rd Street. It's part restaurant and part tasting room, with more than 80 beers and 30 wines served by the glass or the taste. The chef suggests that you start your nibbling with cheese and end it with chocolate — not a hard rule to follow — and both come in sampling sizes.
Next, take a walk to clear your palate.
Head south on 3rd Street, right onto Chestnut, and for the next four blocks, much of American history will be at your feet. Here's Ben Franklin's house, here's the Second Bank of the United States , there's Independence Hall , the old Congress Hall, the old Supreme Court and, finally, the Liberty Bell .
6th and Chestnut Streets
Congress Hall
Philadelphia, PA 19106
Friday 9 p.m.
Unwinding in the 21st Century
Check out the scene, and it is a scene, at the Sopra Louge at Positano Coast . With a 360-degree of Old City, second-story outdoor seating and a great menu of exotic cocktails, it's the perfect place for relaxing under the stars.
The menu here takes a Mediterranean, seafood-inspired spin — try the "Positano Harvest" selection of fresh seafood, and the lobster truffle accompanied by fresh edamame. They perfectly complement the Amalfi Coast-fused decor and will leave you feeling quite refreshed.
212 Walnut Street
Positano Coast
Philadelphia, PA 19106
Friday 11 p.m.
Before You Hit the Hay
For a quiet nightcap, order a flight of wines at II Bar, located in the Penn's View Hotel on Front Street. The wine flights are organized by region, so every set is an education.
For a more riotous scene, head to Sugar Mom's. Their nostalgic menu is full of pierogies and fries, while a great selection of local beers is on draft — and for the kid in you, get cozy on over-sized couches and play pinball way into the wee hours.
Front and Market Streets
Il Bar – Penn's View Hotel
Philadelphia, PA 19106
Saturday 9:30 a.m.
Into the Melting Pot
No, you haven't died and gone to heaven. You're in Reading Terminal Market , a beloved farmers' market operating since 1893. Today it's a foodie's United Nations with more than 100 vendors and farmers, the sort of place where you'll find a veiled grandmother, a tattooed bike dude, a Penn Ph.D. and five tourists from Paris, all happily poking around in the same bin of tomatoes — for sale from an Amish girl in traditional dress.
For a sit-down breakfast at Reading Terminal, try the Dutch Eating Place or the Down Home Diner. Try some scrapple. What else do we recommend? Everything.
You can also take a guided tour of the market.
12th and Arch Streets
Reading Terminal Market
Philadelphia, PA 19107
Saturday 11:30 a.m.
Shopping, Eating, Learning in Old City
Start strolling. Pinot carries wine accessories, Economy Restaurant Supply is exactly what it sounds like, and is there really a store named Mr. Barstool ? Yes.
For lunch, you decide. Hungry hipsters swear by the tandoori at Café Spice, which serves up a generous Indian buffet in a sophisticated atmosphere. To keep it Philadelphia, stop by Campo's for hoagies and Sonny's for cheesesteaks, then grab a bench inside Independence Park.
Note: Don't be intimidated by so-called experts who insist that you order your steak "with" or "Whiz wit'" (meaning Cheese Whiz). In the birthplace of the Constitution, you have every right to American cheese or provolone.
35 S. 2nd Street
Café Spice
Philadelphia, PA 19106
Saturday 2 p.m.
Your Education Continues
Time to take in a free cooking demonstration. Every Saturday, Fosters Urban Homeward — the coolest new home and kitchen shop in Philadelphia — hosts a local chef, cookbook author or "food fanatic" who shares their knowledge, skills and favorite dishes with the audience. No registration or reservation is are required, so pull up a chair and get wise!
Then take a walk around Foster's and find all sorts of culinary items you never knew you needed — like orange slicers, stemless martini glasses and collapsible colanders. Oh my!
399 Market Street
Foster's Urban Homeware
Philadelphia, PA 19106
Saturday 3 p.m.
The Candy Man Can
Blood sugar getting low? Visit Shane's Candies, a living antique where they've been hand-making candy on those marble slabs for more than a century. Take home the almond butter crunch.
The ice cream at The Franklin Fountain, a few doors down, is also homemade. You'll see a lot of Dr. Dovey's Classic Banana Splits, made from the original 1904 recipe, but there's usually an offbeat flavor with indie appeal; ask your friendly servers for their favorites.
While you're digesting, shop for music to eat by (AKA Music) and pottery to eat from (the Clay Studio). Then swing by City Tavern and take home a six-pack of beer brewed locally with Washington and Jefferson's own recipes.
116 Market Street
Franklin Fountain
Philadelphia, PA 19106
Saturday 5 p.m.
Fusion Drinks and Dinner
Beat the crowd at the Spanish tapas restaurant, Amada , and have one of their delicious sangrias at the bar. It's never too sweet, and there's always an unexpected kick: quince, rosemary and dried cranberries all make appearances. You could stay right here for a remarkable dinner and perhaps some flamenco, but this is Philadelphia, where you have too many choices.
One is Morimoto , the near-legendary Japanese restaurant where the ambiance is as dazzling as the food. Walls curve, benches glow, lights shift. And yes, that's Morimoto as in "Iron Chef." The restaurant's followers recommend omakase — just place yourself in the chef's hands for a multi-course meal.
Another choice is Buddakan , the Asian fusion restaurant that's been a hot spot for ten years now. It's partly the scene, partly the environment (shimmering waterfall, gilded Buddha, glowing tables) but mostly the food. Avoid arguments by ordering the beef and seafood, then share.
217-219 Chestnut Street
Amada
Philadelphia, PA 19106
Saturday 8:30 p.m.
Sociable Saturday
If you're looking for a great night on the town, Old City should be your one-stop shop. Starting at Market Street, walk down 2nd Street to encounter one of the most thriving social scenes on the East Coast.
Stop into The Tin Angel for a candlelit serenade session by renowned folk musicians, and sit down at adjoining restaurant Serrano to enjoy their rainbow trout or chicken pot pie. And if a vegetarian meal is more your style, try Serrano's selection of meze dishes: vegetarian small plates accompanied by pita bread.
For one of the city's best new bars, head to National Mechanics on 3rd Street. You can order a delicious burger (veggie or no) to go with one of 32 beers on draft, or you could go for a quirky choice like the "Frito Taco Extravaganza."
And just on the edge of the Old City scene is Race Street Café. The locals swear by their burger, though the buffalo chicken sandwich is what makes this intimate spot famous. Catch a few bites and your last cocktail and call it a night.
22 S. 3rd Street
National Mechanics
Philadelphia, PA 19106
Sunday 9:30 a.m.
The Best Part of Waking Up
Wake up with a bracing cup of Old City Coffee. Sit at a sun-washed marble table overlooking a tiny stone-paved street while listening to the bells of Christ Church.
You might have a muffin here, or take a short walk to the longer menu at Fork Etc., the casual arm of Fork Restaurant . They bake artisan breads here every day, and there's a big square table where you can chat it up with the friendly locals.
306 Market Street
Fork Restaurant
Philadelphia, PA 19106
Sunday 11:30 a.m.
Fresh Air, Fresh Produce
Arrive at historic Headhouse Square, where a colonial farmers' market has just been happily revived. Today you'll find big, photogenic heaps of locally grown produce, heirloom veggies you've never even heard of, goat cheese, lamb pies, baked goods, music, crafts, and general good karma.
Buy one of everything and dig in, the peach juice dripping down your chin as you bask in the sunshine on the cobblestones. And what you can't eat, take home.
And keep Head House Square in mind during your Saturday stroll — the market has been so successful, it's now open throughout the weekend.
2nd and Lombard Streets
Headhouse Square Farmers' Market
Philadelphia, PA 19107
Hotels + More
The Basics
Transportation
If you're traveling from New York, New England, DC, Baltimore, Harrisburg, etc., Amtrak is easy – Book online at Amtrak or call 1-800-USA-RAIL.
Driving
If you drive here, stash your car off-street until you leave. Though you might enjoy an occasional cab, trolley or carriage ride, most of these places can be reached on foot. Parking regulations are strictly enforced in the historic area, and you may find yourself getting towed with un-municipal efficiency.
Start at the Center
The Independence Visitor Center (IVC) — the exclusive pick-up location for free tickets to Independence Hall — offers personalized trip-planning services, free WIFI, brochures and maps, informational exhibits and films, a gift shop, two cafes and tickets to all major tours and attractions in the Philadelphia region. Located at 6th & Market Streets across from the Liberty Bell, the IVC is your one-stop-shop for tickets, souvenirs, itinerary planning, maps and more. Stop at the IVC when you arrive in Philadelphia, or call 800-537-7676 to speak to a live concierge.
Accommodations
You can't get much closer than the Holiday Inn Historic District , which is right in the thick of everything (distance: 0 miles) and has a sunny rooftop pool with a view.
The Sheraton Philadelphia Society Hill Hotel is just four blocks from Independence Hall and a block from Penn's Landing in beautifully restored Society Hill. It has a bit more greenery than most city hotels and a heated indoor pool.
The Hyatt Regency is one of the historic area's newest hotels, a tower right on the Delaware River. Sit at the outdoor bar and listen to the creak-creak of moored boats.
The Philly Overnight® Hotel Package is a popular getaway — and a terrific deal. It's available throughout the year (and throughout the week) and gives you free parking (worth $50 or more) and several special offers. Click here to check out the package, then pick your favorite hotel.
More food and drink, please!
Of course, this itinerary is just a sample of the amazing range of food and drink in Philadelphia. Take a closer look at our Dining and Nightlife opportunities and chart your own course across the city!
400 Arch Street
Holiday Inn Historic District
Philadelphia, PA 19106
Details
View On Map
Location
Historic Philadelphia
Transportation
Walking
Duration
36 hours or so (Friday evening to Sunday afternoon)