Philly Like a Local
Experience Philadelphia as its residents know and love it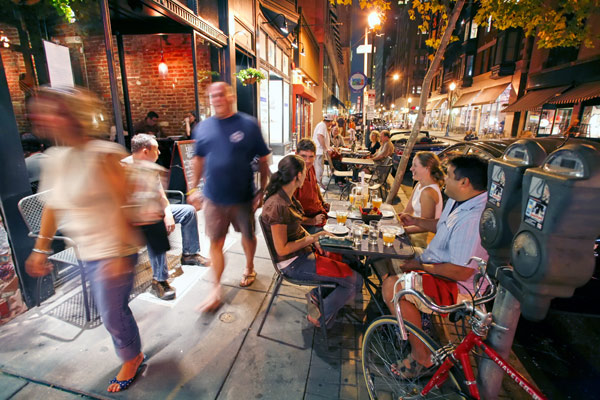 Description
Every city has its hidden gems. But without a local guide, it can be tough to find them. Philly is no exception — in fact, this city is full of surprises you won't find in the official guidebooks, like the vintage stores in Northern Liberties or the authentic Polish eateries of Port Richmond.
With this itinerary, you now have access to Philly as its residents know it: funky neighborhoods layered with hipster hangouts, stylish shops, offbeat galleries and other places to go — that is, if you're in the know.
Friday 5 p.m.
Getting Loose
After checking in at your hotel, the first stop to make is Old City for a cocktail, a snack and lots of people-watching. Grab an outdoor table at Continental , GiGi's or Fork and start off your weekend on a relaxing note.
If you happen to show up on the First Friday of the month, the neighborhood turns into an all-out party, when the area's galleries open up their doors to the public beginning at 5 P.M. and offer free snacks and sips, live music and new installations.
138 Market Street
Continental Restaurant and Martini Bar
Philadelphia, PA 19103
Friday 7:30 p.m.
It Takes a Village
Once you've finished your drinks, gather your party and hail a cab. You'll take a short ride down to 13th and Sansom — the heart of Midtown Village. This up-and-coming neighborhood consists of independent shops, gourmet ethnic food and a few choice watering holes.
Dinner is at Lolita , a contemporary Mexican hotspot where Bring-Your-Own-Tequila is the mantra. Before hitting the restaurant, stop by the Wine and Spirits Store at 1218 Chestnut to pick up some tequila, which you can mix with fresh margarita mix provided by the restaurant.
Not feeling spicy? You can opt for delicious light fare and try out a new varietal at Vintage Wine Bar — or chow down on sushi and sake-tinis at 1225 Raw .
Save room, though, because there's great dessert to be had at Capogiro (artisanal gelato and sorbet made from local ingredients) and Naked Chocolate Café (just about anything you'd need to satisfy even the most intense sweet tooth cravings). Both feature late hours and locally grown ingredients. How sweet it is!
106 S. 13th Street
Lolita
Philadelphia, PA 19107
Friday 11 p.m.
Before You Call it a Night
If you're still raring to go, check out Fergie's Pub at 12th and Sansom Streets. Owned by Ireland native Fergus Carey, the main bar downstairs is cozily wood-paneled and feels straight out of the 19th century. They often have live music playing on the second floor and serve up the best Guinness in town.
1214 Sansom Street
Fergie's Pub
Philadelphia, PA 19107
Saturday 9 a.m.
Up and At 'Em
Get your day of localness started with breakfast in Bella Vista, a neighborhood that's pretty much redefined brunch in Philly.
Morning Glory Diner's biscuits and stewed apples are the stuff of foodie legend, while the unusual French toast and omelet specials at Sabrina's Café have people clamoring for a table every weekend. You'll probably have to wait a bit for a table, but your belly will thank you.
735 S. 10th Street
Morning Glory Diner
Philadelphia, PA 19147
Saturday 11 a.m.
To Market, To Market
With a full stomach, it will be much easier to browse the Italian Market and not drool over the fresh produce, decadent sweets and prosciutto (Italian Market peeps say pro-zhoot). This historic stretch of 9th Street is packed with outdoor produce stalls, sidewalk tables and full-scale shops — there's enough to see and smell to last you all morning.
Not to be missed are chowhound treasures like Fante's Cookware, Di Bruno Brothers' cheese and specialty foods, Isgro's cannolis and Talluto's fresh pasta. Before you leave, stop into Anthony's Italian Coffeehouse for a Gilda's Biscotti (made locally) and a cappuccino to dunk it in.
9th Street and Washington Avenue
The Italian Market
Philadelphia, PA 19147
Saturday 1 p.m.
A Liberating Lunch
When the stomach rumbles, it's time to head north for a lunch break. Northern Liberties offers a bounty of dining options, including: Standard Tap , your best bet for gourmet food, local microbrews and a great jukebox; Las Cazuelas, a top-notch Mexican restaurant on Girard Avenue; or Honey's Sit 'n' Eat, home to Southern Jewish comfort food (imagine the genius combination of latkes and chicken-fried steak).
After lunch, it's time to hit the shops — but if you're not in any hurry, head over to the Arbol Café for a stomach-settling espresso and a seat in their shady garden.
901 N. 2nd Street
Standard Tap
Philadelphia, PA 19123
Saturday 3 p.m.
Get Your Shop On
Northern Liberties is known for having some of the best independent shops in the city. Many of the area's stores are clustered along 2nd and 3rd Streets — here, you'll find retro furniture at Vintage Modern, sustainably chic threads at Arcadia Boutique>, fancy jeans at Denim Society and everything else young and/or fun.
Further north is the Liberties Walk complex, where you'll find a slew of other spending possibilities: original handmade corsets, clothing and accessories at Delicious Boutique, new and used CDs and DVDs at Think Music, plus treats for your furriest friends at Chic Petique. Before you leave the area, stop into the Brown Betty Dessert Boutique for a freshly baked cupcake (the red velvet will blow your mind).
906 N. 2nd Street
Vintage Modern
Philadelphia, PA 19123
Saturday 7 p.m.
Pizza in the Classic Sense
For dinner, keep it simple and hail a cab to Port Richmond's famed Tacconelli's, a BYOB serving what many consider to be the city's best pizza. (Tip #1: It's required that you reserve your dough in advance, so call in the morning. Tip #2: It's cash only. Tip #3: Tac's sells pizza and pizza only.)
2604 E. Somerset Street
Tacconelli's
Philadelphia, PA 19134
Saturday 10 p.m.
Get Your Ya-Ya's Out!
After dinner, head back to Fishtown's buzzing rock venue Johnny Brenda's for a few beers and the sounds of local and indie bands and DJs. From there, you can work your way south through Northern Liberties and conduct your own little bar crawl.
You can't go wrong at Bar Ferdinand , a tapas spot with great cocktails and sangrias. Another dependable watering hole is North 3rd , a cozy neighborhood hangout with a late-night kitchen.
1201 N. Frankford Avenue
Johnny Brenda's
Philadelphia, PA 19125
Sunday 11 a.m.
Left of Center
After a long night on the town, there's just enough time for one last great meal in Philly — this time in University City. The longstanding neighborhood favorite is the White Dog Café, known equally for its social activism and its mean Bloody Mary — which is the best way we can think of to bite the hair of last night's dog.
If you want to go the way of caffeine, the charming Green Line Café features organic gourmet coffee and tea, fresh baked goods, bagels and pastries, as well as sandwiches, salads and their own line of bottled sodas.
Or try an even better insiders' choice — Rx, a former pharmacy-turned-bistro that cooks up seasonal meals with ingredients from nearby farms. An omelet with Lancaster eggs and bacon will end your Philly weekend on the perfect note — it doesn't get any more local than that.
3420 Sansom Street
White Dog Café
Philadelphia, PA 19104
Hotels + More
The Basics
Transportation
If you're traveling from New York, New England, DC, Baltimore, Harrisburg, etc., Amtrak is easy – Book online at Amtrak or call 1-800-USA-RAIL.
Driving
If you drive here, stash your car off-street until you leave. Though you might enjoy an occasional cab, trolley or carriage ride, there's nothing you can't reach on foot. Parking regulations are enforced in the historic area, and you may find yourself getting towed with un-municipal efficiency.
Start at the Center
The Independence Visitor Center (IVC) — the exclusive pick-up location for free tickets to Independence Hall — offers personalized trip-planning services, free WIFI, brochures and maps, informational exhibits and films, a gift shop, two cafes and tickets to all major tours and attractions in the Philadelphia region. Located at 6th & Market Streets across from the Liberty Bell, the IVC is your one-stop-shop for tickets, souvenirs, itinerary planning, maps and more. Stop at the IVC when you arrive in Philadelphia, or call 800-537-7676 to speak to a live concierge.
Accommodations
You can't get much more young and fun than the aloft Philadelphia Airport , which combines modern design, interactive resources and lots of cool extras to make your Philly stay fresh and affordable.
The Independent , meanwhile, is a new boutique hotel right in Center City. Each guest room features its own unique design, while the building — an example of Georgian-Revival architecture — is listed on the National Register of Historic Places.
The Hyatt Regency is one of the historic area's newest hotels, a tower right on the Delaware River. You can sit at the outdoor bar and listen to the creak-creak of moored boats.
The Philly Overnight® Hotel Package is a popular getaway — and a terrific deal. It's available throughout the year and gives you free parking (worth $50 or more) and special offers and discounts – in addition to deluxe accommodations in Center City Philadelphia. Check out the package, then pick your favorite hotel.
More food and drink, please!
Of course, what we've recommended is just a sample of the amazing range of food and drink in Philadelphia. Take a closer look at the city's Dining and Nightlife offerings and pick your favorites.
4301 Island Avenue
aloft Philadelphia Airport
Philadelphia, PA 19153
Details
Get Directions
Location
Center City Philadelphia: Rittenhouse Square, Old City, Bella Vista and beyond
Transportation
Foot, Cab, or Public Transit
All sites are walking distance or a short taxi ride from Center City hotels; one site requires a car or public transit.
Duration
Approximately 36 hours (Friday evening to Sunday afternoon)
Neighborhood
/
/
/