Philly's More Romantic During The Holiday Season
Romance flourishes in Philly this holiday season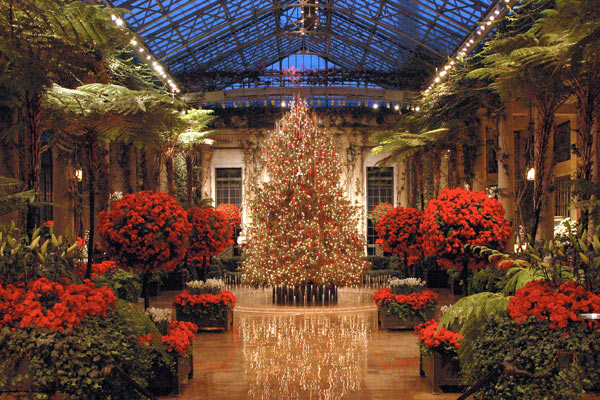 Description
Crisp starry skies…cozy firelight dinners…colorful twinkling lights. The holidays are here, and all around Philadelphia, romance is in the air. Time for you and your sweetie to slip away from the holiday hubbub and slip into a romantic getaway.
With the Visit Philly Overnight Hotel Package™ your car stays FREE, which means you'll have a little cash left over to splurge on a bottle of champagne and some chocolates.
Friday 5 p.m.
Get Mellow
After you check into your hotel, unpack your sweaters and mittens and explore the tiny streets of Old City. You never know what you'll discover in the shops of one of the city's oldest neighborhoods — an unusual sculpture from an art gallery, one-of-a-kind jewelry from an indie boutique or a just-what-we've-been-looking-for mirror from a home accessories shop.
2nd and Market Streets
Philadelphia, PA 19106
Friday 6: 30 p.m.
Eat Well
Selecting from the dozens of restaurants in Old City can be a dizzying decision. But this is a romantic getaway, so cozy and quiet are in order. Ristorante Panorama, adorned with Tuscan-inspired murals and shimmery stained glass, is the can't-go-wrong choice thanks to its northern Italian cuisine and award-winning wine list.
Front and Market Streets
Ristorante Panorama
Philadelphia, PA 19106
Friday 8:30 p.m.
Chill Out
Even if your triple lutz is rusty, skating hand-in-hand outdoors at the Blue Cross RiverRink can put the stars back in your eyes. When you need a break from the cold weather, huddle around a cup of cocoa together in the warming pavilion.
If athletics isn't your thing, cuddle up together under a blanket and relax to the sounds of the clip-clop echoing through the cobblestone streets of Society Hill during a horse-drawn carriage ride, which can be hailed at the corner of 5th and Market Streets.
531 N. Columbus Boulevard
Blue Cross Riverrink
Philadelphia, PA 19106
Friday 11 p.m.
Night on the Town
Before you turn in for the night, a bit of bubbly is in order. Outside temps might be cold, but inside Positano Coast's cozy lounge, you'll feel like you are basking on a sunny Italian hillside as you sip on a flute of Prosecco and take in the wrap-around views of Old City.
212 Walnut Street
Positano Coast
Philadelphia, PA 19106
Saturday 9 a.m.
Rise and Shine
When you're ready to start your day, head over to Parc Brasserie , where you can linger over a steaming cup of café au lait, perfectly timed oeuf en cocotte or pain perdu. Perched along the edges of Rittenhouse Square, Parc is ideal for people-watching, and you'll get a picture-perfect view of the Square all aglow in twinkling holiday lights.
If you're up for a only-in-Philly experience, join the locals for brunch at the Reading Terminal Market . The market is always lively with activity, and during the holidays, the buzz reaches its peak. After perusing the historic market, park yourself at the counter at the Dutch Eating Place for hearty Amish-style fare or find a table for two at the Down Home Diner for homemade pancakes and hickory-smoked bacon. Then, follow your nose to the Flying Monkey Patisserie for some home-baked cupcakes.
Before you leave, wander upstairs to the Reading Terminal Headhouse for a look at the miniature Holiday Railroad display that features a dozen scale-model trains that wind through a magical world of pocket-sized cities and miniature mountains.
12th and Arch Streets
Reading Terminal Market
Philadelphia, PA 19107
Saturday 10 a.m.
The Art of the Splurge
Decked out in lights and wreaths and holiday décor, Rittenhouse Row is a tempting spot to spoil one another with little indulgences. Treat him to a Canali shirt or mother-of-pearl cufflinks at Boyds. For her, there's nothing like a surprise trip to Tiffany & Co. to spark a little romance.
Although this weekend getaway is all about you, take a few minutes to make a dent in your holiday shopping list. Luxe personal care items from Kiehl's or Bluemercury make great stocking stuffers, and you can't go wrong with a hardcover from Joseph Fox Bookseller .
18th and Walnut Streets
Rittenhouse Row
Philadelphia, PA 19103
Saturday 11:30 a.m.
Art on the Parkway
Take a romantic stroll through various countries and centuries as you enjoy expansive galleries of incredible paintings, scultpure and much more at the Philadelphia Museum of Art .
2600 Benjamin Franklin Parkway
Philadelphia Museum of Art
Philadelphia, PA 19130
Saturday 1 p.m.
Dish Over Lunch
Ready for lunch? Treat yourselves to five-diamond service, award-winning cuisine and a wine list that features more than 550 selections at Lacroix at the Rittenhouse . If you're not in the mood for fancy, stroll to London Grill, a neighborhood restaurant and bar in the city's Fairmount section that serves hand-pumped microbrews and uses local ingredients to create its delicious menu items.
2301 Fairmount Avenue
London Grill
Philadelphia, PA 19130
Saturday 2:30 p.m.
On the Road Again
Hop in the car, turn on your favorite tunes and enjoy the 45-minute ride through the rambling countryside of Chester County. You'll see why the rolling hills inspired generations of Wyeths and other artists whose work you'll find in the galleries of the Brandywine River Museum .
And since it is the holidays, you'll see that A Brandywine Christmas transforms this restored 19th-century converted grist mill into a festive wonderland with model train displays, holiday trees adorned in whimsical trimmings and a selection of jewelry from Andrew Wyeth's wife's personal collection. Even in winter, the rambling Brandywine River and wooded setting give the museum's grounds a stark beauty that invites short strolls. So get a cup of hot cocoa from the snack bar and take a few minutes to enjoy the serene, rustic setting.
100 Creek Rd
Brandywine River Museum
Chadds Ford, PA 19317
Saturday 6 p.m.
Eat, Drink and Be Merry
Cozy up to a fireside table at the historic Kennett Square Inn and savor the rich flavors of mushroom soup or crimini-encrusted filet mignon.
Or you can go casual without sacrificing a romantic atmosphere in the glass-enclosed rooftop dining room at the Half Moon Restaurant and Saloon. Feeling adventurous? Order one of their 27 Belgian beers to accompany the kangaroo loin, ostrich filet or buffaloaf. If that's a bit too daring, opt for some traditional American fare instead.
201 East State Street
Kennet Square Inn
Kennett Square, PA 19348
Saturday 7:30 p.m.
Love Blooms
Don't linger too long over dinner. You don't want to miss a minute of the spectacular light show at Longwood Gardens , where you'll stroll through acre after acre of outdoor gardens all bedecked in hundreds of thousands of twinkling holiday lights. When you step inside the elaborately decorated conservatory, ask a passerby to snap a photo of the two of you in front of one of the many custom-decorated trees.
1001 Longwood Road
Longwood Gardens
Kennett Square, PA 19348
Sunday 10 a.m.
A Bubbly Wake-Up Call
For some couples, catching a glimpse of the sun sparkling on the water is the perfect way to start the day. If that sounds like you, then step aboard the Moshulu, a three-masted schooner that has transformed from a high seas-sailing ship into an intimate dining spot at Penn's Landing. Here you'll enjoy views of the city skyline while indulging in a three-course unlimited champagne brunch.
401 S. Columbus Boulevard
Moshulu
Philadelphia, PA 19106
Sunday 12 p.m.
The Last Stage of Your Getaway
George Balanchine's The Nutcracker (Through December 30) is at the top of many holiday to-do lists. Between the Pennsylvania Ballet's stunning new sets and costumes and the Academy of Music's plush décor, there is as much to look at off-stage as on.
1420 Locust Street
The Academy of Music
Philadelphia, PA 19104
Hotels + More
The Basics
Transportation
If you're traveling from New York, New England, DC, Baltimore, Harrisburg, etc., Amtrak is easy – Book online at Amtrak or call 1-800-USA-RAIL.
Driving
If you drive here, stash your car off-street until you leave. Though you might enjoy an occasional cab, trolley or carriage ride, there's nothing you can't reach on foot. Parking regulations are enforced in the historic area, and you may find yourself getting towed with un-municipal efficiency.
Start at the Center
The Independence Visitor Center (IVC) — the exclusive pick-up location for free tickets to Independence Hall — offers personalized trip-planning services, free WIFI, brochures and maps, informational exhibits and films, a gift shop, two cafes and tickets to all major tours and attractions in the Philadelphia region. Located at 6th & Market Streets across from the Liberty Bell, the IVC is your one-stop-shop for tickets, souvenirs, itinerary planning, maps and more. Stop at the IVC when you arrive in Philadelphia, or call 800-537-7676 to speak to a live concierge.
Accommodations
A great choice for your stay is the Marriott Downtown Philadelphia . Located in the center of Center City, the Mariott is one of Philadelphia's biggest hotels. And with its newly completed, $6.3-million renovation, the Marriott offers guests a modern and interactive lobby, as well as "13," the hotel's new signature restaurant.
The Independent , meanwhile, is a boutique hotel right in Center City. Each guest room features its own unique design, while the building — an example of Georgian-Revival architecture — is listed on the National Register of Historic Places.
The Hyatt Regency is one of the historic area's newest hotels, a tower right on the Delaware River. You can sit at the outdoor bar and listen to the creak-creak of moored boats.
The Philly Overnight® Hotel Package is a popular getaway — and a terrific deal. It's available throughout the year and gives you free parking (worth $50 or more) and special offers and discounts – in addition to deluxe accommodations in Center City Philadelphia. Check out the package , then pick your favorite hotel.
More food and drink, please!
Of course, what we've recommended is just a sample of the amazing range of food and drink in Philadelphia. Take a closer look at the city's Dining and Nightlife offerings and pick your favorites.
1201 Market Street
Mariott Downtown Philadelphia
Philadelphia, PA 19107
Details
View On Map
Location
Center City, Penn's Landing and the Brandywine Valley
Transportation
On foot, in a taxi or by car
Duration
Two days and two nights
Neighborhood
Neighborhood:
/
/
/
/
/
/
/
/