Romantic New Year's Weekend Itinerary
Grab a loved one and have a romantic New Year in Philly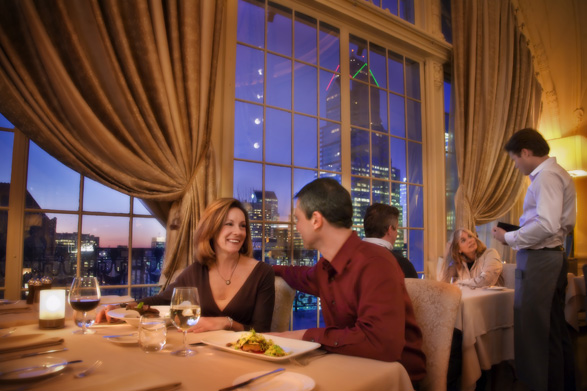 Description
Turn off your cell phone, and start 2014 with a long romantic weekend in Philadelphia. New Year's weekend is packed with activity so you can join in the fun or sneak off together for some quality couple time.
Choose from the popular Visit Philly Overnight Hotel Package™ or additional holiday weekend hotel specials, making a mini-vacation easy and affordable. Check out some of our most romantic ways to celebrate the New Year below.
Sunday, December 30 3 p.m.
Light Up the Holidays
The whole city is aglow with holiday sparkle. Stroll hand-in-hand through Rittenhouse Square, which is all decked out in holiday style. Or, cozy up together at the Comcast Center to see The Comcast Holiday Spectacular, featuring festive images of the season set to the lush sounds of a 64-piece orchestra and shown on the 2,000-square-foot, 10 million-pixel LED wall in the building's lobby.
Comcast Center
17th Street & John F. Kennedy Boulevard
Sunday, December 30 5 p.m.
Hit the Ice
Bundle up, lace up and show off you triple axle at the Blue Cross RiverRink at Penn's Landing. Be sure to check out the Waterfront Winterfest, a romantic, pop-up holiday village with warm drinks, tasty food and holiday gifts.
RiverRink
Market Street and Columbus Boulevard
Philadelphia, PA 19106
215) 925-RINK
Sunday, December 30 7 p.m.
Quality Cuisine
Find out what the buzz is about at Barbuzzo, where locally sourced Mediterranean-style cuisine keeps foodies coming back again and again. At Fork, the contemporary American menu is as stylish as the setting, and over at Bistrot La Minette, both the authentic menu and the charming setting are reminiscent of an evening in the French countryside.
Barbuzzo
110 S. 13th Street
(215) 546-9300
Sunday, December 30 9 p.m.
Late-Night Cocktails
If you're looking for a nightcap, head to the Center City's Franklin Mortgage & Investment Company. Cocktails are king at this underground speakeasy and the drink menu changes often. Be careful with cocktails here, they are not for beginners!
Franklin Mortgage & Investment Company
112 South 18th Street
(267) 467-3277
Monday, December 31 10 a.m.
Sleep In
It's going to be a late night, so sleep in an enjoy breakfast in your hotel room, then pop into the National Constitution Center.
If you're feeling lucky, treat yourself to champagne brunch at SugarHouse Casino.
National Constitution Center
525 Arch Street
(215) 409-6700
Monday, December 31 1:30 p.m.
Cozy Comfort Meal
Slip into a nearby restaurant for an indulgent late-lunch. Warm up by the cozy fireplace with a hot spiced cider and comfort food while sitting at McGillin's Olde Ale House, or step into Stephen Starr's British pub-inspired eatery The Dandelion.
The Dandelion
124 South 18th Street
(215) 558-2500
Monday, December 31 6 p.m.
Explosive Celebration
Grab cocoa for two and start the New Year off right with the SugarHouse Casino New Year's Eve Fireworks on the Delaware River at 6:00 p.m. (If you're a night owl, plan to see the second show at midnight.) Watch from the viewing areas at the Great Plaza, or join the party at the Independence Seaport Museum or aboard the Battleship New Jersey.
Penn's Landing
Columbus Boulevard at Market Street
(215) 925-RINK
Tuesday, January 1 9:30 a.m.
Brunch with the Best
Feast on a menu featuring locally sourced home-cooked favorites at Dutch Eating Place in Reading Terminal Market. Or, brunch at Sabrina's Cafe in the Italian Market, where you'll meet other locals who line up for hearty omelets, fruit-topped waffles and other homemade specials. Another option is Di Bruno Bros. in Rittenhouse Square, where the casual second-floor cafe features many of the gourmet items they sell in the upscale first-floor grocery.
Sabrina's Cafe
910 Christian Street
(215) 574-1599
Tuesday, January 1 11:30 a.m.
Strut with the Mummers
Start the New Year like a native and join in the famous, feathered festivities of the Mummers Parade. The merriment begins with the Comics and Fancies stepping off at Broad Street
and Washington Avenue at 10:00 a.m., and the String Bands get started an hour later at Broad and
Shunk Streets.
The Mummer's Parade
Broad Street and Washington Avenue
Tuesday, January 1 5 p.m.
Getting Fancy
It's time for the Fancy Brigade Finale at the Pennsylvania Convention Center. With elaborate scenery, professional choreography and costumes drenched in sequins and feathers, the Fancy Brigades give it their all as they vie for prizes and bragging rights.
Pennsylvania Convention Center
11th & Arch Streets
(800) 298-4200
Details
View On Map
Location
Center City, Penn's Landing
Transportation
Foot, taxi or SEPTA
Duration
Three days and two nights
Neighborhood
Neighborhood:
/
/
/
/