Shopping in Philadelphia
Where tax-free (on clothing and shoes) is the name of the game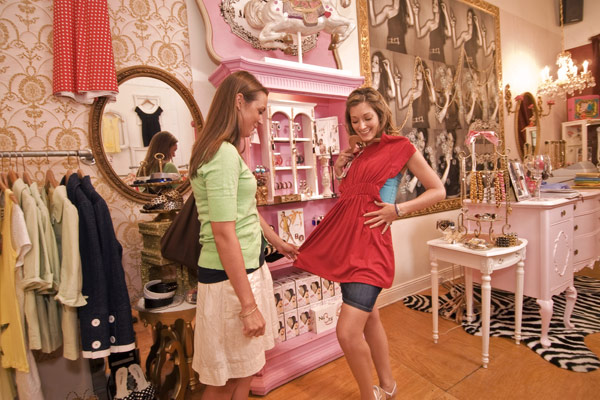 Description
Philadelphia, with that lovely, state-wide law that keeps clothing tax-free, is the perfect city to visit for a shopping vacation. And with this weekend itinerary, you'll explore interesting neighborhoods, eat at some of the region's hottest restaurants and score the best deals this side of Canal Street.
And with all of Philadelphia's boutique shops, you'll be getting to know some of the city's best up-and-coming designers — possibly the next Coco Chanel.
Friday 12 noon
A Bite Before the Fun Begins
Before you start hitting the stores, stop at Continental Midtown for an enormous salad (they're big enough to share) or a creative sandwich to fuel your first day of shopping. And since it's after 12, why not order a few of the city's best martinis?
1801 Chestnut Street
Continental Midtown
Philadelphia, PA 19103
Friday 1 p.m.
Chestnut Street
The Shops at Liberty Place are just down the block from the Continental. But first stop in Sephora and Daffy's for new lipstick and some designer discounts.
Once you get to Liberty Place, you'll find places like J. Crew, Nine West, Express, Godiva Chocolates and much more. Further down the street is H&M, one of two Center City locations of the stylish European chain.
1625 Chestnut Street
The Shops at Liberty Place
Philadelphia, PA 19103
Friday 2:30 p.m.
Banana and the Bellevue
Once you've exhausted the Chestnut Street possibilities, cut down to Walnut Street on Broad. Right at the corner of Broad and Walnut you'll find a humongous Banana Republic for your shopping pleasure.
Just across the street from there are the Shops at the Bellevue. The historic Bellevue building, which anchors Rittenhouse Row and the Avenue of the Arts, features such designer shops as Nicole Miller, Polo/Ralph Lauren and Williams-Sonoma — and if you've got a sweet tooth, take a well-deserved break at Teuscher Chocolates. World-class restaurants include The Palm, XIX and Bliss.
Broad and Walnut Streets
The Shops at the Bellevue
Philadelphia, PA 19102
Friday 4 p.m.
A World of Brands in Easy Reach
After The Bellevue, continue west on Walnut Street and shop at internationally acclaimed galleries, haute couture boutiques, luxury salons, spas and other fine stores. You'll find Kenneth Cole, Tiffany, Urban Outfitters, Lucky Jeans, Coach and Burberry, as well as longstanding Philadelphia boutique Knit Wit and Philadelphia favorite Ubiq, where you'll score some classic Nikes.
1718 Walnut Street
Knit Wit
Philadelphia, PA 19103
Friday 5:30 p.m.
Recharge with a Cocktail
Walnut Street, part of the Rittenhouse Row District, is booming with some seriously superb drinking and dining spots. Depending on the weather, an outdoor table at Alma de Cuba or Rouge is the perfect way to decompress from five hours of hard shopping.
1623 Walnut Street
Alma de Cuba
Philadelphia, PA 19103
Friday 7:30 p.m.
Dine Out in Your New Duds
After a drink or two, take a little time to head back to your hotel, unload your buys and change into one or two of your new pieces.
For dinner, we suggest you try Parc, the new French-style bistro on Rittenhouse Square. And we really mean on Rittenhouse Square — lovely and breezy sidewalk seating overlooks the ritzy passers-by and is truly the most coveted group of tables in Philadelphia.
If you're not in the mood for champagne and escargot, walk over to 20th and Sansom for a meal at Tinto, a Spanish tapas place that's pretty much caught the city by storm since it first opened.
114 S. 20th Street
Tinto
Philadelphia, PA 19103
Friday 9:30 p.m.
Shopper's Choice
The rest of the evening is yours for wandering and finding your own scene. If you're looking for low-key, cab it down to Society Hill to catch an art house movie at one of the three Ritz theater locations. If you want to see and be seen, check out the scene at Denim on Walnut Street.
125 South Second Street
Ritz East
Philadelphia, PA 19106
Saturday 9 a.m.
Break Your Fast in Style
Start the morning off with an indulgent breakfast at 10 Arts, the luxurious signature restaurant at the Ritz-Carlton Hotel.
10 Arts is known for its smoked salmon and apple-stuffed French toast — not to mention the extremely swanky atmosphere of the illustrious Ritz-Carlton. Which is to say, definitely make a reservation before showing up for your fancy breakfast.
Broad and Chestnut Streets
10 Arts
Philadelphia, PA 19102
Saturday 10 a.m.
A Classic Department Store
It's time to explore Macy's, the huge department store located just east of Broad Street. Originally the home of Wanamaker's, this lovely old store will take you back to the days when a trip downtown to shop was a very special occasion. For the music lovers in your party, make sure to stay until 12 noon to catch the Grand Pipe Organ's daily recital.
1300 Market Street
Macy's Center City
Philadelphia, PA 19107
Saturday 10:30 a.m.
It Takes a Village
Now you're going to take a right on 13th Street to find Midtown Village, a seriously up-and-coming (and very gay-friendly) dining and shopping district that gets more vibrant every year.
Some of the highlights here are: Sailor Jerry, the flagship location for the tattoo-and-rum inspired clothing chain; Duross & Langel, where you can both buy and make handmade soaps, shampoos and lip balms; Open House, the place to get cool stuff for your abode; and Scarlet Fiorella, where hipster kids in the making can find infant-sized rocker tees.
116-118 S. 13th Street
Sailor Jerry
Philadelphia, PA 19107
Saturday 11:30 a.m.
Bling Bling
From Macy's, head west on 8th Street and turn left on Sansom Street. That sparkly sight is Jewelers' Row — the second largest diamond center in the U.S. — which is found in the pocket between 7th and 8th Streets from Chestnut to Walnut Streets. Here you will find an unlimited selection of diamonds, emeralds, rubies and sapphires, most at great discounts. Diamonds and emeralds and rubies, oh my!
801 Walnut Street
Robbins Diamonds
Philadelphia, PA 19107
Saturday 12:30 p.m.
Lunch Break!
Since you splurged on breakfast, you can take it easy for lunch with authentic Philly sandwiches at Campo's and Sonny's. Campo's is your one-stop hoagie shop, while Sonny's, just down the street, is the local authority on cheesesteaks. Take your pick, then eat either in-house or at a shady spot in historic Old City.
214 Market Street
Campo's Deli
Philadelphia, PA 19106
Saturday 2 p.m.
Old Streets, New Stores
You may have been too hungry to notice when you sat down to eat, but you are currently smack dab in the middle of an established boutique district. Get everything from "fancy pants" at Charlie's Jeans to upscale kitchen goods and home furnishings at Foster's Urban Homeware. Smak Parlour, J. Karma and Sugarcube are not to be missed.
219 Market Street
Smak Parlour
Philadelphia, PA 19106
Saturday 4 p.m.
Explore Your Artistic Side
Northern Liberties is home to many a Philadelphia artist and the shopping opportunities in the neighborhood reflect that. Stop in at Closet Fever to sate your one-of-a kind shopping lust and check out Very Bad Horse to satisfy your inner rock star. Keep venturing down 2nd Street to the ultra-cute Art Star, offering the best (and most gift-give-able) stuff from area artists.
623 N. 2nd Street
Art Star
Philadelphia, PA 19123
Saturday 5:30 p.m.
The Original Gastropub
Standard Tap is the crown prince of Northern Liberties bars. Said to have kicked off Philly's gastropub trend, Standard Tap exemplifies the art form with outstanding upscale bar fare (like chickpea and sprout sandwiches and chicken pot pie) and a wide smattering of local beers on tap. Stay here for dinner if it tickles your fancy — and if the weather's nice, try to nab some second-story outdoor seating.
901 N. 2nd Street
Standard Tap
Philadelphia, PA 19123
Saturday 7 p.m.
Dinner at Dos Segundos
If you've had your fill of the Tap, walk a few doors up 2nd Street to Mexican outpost Cantina Dos Segundos. This is the newly opened younger sibling to South Philadelphia's Cantina Los Caballitos, which is one of the hottest Mexican spots in town. Order up a pitcher of margaritas and settle in.
931 N. 2nd Street
Cantina Dos Segundos
Philadelphia, PA 19123
Saturday 9 p.m.
Let's Bowl!
After dinner, stroll over to North Bowl for a little physical activity to work off the chips and salsa you inhaled at Dos Segundos. This hip bowling alley will be hopping on a Saturday night, so if you have to wait a while for a lane, check out the pool tables and the bar to pass the time. And if you're still hungry, their nostalgic menu of corn dogs, macaroni and cheese and bagel bites will keep you satisfied until breakfast.
909 N. 2nd Street
North Bowl
Philadelphia, PA 19123
Sunday 10 a.m.
Southward, Ho!
Your last day will be spent in South Philly, the home of Rocky, Frankie Avalon and the cheesesteak kings of the universe.
Start your day off right with a delicious and quirky brunch at Sabrina's Café. Now, Sabrina's is legendary for both its challah French toast and its often one-hour wait for a table – but we assure you, the former makes the latter completely worth it.
But if you really must venture elsewhere, make Sam's Morning Glory Diner your Plan B. Fritattas here are loaded with fresh vegetables and cheese, and the biscuits are too good to be described in plain language.
910-912 Christian Street
Sabrina's Café
Philadelphia, PA 19147
Sunday 12 p.m.
To Market, To Market
No shopping trip to Philadelphia is complete without a stop at the Italian Market. Having been established in the 19th century, the long strip of 9th Street has had time to perfect the craft of offering fresh produce, meat and cheese at ridiculously reasonable prices. Take the time to check out every vendor, then pick up some fresh fruit and Italian coffee for the ride home.
9th Street and Washington Avenue
Italian Market
Philadelphia, PA 19147
Hotels + More
The Basics
Transportation
If you're traveling from New York, New England, DC, Baltimore, Harrisburg, etc., Amtrak is easy – Book online at Amtrak or call 1-800-USA-RAIL.
Driving
If you drive here, stash your car off-street until you leave. Though you might enjoy an occasional cab, trolley or carriage ride, there's nothing you can't reach on foot. Parking regulations are enforced in the historic area, and you may find yourself getting towed with un-municipal efficiency.
Start at the Center
The Independence Visitor Center (IVC) — the exclusive pick-up location for free tickets to Independence Hall — offers personalized trip-planning services, free WIFI, brochures and maps, informational exhibits and films, a gift shop, two cafes and tickets to all major tours and attractions in the Philadelphia region. Located at 6th & Market Streets across from the Liberty Bell, the IVC is your one-stop-shop for tickets, souvenirs, itinerary planning, maps and more. Stop at the IVC when you arrive in Philadelphia, or call 800-537-7676 to speak to a live concierge.
Accommodations
You can't get much more young and fun than the aloft Philadelphia Airport, which combines modern design, interactive resources and lots of cool extras to make your Philly stay fresh and affordable.
The Independent, meanwhile, is a new boutique hotel right in Center City. Each guest room features its own unique design, while the building — an example of Georgian-Revival architecture — is listed on the National Register of Historic Places.
The Hyatt Regency is one of the historic area's newest hotels, a tower right on the Delaware River. You can sit at the outdoor bar and listen to the creak-creak of moored boats.
The Philly Overnight® Hotel Package is a popular getaway — and a terrific deal. It's available throughout the year and gives you free parking (worth $50 or more) and special offers and discounts – in addition to deluxe accommodations in Center City Philadelphia. Check out the package, then pick your favorite hotel.

More food and drink, please!
Of course, what we've recommended is just a sample of the amazing range of food and drink in Philadelphia. Take a closer look at the city's Dining and Nightlife offerings and pick your favorites.
4301 Island Avenue
aloft Philadelphia Airport
Philadelphia, PA 19153
Details
View On Map
Location
Center City Philadelphia: Rittenhouse Square, Old City, Bella Vista and beyond
Transportation
On foot or in a taxi
Duration
Approximately 36 hours (Friday afternoon to Sunday afternoon)
Neighborhood
Neighborhood:
/
/
/
/
/