Silver Linings Playbook
Philadelphia Itinerary
Inspired by the Academy Award-winning film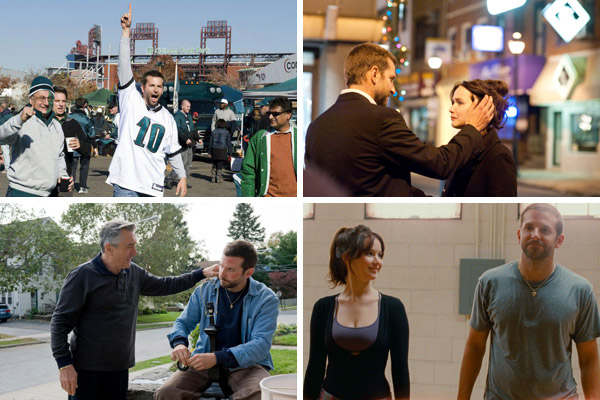 Description
The 2012 film Silver Linings Playbook starring hometown boy Bradley Cooper has been a smash hit. It earned over $100 million at the box office and was nominated for a whopping eight Academy Awards. Jennifer Lawrence was awarded the Oscar for Best Actress for her powerful portrayal of "Tiffany" in the film.
Philadelphia is another star in the movie. Much of the movie is set and was filmed in Philadelphia and the nearby suburbs. The movie also celebrates and embraces the underdog spirit that Philadelphia knows and loves so dearly.
So what better way to delve deeper into the movie than to visit some of the places Bradley Cooper's "Pat" and Jennifer Lawrence's "Tiffany" visit in the film, like Lincoln Financial Field, Jewelers' Row and the Llanerch Diner. Check out our complete Silver Linings Playbook Itinerary below.
Book Your Stay
Complete your visit with the popular Philly Overnight Hotel Package. It comes with free hotel parking and a special gift upon check-in.
On Location
View the listings below to begin your Silver Linings Playbook journey. Click the day button (in blue) to proceed to the next day. Note: Locations featured in the film are listed in bold.


First Day Noon
Ballroom Lunch
Ballroom at the Ben doesn't appear in the Silver Linings Playbook until Pat's and Tiffany's dramatic dance competition scene at the end of the movie, but you can start your trip to Philadelphia with a buffet lunch at the building's Palace at the Ben, giving the spicy, rich curries of Northern India a stunning ambiance without compromising their authenticity.
834 Chestnut Street #203
Philadelphia, PA 19107
First Day 1:30pm
Sparkle and Bling
After lunch, swing around the corner to Jewelers' Row just as Pat and Tiffany did in the movie. Here you'll find a dizzying selection of sparkle and bling—custom designed jewelry, hand-cut gems, one-of-a-kind estate pieces and other adornments—at more than 300 diamond and jewelry merchants.
Sansom Street between 7th and 8th Streets
Philadelphia, PA 19106
First Day 3pm
Franklin's Footsteps
Once you've done your share of shopping, plan to get your history on by exploring some of the many Benjamin Franklin sites and memorials found in the city's Old City neighborhood. (These sites aren't in the movie, but Ben is lauded by Pat Sr., who says that Franklin is more American than a cowboy—the mascot of the Philadelphia Eagles' rival Dallas Cowboys.)
Have your postcards hand-stamped at the B. Free Franklin Post Office, and then head upstairs to the U.S. Postal Service Museum, which explains Franklin's role as the nation's first Postmaster General.
Steps away at the Print Shop, Franklin's career as a printer is demonstrated using 18th-century printing techniques and machinery. As you walk through the archway leading to the Ghost Structure, designed by architect Robert Venturi to commemorate the place where Franklin's home stood, you'll be following in Franklin's daily footsteps.
320 Market Street
Philadelphia, PA 19106
First Day 7:30pm
Dancing Shoes
If the timing of your trip is right, you can end your night with a Philadanco performance. This renowned dance troupe appears on a poster in Tiffany's in-home dance studio, and they perform at the Kimmel Center for the Performing Arts each spring and fall. Every other weekend of the year, the Kimmel's other resident companies and visiting artists take the stage.
Kimmel Center for the Performing Arts
Broad and Spruce Streets
Philadelphia, PA 19102
First Day 10pm
Night Bites
Grab a bite to eat or drink after the show (or before if you prefer), where acclaimed Garces Catering has recently taken over operations, or make a reservation at one of the many restaurants—Bliss, XIX, Estia, for starters—on or around the Avenue of the Arts.
200 S. Broad Street
Philadelphia, PA 19102
Second Day 10:30am
Great Views
The Philadelphia skyline is featured prominently in the Silver Linings Playbook, and the tallest of those buildings is the Comcast Center, a 57-floor building that's also the greenest in the country. Start your day with a viewing of The Comcast Experience, depicting realistic nature imagery, urban landscapes and much more on the largest four-millimeter LED screen in the world.
1701 John F. Kennedy Boulevard Philadelphia, PA 19103
Second Day 10:45am
Market Fresh
After you've stood in awe of this super-sized screen, head downstairs to The Market & Shops for breakfast or lunch at some of Philly's favorite eateries, such as Di Bruno Bros., Termini Brothers Bakery and more.
1701 John F. Kennedy Boulevard Philadelphia, PA 19103
Second Day 11:30am
Fly Eagles Fly
Once you've eaten, hail a cab or hop in your car and head south to the Philadelphia Eagles Lincoln Financial Field, featured prominently in the film. While it's difficult to score tickets for a game, tours of the field are available year-round and include stops at the pressroom, the field, the locker room and more.
Before leaving the stadium, stop in the Philadelphia Eagles Pro Shop to pick up a DeSean Jackson #10 jersey similar to the one one Pat wore in the film or a green cardigan sweater like the fanatical Pat Sr. sported.
Another great spot to buy authentic football jerseys? Mitchell & Ness, a haven for sports fans in Center City, Philadelphia that carries official reproductions of uniforms worn by professional baseball, basketball and football players, plus T-shirts, hats and other goods.
1020 Pattison Avenue
Philadelphia, PA 19148
Second Day 2pm
Dine 24/7
If you can't leave town without sitting in the booth where Pat and Tiffany had their first non-date on Halloween night, then head northwest of the city to the Llanerch Diner. This 80-plus-year-old Upper Darby institution serves up your standard diner fare, along with Greek specialties such as moussaka, pastitsio and spinach pie, 24/7.
95 East Township Line Road
Upper Darby, PA 19082
Details
View On Map
Location
Center City, Philadelphia; South Philadelphia; and the suburbs
Transportation
By foot in Center City; by taxi, Septa or car for locations beyond
Duration
Overnight