The Art Lovers Itinerary
Three artful days in Philadelphia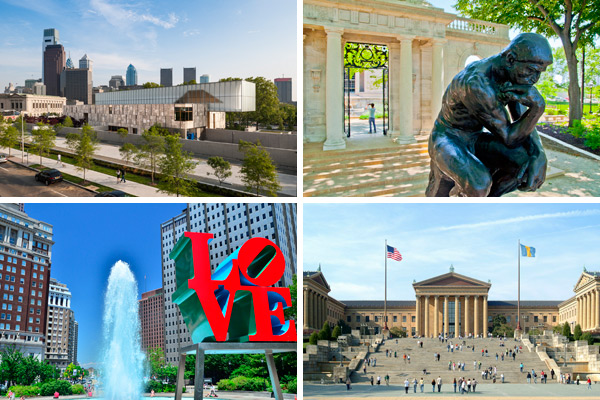 Description
Philadelphia is an art lover's kind of town — one that's bursting with beauty on the inside and out. The region boasts one of the country's top five art museums, the world's greatest collection of Impressionist works, an internationally lauded public arts initiative and some under-the-radar gems, all waiting to be explored, experienced and pondered at a pace that's all your own.
And, if you arrive on the First Friday of the month when Old City morphs into a sophisticated street festival as some 50 galleries stay open late and unveil new exhibits, you'll see that Philly's artistic appeal is also a blast.
Book Your Stay
Visitors can book the two-night Philly Hotel Package. It comes with free hotel parking and a special gift upon check-in, the package is available at more than a dozen hotels with rates starting as low as $169 per night.
Three Days of Art in Philadelphia:
Friday, Saturday and Sunday
Follow our suggested three-day itinerary below, spread out over a weekend. Click the day button (in blue) to proceed to the next day.
Details
View On Map
Location
Benjamin Franklin Parkway, Avenue of the Arts, Old City in Philadelphia
Transportation
On foot or by taxi, bus, rail or car
Duration
Three days and two nights
Neighborhood
Neighborhood:
/
/
/
/
/