Ebenezer Maxwell Mansion and The Grange Estate
Victorian mansions of the upper-middle and upper class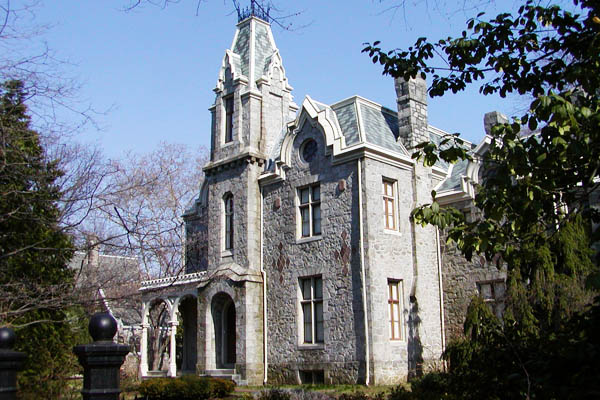 Description
The simplicity of Philadelphia's Quaker background was no match for the excess of the Victorian era. Traditionally, luxurious trappings were out of reach to all but the wealthy. However, the Industrial Revolution introduced machine-made goods and mass-production technology, making upper-class indulgences available to the middle-class. Germantown, a neighborhood that pre-dates the Revolution, flourished during the mid-19th century and was a hotbed of Victorian construction. The very wealthy established their homesteads in various suburban communities.
Ebenezer Maxwell Mansion:
Today's "less is more" design concept would never fly at the Ebenezer Maxwell Mansion. Built in 1859 by an up-and-coming clothing merchant, the mansion is classic Victoriana. No surface is left untouched. The massive, Gothic stone mansion celebrates the traditional faux finishes, elaborate and exotic hand-painted ceilings, Rococo furnishings and landscaped gardens that defined the era. Even the kitchen is fun with the servants' bells calling them to different rooms.
The Grange Estate:
Like all good Victorian mansions, the Grange Estate adhered to the philosophy that "more is better." More rooms, more grounds, more everything. Originally built in 1700, subsequent owners added their own wings and the Grange evolved into a sprawling English Gothic estate. Surrounded by a lush hardwood forest, the estate includes a carriage house, water wheel and even the private family school house. An active restoration effort is underway to return the Grange to its former glory.
Other Information
April 1 through December 12
Thursdays and Saturdays – Noon to 4pm. (Other times by appointment)
January 5 through April 1
Thursdays and Fridays – Noon to 4pm. (Other times by appointment)
Details
Get Directions
200 W. Tulpehocken St. Philadelphia, PA 19144
(215) 438-1861
Website
In the neighborhood
Museums & Attractions

5267 Germantown Avenue Philadelphia, PA 19144
(215) 843-4820
Website

View more attractions
Find us on Facebook