Franklin Square
Celebrating 6 years of carousel rides, mini-golf, burgers and more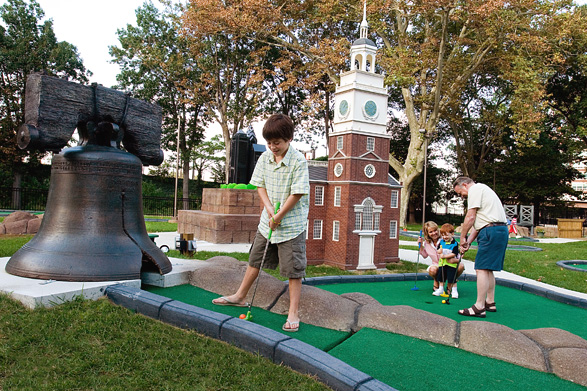 Description
2013 Season
Spring is in the Square. The 2013 season at Franklin Square begins on March 20, the first day of spring. Celebrate with carousel rides, treats and a special appearance from Ben Franklin starting at noon.
Highlights of the 2013 Season include: the Great Egg Hunt (March 31), the Fifth Annual Evening in Franklin Square presented by Parx (May 16), Memorial Day weekend activities (May 25-27), Independence Day (July 4), Franklin Square's 7th Birthday (July 31), Third Annual PumpkinFest in October 2013, holiday festivities and the popular New Year's Eve Countdown and Square Drop (December 31).
The Experience
Franklin Square, one of Philadelphia's five original public squares laid out by William Penn in his original plan for the city, has undergone a dramatic renovation. The park now boasts several family-friendly attractions, including a miniature golf course, classic carousel, burger joint, storytelling bench, picnic area and more.
Mini Golf
At Philly Mini Golf, an 18-hole miniature golf course decorated with some of Philadelphia's favorite icons, play a round of putt-putt and learn a little history at the same time.
Enjoy a mini-tour of Philadelphia as you putt your way through iconic sites, like the Liberty Bell, Boathouse Row, Elfreth's Alley and more.
Carousel
Close your eyes and take a nostalgic ride on the Philadelphia Park Liberty Carousel, a classic tribute to Philadelphia's great heritage of carousel-making.
Take a spin on hometown racehorse heroes Afleet Alex (winner of the Belmont Stakes and Preakness Stakes) and Smarty Jones (winner of the Kentucky Derby and the Preakness Stakes). The Franklin Square carousel is sure to be a instant kid favorite.
Storytelling Bench
Then catch up on your history at the park's storytelling bench, where you can hear tales of Franklin Square's past or learn about the many communities touched by the Square courtesy of the friendly storytellers of Once Upon a Nation. (Open Memorial Day through Labor Day)
Fountain
And emanating from the corners of the historic park, four new herringbone brick walking paths with nighttime lighting bring even more charm to the Square after dark. The paths lead to the centerpiece of the Square, the Franklin Square Fountain, a marble masterpiece built in 1838 surrounded by wrought iron fences.
SquareBurger
Franklin Square also features SquareBurger, a Stephen Starr-run "burger shack" selling summer staples: hot dogs, fries, milkshakes (including the CakeShake, made with Tastykakes) and, of course, hamburgers and cheeseburgers.
SquareBurger, open April – December, is perfect for a couple bites between rounds of miniature golf! Operating hours vary by season.
The History
Originally named "North East Publick Square," the 7.5-acre green is one of five original squares that William Penn laid out in his original plan of the city in 1682. The Square was renamed in honor of Benjamin Franklin in 1825.
Over the years, the area has been used as a cattle pasture, a horse and cattle market, a burial ground, a drill and parade ground for the American military during the War of 1812 and, finally, a city park.
In 1837, the city made Franklin Square into a public park and an elegant fountain was constructed in its center, a fountain thought to be the oldest surviving fountain in William Penn's five historic squares. The others are Rittenhouse, Washington, Logan and Center Square, where City Hall is now located.
Franklin Square is also available for birthday parties and other events. Check the events calendar for a schedule of special events.
PATH: http://www.uwishunu.com/tag/franklin-square/feed/image/
May 17, 2013Visit Franklin Square For A Multi-Cultural Celebration During The Asian-Pacific American Heritage Month Festival, This Saturday, May 18

May 16, 2013Tonight Picks: Celebrate Spring With The Phenomenal Night Market Fairmount Avenue, The Beer Garden At The Porch, An Evening In Franklin Square, Phillies Phestival And More

May 8, 2013Historic Philadelphia Presents Family-Friendly Tours, Special Events And Storytelling Throughout The Spring And Summer

May 7, 2013Roundup: Celebrate Mother's Day Across The City With Brunch, High Tea, Alfresco Fairs, Arts Events And More

Uwishunu covers everything fun and exciting happening in Philadelphia — read it daily for the latest on restaurants, bars, events, festivals, arts, music, hotels and more.
Details
Get Directions
6th and Race Streets Philadelphia, PA 19103
(215) 629-4026
Website
Neighborhood:
Related Tags
In the neighborhood
Accommodations

235 Chestnut Street Philadelphia, PA 19106
(215) 922-4443
Website

View more hotels

Museums & Attractions

420 Walnut Street Philadelphia, PA 19106
(215) 238-1290
Website

View more attractions

Restaurants & Dining

Front and Market Streets Philadelphia, PA 19106
(215) 922-7800
Website

View more Restuarants & Dining
Find us on Facebook