National Constitution Center
The world's only museum dedicated to the U.S. Constitution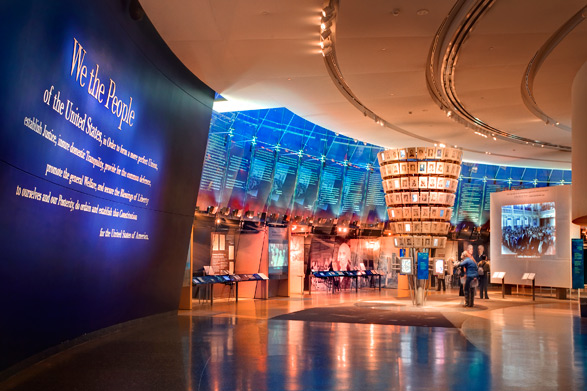 Description
The Experience
It's only four pages long, but the U.S. Constitution is among the most influential and important documents in the history of the world.
The 160,000-square-foot National Constitution Center explores and explains this amazing document through high-tech exhibits, artifacts, and interactive displays. The Kimmel Theater, a 350-seat star-shaped theater, features "Freedom Rising," a multimedia production combining film, a live actor and video projection on a 360° screen to tell the stirring story of "We the people."
Then experience it yourself: don judicial robes to render your opinion on key Supreme Court cases, then take the Presidential oath of the office.
In Signers' Hall, where life-size bronze figures of the Constitution's signers and dissenters are displayed, visitors can choose to sign or dissent.
One of the rare original public copies of the Constitution is on display.
Special Exhibitions
Explore the fascinating era of flappers, suffragists, bootleggers and temperance lobbyists and real-life legends like Al Capone during the world-premiere exhibition American Spirits: The Rise and Fall of Prohibition at the National Constitution Center. On display through April 28, 2013
History
Freedom of speech, protection from unlawful search and seizure, and other individual rights were not part of the original Constitution. Recognizing its imperfections, the authors built in a mechanism to amend the Constitution, making it adaptable for unknown eventualities.
The first ten amendments guaranteeing numerous personal freedoms — The Bill of Rights — were not ratified until 1791.
Insider Tip
While the Center hosts amazing evergreen presentations, take a look at the Events Calendar for the latest premiere or traveling exhibit.
Kids' Stuff
The Center frequently hosts special events with a focus on children that include informative and engaging hands-on activities. For specific information, check out the Center's website.
Buy Tickets In Advance
Tickets for general admission and special exhibitions at the National Constitution Center are available online or at the Independence Visitor Center. Click the button below to purchase tickets online.

PATH: http://www.uwishunu.com/tag/national-constitution-center/feed/image/
May 21, 2013Coming Attraction: The National Constitution Center Puts A Colorful And Chaotic Year In Focus With The 1968 Exhibit, Opening June 14

April 22, 2013Reminder: The National Constitution Center's American Spirits: The Rise and Fall of Prohibition Comes To An End On Sunday, April 28

April 22, 2013Celebrate Earth Day 2013 Today With Eco-Friendly Activities And Events In Philadelphia

April 4, 2013Tonight Picks: Cheers To Beer At The National Constitution Center, Sister Act At The Academy of Music, First Night Of The Cinedelphia Film Festival And More

Uwishunu covers everything fun and exciting happening in Philadelphia — read it daily for the latest on restaurants, bars, events, festivals, arts, music, hotels and more.
Details
Get Directions
525 Arch Street
Philadelphia, PA 19106
(215) 409-6700
Website
Neighborhood:
Upcoming Events
Events could not be retrieved at this time
Related Tags
In the neighborhood
Accommodations

Museums & Attractions

321 S. 4th Street Philadelphia, PA 19106
(215) 925-7866
Website

View more attractions

Restaurants & Dining

Front and Market Streets Philadelphia, PA 19106
(215) 922-7800
Website

View more Restuarants & Dining
Find us on Facebook