Terror Behind the Walls
One of the nation's premier haunted Halloween attractions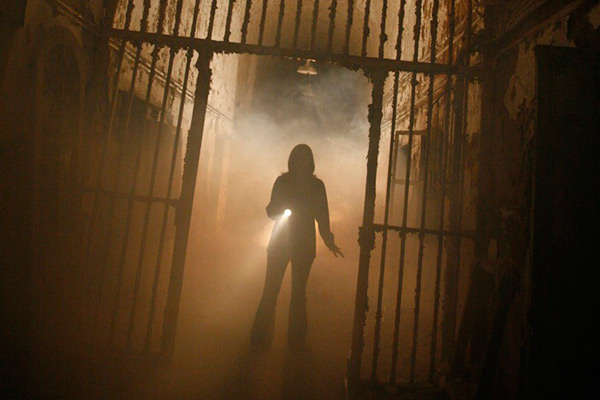 Description
Dates:
September 21 – November 10, 2012 (Select days)
Location
Inside Eastern State Penitentiary at 22nd Street and Fairmount Avenue
Overview of Terror
The massive Eastern State Penitentiary — a gothic, castle-like structure in Philadelphia's Fairmount neighborhood — is also home to one of the nation's largest and most ambitious and top-rated haunted attractions, Terror Behind the Walls.
Once the most famous and expensive prison in the country, Eastern State Penitentiary now stands as a living ruin with long empty cell blocks and remnants of the past. Now in its 21st year, Terror Behind the Walls has optimized this frightening setting to create one of the country's top-ranked haunted attractions.
Designed to be high-startle, Terror Behind the Walls includes Hollywood-quality special effects and lighting, digital sound, animatronic creatures and custom props. Over 200 performers are needed for six separate attractions in the 11-acre complex including: Lock Down, Infirmary and The Experiment (in 3-D!).
Brand new for 2012 is Detritus, an attraction taking you inside a part of the penitentiary that no visitors have ever, ever been before. Detritus takes visitors through an original 1800s cellblock, past the historic prison greenhouse and into an outdoor labyrinth of overgrown plants and twisting vines.
"ALONE" Package: Also new for 2012, Terror Behind the Walls is adding to its VIP Experiences with an "ALONE" package. The ultimate Halloween experience, "ALONE" includes a reserved parking space and an expert tour guide who will be a personal host for the evening. After a "Behind the Scenes" tour of the penitentiary, the visitor will experience Terror Behind the Walls completely ALONE, and enjoy dinner at Jack's Firehouse afterward.
Visit easternstate.org/halloween for detailed schedules and ticket prices.
Date Night at the Penitentiary
Looking to make a romantic night of it? Try Fright and a Bite, a dinner package offered by eight of the Fairmount area's best restaurants to complement your Eastern State fright fest.
Enjoy a Halloween-themed meal — think "mummified salmon with Bloody Mary sauce" — at such neighborhood restaurants as Rembrandt's and Jack's Firehouse. Your meal includes a Terror Behind the Walls quick pass, which allows you to move to the front of the line after dessert.
Insider Tip
Eastern State Penitentiary, a grim, 172-year-old former state prison, was once home to famous inmates Al Capone and Willie Sutton. Pained former prisoners are said to haunt Eastern State's dark Gothic halls.

PATH: http://www.uwishunu.com/tag/terror-behind-the-walls/feed/image/
November 5, 2012Last Chance: Eastern State Penitentiary's World-Famous "Terror Behind The Walls" Closes For The Season This Saturday, November 10

November 1, 2012Tonight Picks: Day Of The Dead Specials And Celebrations, 215 Festival, Terror Behind The Walls, Movember At Frankford Hall And More

October 24, 2012Tonight Picks: East Passyunk's Witch Craft Beer Crawl, Night Of The Living Dead At The Penn Museum, Philadelphia Film Festival, Terror Behind The Walls And More

October 10, 2012Halloween In Philadelphia 2012: Frightening Festivals, Terrifying Tours, Horrifying Haunted Houses And More

Uwishunu covers everything fun and exciting happening in Philadelphia — read it daily for the latest on restaurants, bars, events, festivals, arts, music, hotels and more.
Details
Get Directions
Eastern State Penitentiary N. 22nd Street and Fairmount Avenue Philadelphia, PA 19130
(215) 236-3300
Website
Neighborhood:
Related Tags
In the neighborhood
Accommodations

Museums & Attractions

2101 South College Avenue
Girard College
Philadelphia, PA 19121

(215) 787-2680

View more attractions

Restaurants & Dining
Find us on Facebook