The Comcast Holiday Spectacular
A 15-minute holiday spectacle at the Comcast Center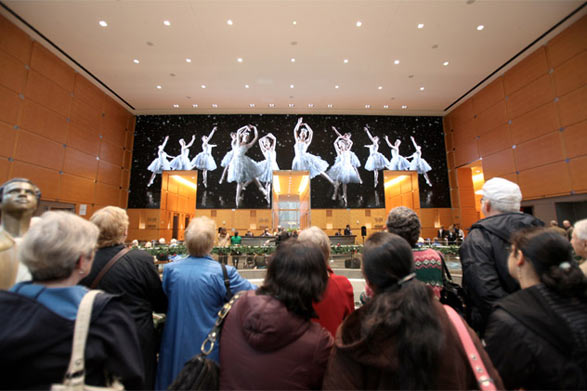 Description
Dates:
November 22, 2012 – January 1, 2013
The Holiday Spectacular
A holiday spectacle unlike any other returns for its fifth year. Shown on the state-of-the-art Comcast Experience Video Wall at The Comcast Center, the Holiday Spectacular is filled with sights and sounds of the season. Since its debut in 2008, more than 500,000 people have experienced the joyful holiday show in the Comcast Center lobby.
From Thanksgiving through New Year's Day, the Spectacular will run from 10 a.m. – 8 p.m. (except 5 p.m. on weekdays) every hour on the hour, seven days per week, through New Year's Day. The show lasts approximately 15 minutes.
Snowman Symphony
This year's Holiday Spectacular kicks-off with the "Snowman Symphony" and includes scenes from The Nutcracker performed by the Pennsylvania Ballet, a snowy sleigh ride through the Pennsylvania Countryside, a 1940s swing-style dance to "Jingle Bell Rock" featuring Broadway stars, the sounds of a 64-piece orchestra and much more.
Children of all ages can get a temporary "Snowman Symphony" tattoo good for a one-time treat at the Termini Brothers Bakery or Di Bruno Bros. downstairs in The Market & Shops at the Comcast Center.
Connect Online
Share your favorite photos and stories from the Comcast Holiday Spectacular with the hashtag #spectacular.
The 2011 Spectacular
Click here for a glimpse at last year's Comcast Holiday Spectacular.
About the Video Wall
The Comcast Experience Video Wall is the largest four-millimeter LED screen in the world.
Spanning 83.3 feet wide by 25.4 feet high, the 2,100 square-foot video wall is the world's largest four-millimeter LED screen with resolution five times greater than that of a HDTV. Since its debut, there have been thousands of hours of unique programming created exclusively for The Comcast Experience Video Wall.
Details
Get Directions
1701 John F Kennedy Blvd.
Philadelphia, PA
Website
Neighborhood:
Related Tags
In the neighborhood
Accommodations

135 S. 18th Street
Philadelphia, PA 19103
(215) 825-7000
Website

View more hotels

Museums & Attractions

1701 John F. Kennedy Boulevard Philadelphia, PA 19103
Website

View more attractions

Restaurants & Dining

118 S. 20th Street
Philadelphia, PA 19103
(215) 665-1088
Website

View more Restuarants & Dining
Find us on Facebook