Visit Valley Forge
Life, Liberty and the Pursuit of Fun
Description
Located just 30 minutes from downtown Philadelphia, Valley Forge is lush with historic attractions, world-class shopping and outdoor adventures.
Follow in the footsteps of General George Washington and his troops in the sprawling 3,500-acres of Valley Forge National Historical Park. Explore the restoration of Washington's original stone headquarters, learn at interactive exhibits and pay tribute to the soldiers of the American Revolution.
Outdoor enthusiasts should feel at home in the gorgeous open spaces of Valley Forge, perfect for hiking, biking, jogging, fishing, horseback riding and much more.
Have a shopping itch? You'll find some of the best retail in the country at the King of Prussia Mall, the largest shopping mall on the East Coast, and incredible deals at the Philadelphia Premium Outlets.
Valley Forge Value Pass
Get an extra discount at attractions, shops and restaurants with the official Valley Forge Value Pass. Sign up and begin saving, below.
Official Visitor Guide
Plan your visit to Valley Forge and Montgomery County in advance. Learn about the top attractions in the region, receive special offers, updates and more. Sign up for visitors material, below.
Valley Forge Tourism & Convention Board
For more information, visit valleyforge.org to discover special offers, getaway packages and to plan your trip to Montgomery County and Valley Forge.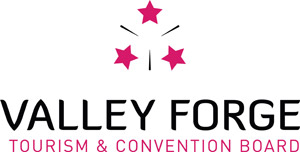 Details
Get Directions
Valley Forge, PA
610) 834-1550
Website
Visit Official Website
Find us on Facebook