Silk City
Part diner, part bar and part dance club, Silk City is one of Philly's coolest night spots.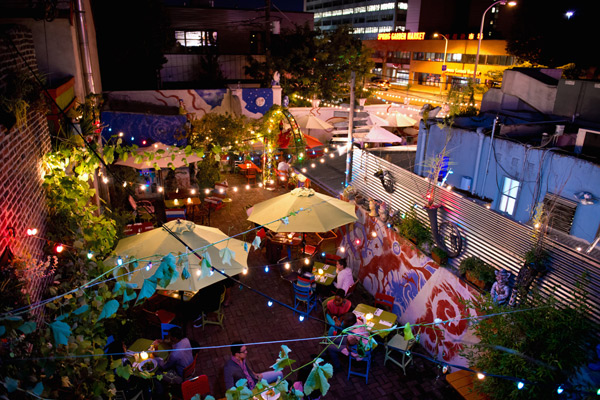 Description
Illuminating a stretch of Spring Garden Street with the neon lighting from its first incarnation as a diner, Silk City has quickly become one of Philadelphia's most popular destinations since reopening in 2007. It's even gotten the attention of the New York Times, who call the place "the hottest party in town."
Silk City can be described as a diner/restaurant/bar/beer garden/nightclub hybrid — the kind where you can get beer (or mojitos) and a burger, then spend the rest of the night dancing to your favorite guilty pleasure tracks from the 90s.
Food
It's important to recognize immediately that Silk City does not serve your typical diner food. It's a veritable destination for dinner even if you have no interest in dancing afterward. And while you can order diner staples like a roast beef or a grilled cheese sandwich, they are modern variations on classics that will not disappoint. And you will also be tempted by more gourmet options — like duck and mushroom spring rolls, pulled pork empanadas and the much-praised Thai chili glazed ribs.
Also consider ordering the "Ultimate BLT." This monster of a sandwich is loaded with wild boar bacon, crisp lettuce and the very rare fried green tomato. Don't worry about counting calories — you can dance off the sandwich after dinner.
And brunch at Silk City is simply outstanding. The huevos rancheros are spicy and flavorful; the omelets incorporate ingredients like crab and avocado; and with an impressive array of microbrews behind the bar, you have plenty of reasons to tap the hair of the dog.
Atmosphere
Silk City has matured from a milkshake-fueled classic diner to a hip nightlife spot with specialty cocktails, breakdancing and an all-star cast of DJs. And with parties, events and drink specials nearly every night of the week, there's always a reason to get your dance on.
The nightclub features red and neon lighting, a black-and-white tile floor and dance moves you haven't seen since 1986. The space is decorated with black paintings and disco ball chandeliers, while mosaics made from broken glass and tea cups make for an artistic front entrance.
And then there's the outside décor. Donning a bright, 1950s-style facade, Silk City is just as much fun to look at as it is to enter — but without the cocktails. And the music. And the food.
PATH: http://www.uwishunu.com/tag/silk-city/feed/image/
March 19, 2014Tonight Picks: Opening Night Of The Phantom Of The Opera, Chestnut Hill Restaurant Month, One Book, One Philadelphia Closes, Pay-What-You-Wish Wednesday At The Museum Of Art And More

November 22, 2013Roundup: Where To Dance, Drink And Celebrate On Thanksgiving Eve 2013 In Philadelphia, Wednesday, November 27

October 10, 2013Roundup: Where To Extend The Outdoor Dining Season In Philadelphia At Restaurants With Heat Lamps Or Fire Pits

August 2, 2013Philadelphia Neighborhoods: Our Guide To The Restaurants, Bars, Markets And Cafes In The Northern Liberties Neighborhood Of Philadelphia

Uwishunu covers everything fun and exciting happening in Philadelphia — read it daily for the latest on restaurants, bars, events, festivals, arts, music, hotels and more.
Details
Get Directions
435 Spring Garden Street
Philadelphia, PA 19123
(215) 592-8838
Website
Neighborhood:
In the neighborhood
Museums & Attractions

Restaurants & Dining
Find us on Facebook