Shofuso – The Japanese House and Garden
Serenity and elegance in Fairmount Park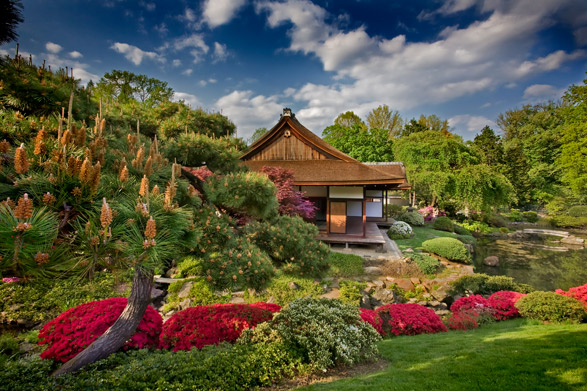 Description
Enter a place of harmony and tranquility, where the large stone statue of the Buddhist deity Jizo keeps silent watch over the Shofuso in its home away from home in Fairmount Park. Explore the Pine Breeze Villa, fragrant from its tatami mats and hinoki bark roof; across the wooden bridge, a tea garden leads past lanterns to the ceremonial teahouse complex.
Follow the stepping-stone pathway alongside Japanese maples, azaleas and handsome conifers; behind the house, walk onto a small island in the koi-filled pond. Graceful cherry, plum and dogwood trees rain delicate pink and white petals in the spring. A bamboo grove and a stone pagoda donated by the city of Kyoto complete the ornamental garden.
First established as a Japanese-style landscape for the 1876 Centennial Exposition, the current garden was designed by Sano Tansai in 1958 when the authentic shoin-style Japanese house was moved here from New York's Museum of Modern Art. For Philadelphia's 1976 Bicentennial celebration, the garden was extensively renovated by Nakajima Kenji in the authentic Momoyama style of early 17th-century Japan.
Kids' Stuff
As they hop along the stepping stones, children are quick to glimpse the flashes of orange and gold from the koi in the pond.
Pause on the teahouse porch to savor a tranquil moment and catch the reflection of this special place in the quiet pond.
PATH: http://www.uwishunu.com/tag/shofuso/feed/image/
October 16, 2013Shofuso Japanese House And Garden To Hold A Fall Harvest Moon-Viewing Celebration This Weekend, October 18-19

September 26, 2012Shofuso Japanese House And Garden To Hold A Harvest Moon-Viewing Celebration This Weekend, September 29-30

March 26, 2012Fairmount Park's Gorgeous Shofuso Japanese House And Garden To Open Its Brand New Sakura Pavilion This Saturday, March 31

August 10, 2011Our Guide To Picnicking In Philadelphia: Picnic-Friendly Events, Best Bets For Picnic Spots And Where To Pick Up Picnic-Appropriate Food And Drink

Uwishunu covers everything fun and exciting happening in Philadelphia — read it daily for the latest on restaurants, bars, events, festivals, arts, music, hotels and more.
Details
Get Directions
Horticultural and Lansdowne Drives Philadelphia, PA 19131
(215) 878-5097
Website
Neighborhood:
In the neighborhood
Museums & Attractions

Kelly Drive at Sedgely Drive Philadelphia, PA 19130

View more attractions
Find us on Facebook