Every year, 42 million travelers get to know Philadelphia's layout, customs, food and dialect during their visits.
First-timers may wonder: What's the best way to get around (walk); why do so many restaurants refuse to serve alcohol (BYOBs); where are all the bagels (soft pretzels for breakfast); is that Ben Franklin on the top of that building (no); and is wooder ice really that big of a deal (yes)?
The reasons to visit the country's first World Heritage City have been well-covered in U.S. News World Report, The New York Times, Bon Appétit, Travel + Leisure, Lonely Planet and Condé Nast Traveler — and that's just the recent list. The less-apparent ins and outs reveal themselves over time to captivated repeat visitors, but here's a Philly 101 cheat sheet to get a head start.
---
Grid Layout
The directionally challenged can thank city founder William Penn for Philadelphia's logical downtown, called Center City. Perpendicular streets run north-south (numbered streets) and east-west (named mostly after trees, including Walnut, Locust and Spruce).
What would be 1st Street is named Front Street, and what would be 14th Street is Broad Street, also called Avenue of the Arts. Pro tip: William Penn continues to give direction to the city. His statue atop City Hall faces northeast, so he can help people get their bearings.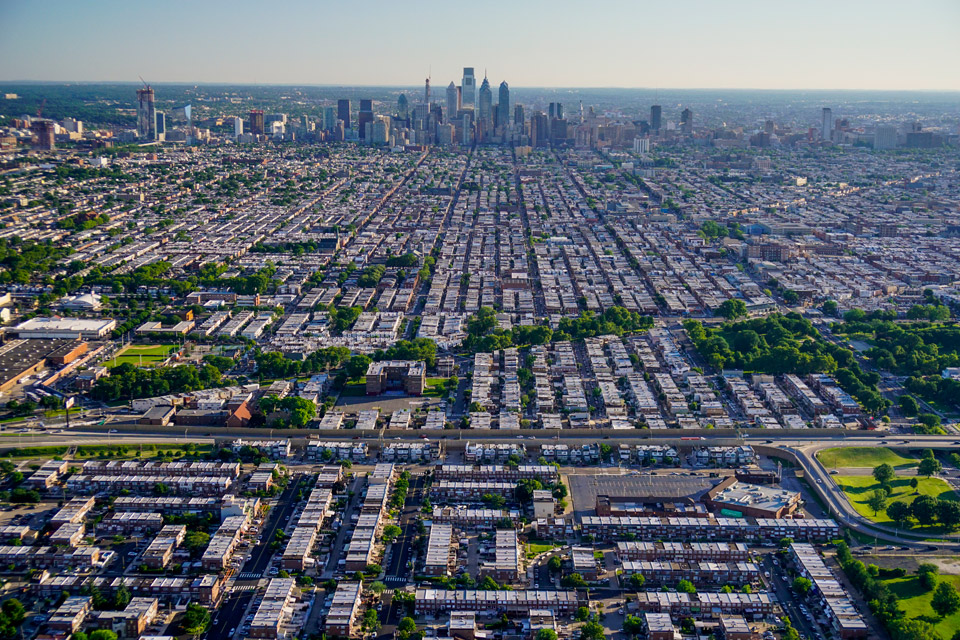 Philadelphia's layout follows a grid pattern, making it a fairly easy city to navigate. (B. Krist for Visit Philadelphia)
---
"Greene Countrie Town"
Another Penn gem, Philadelphia's five main squares date back to the original city. It was all part of the founder's plan for a "greene countrie town."
Today they're known as:
Residents and visitors enjoy relaxing, picnicking and playing in these public spaces, as well as newer parks that honor Penn's vision. Beyond Center City, Philadelphia holds dozens of diverse neighborhoods filled with row homes, famed foods and quirky traditions.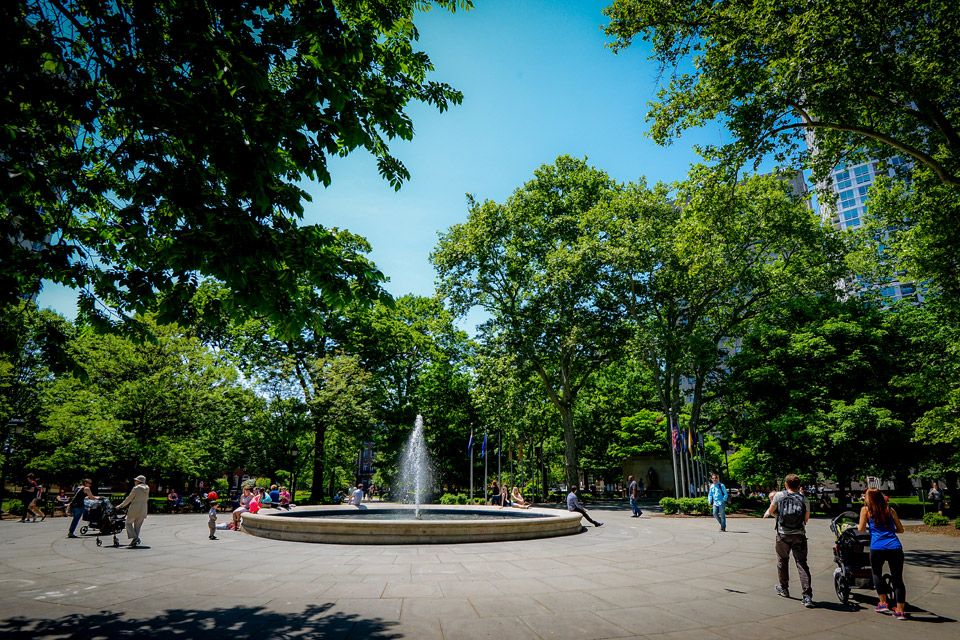 Rich in both history and greenery, Washington Square offers a relaxing refuge in the heart of its namesake neighborhood. (M. Kennedy for Visit Philadelphia)
---
Philadelphia's Champs-Élysées:
Benjamin Franklin Parkway
Cutting through the city grid, the diagonal Benjamin Franklin Parkway stretches from near City Hall to the Philadelphia Museum of Art at the edge of Fairmount Park. Planner Paul Philippe Cret and designer Jacques Gréber modeled the mile-long thoroughfare after the Champs-Élysées of their native country.
Some of the city's most important cultural institutions line the Parkway — the Barnes Foundation, The Franklin Institute, the Academy of Natural Sciences of Drexel University, the Rodin Museum, the Ruth and Raymond G. Perelman Building and the crowning Philadelphia Museum of Art. The Parkway is celebrating its centennial in 2017, with 14 months of special Parkway 100 exhibitions, events, community conversations and promotions.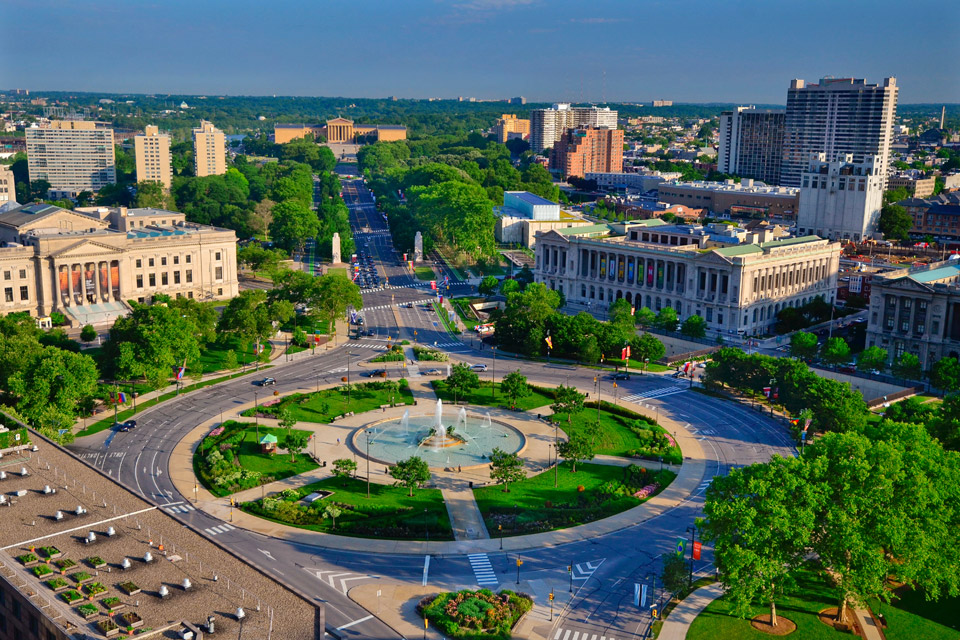 Stretching from City Hall to the Philadelphia Museum of Art, the Benjamin Franklin Parkway offers a scenic walkway that connects many of the city's most important cultural institutions. (B. Krist for Visit Philadelphia)
---
A Tale Of Two Rivers
Center City Philadelphia sits between two waterways: the Schuylkill River on the west and the Delaware River about 30 blocks to the east. Recent developments on both waterfronts have made them bigger draws than ever before.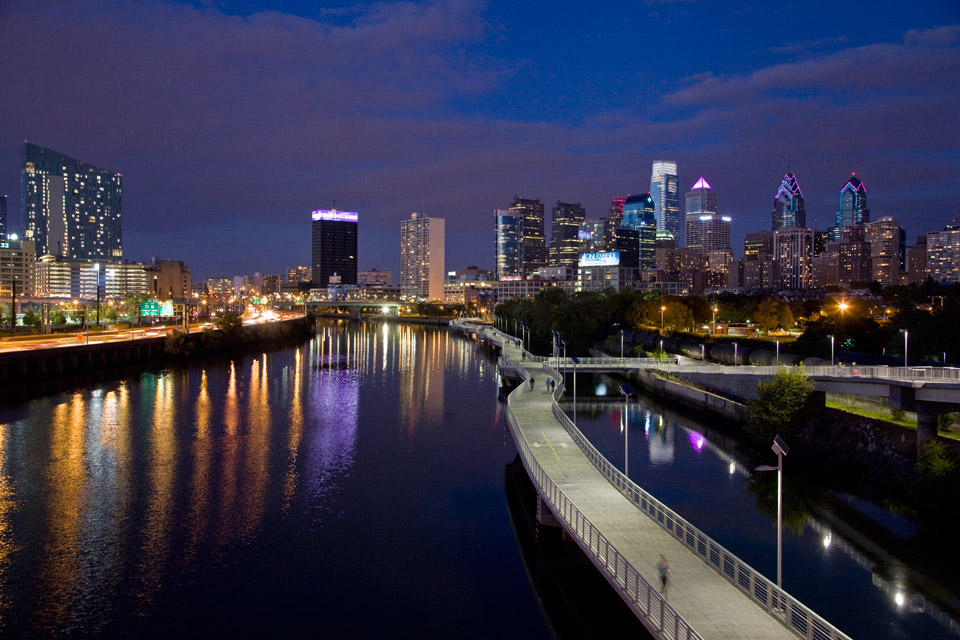 The Schuylkill Banks Boardwalk provides picturesque daytime and nighttime views for walkers, runner and bikers. (M. Edlow for Visit Philadelphia)
The Schuylkill River Trail and Schuylkill Banks Boardwalk welcome walkers, runners and bikers who take advantage of this piece of the East Coast Greenway, while Spruce Street Harbor Park and Blue Cross RiverRink along the Delaware attract crowds with food, beer and a roller rink or ice-skating rink, depending on the season.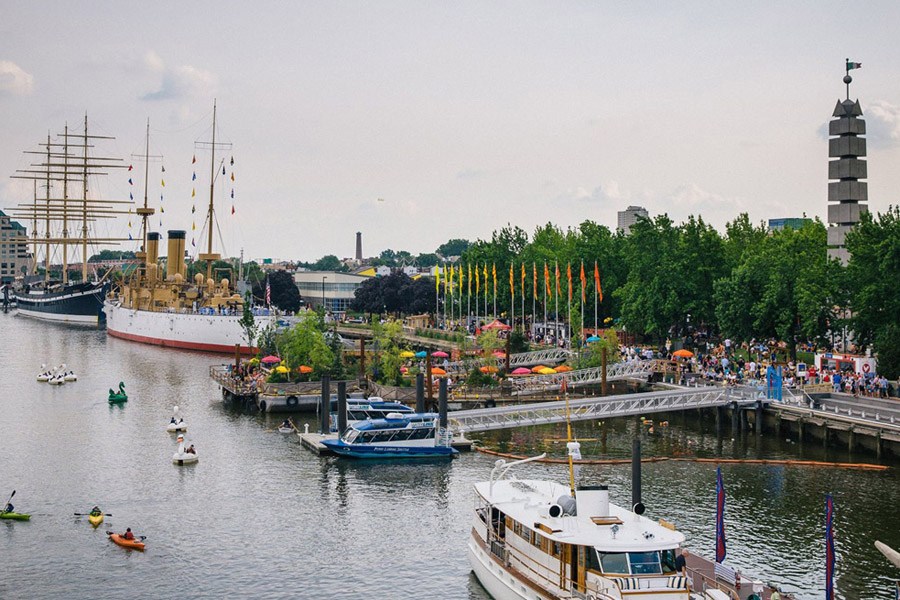 The Delaware River offers everything from free yoga on a pier to pop-up parks to roller skating to swan boats. (Photo courtesy DRWC)