Chifa
Jose Garces' unique hybrid of Peruvian and Cantonese cuisines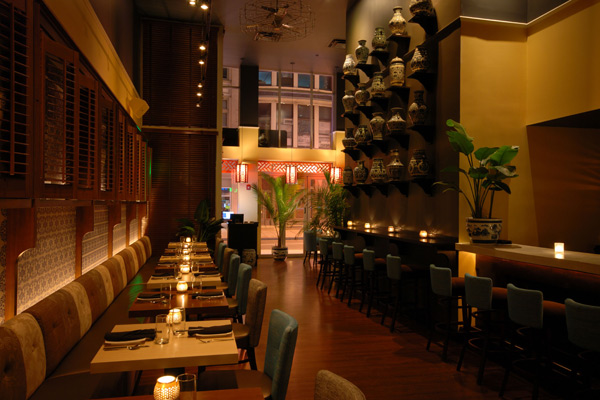 Description
The Experience
Chef Jose Garces — already a culinary celebrity for his efforts at Amada, Tinto and Distrito — has crafted another amazing dining experience at Chifa. Named after the unique hybrid of Peruvian and Cantonese cuisines found in Peru, Chifa combines the flavors and ingredients of both Asian and Latin cuisines with delicious results.
With a brilliant color palette, the stunning restaurant features a center-stage ceviche bar that sits atop a Chinese apothecary cabinet, a 16-seat gold resin communal table, a welcoming lounge for late-night dining and Chef Garces' dazzling menu of signature small plates.
Cuisine
Servings at Chifa are small and are meant to be shared — after all, the smaller the portions, the more you'll be able to try.
The menu boasts a number of Ceviche options (such as bluefin tuna and kobe beef), served alongside an assortment of dim sum plates (try the chicken wings and/or salt baked shimp) and traditional Chinese noodle and rice dishes (how about lobster with noodles or chorizo fried rice?).
Dessert items include light sorbets, pumpkin banana funnel cake and the elusive root beer float.
Atmosphere
Chef Garces and his team of designers have created a space that is both rich and light-filled.
Depending on your mood, you can dine on the main level or opt for the more romantic lower level. Larger parties can reserve the semi-private banquette and those who like a more casual dining space can choose the lounge.
It's an incredibly vibrant and colorful space — a feast for the eyes, really.
Tasting Menu
For those diners who can't make up their minds, a tasting menu is available for $65 a person.
Considering the breadth of Garces' culinary talent — and the range of tastes he creates — it's highly recommended.
Lunch at Chifa
Chifa's Hiram Bingham Express is a two-course meal, including a non-alcoholic beverage, comprised of one first- and one second-course option from the lunch menu for just $18.
Chef Garces also offers guests the opportunity to relax and allow him to hand-select their meal with a $25 Chef's Tasting Menu. All lunch items are also available a la carte.
Details
Get Directions
707 Chestnut Street
Philadelphia, PA 19106
(215) 925-5555
Website
Neighborhood:
In the neighborhood
Accommodations

1234 Locust Street Philadelphia, PA 19103
(215) 772-1440
Website

View more hotels

Museums & Attractions

901 Market Street, Level 2
Philadelphia, PA 19139
(215) 925-3633
Website

View more attractions

Restaurants & Dining
Find us on Facebook