Distrito
Tapas and tequila reign at this deliciously over-the-top Mexican hot spot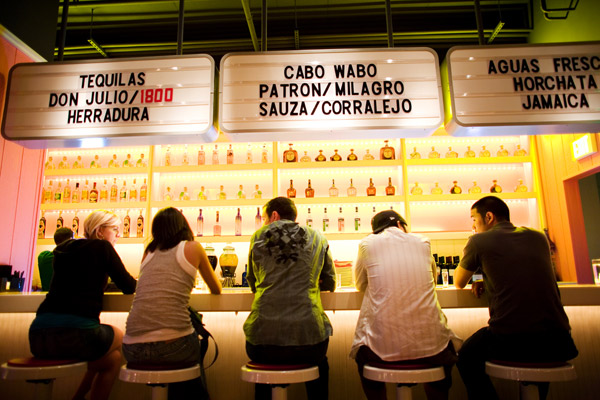 Description
Jose Garces, the brains behind the kitchens at Amada, Tinto and three other top-notch restaurants, has just made Philadelphia diners very happy.
At Distrito, Garces' brand new, two-story Mexican outpost in University City, incredible tapas dishes mingle with a funky (and mostly pink) décor — including the restaurant's famous Volkswagen Beetle booth — to bring you a thoroughly entertaining night out.
Our suggestion? Try the grapefruit margaritas. And the yellowtail tacos. And the scallop and pineapple skewers. Try everything.
Cuisine
Distrito's menu traverses Mexico City's rich gastronomical landscape and focuses on the cuisine of what's affectionately known as the "Distrito Federal," or "D.F." — the centrally-located capital city from which Distrito takes its name.
Garces' signature interpretations of classic Mexican fare include: skewers of scallops and fresh pineapple, grilled and served over a sweet pepper and grapefruit salsa; guindilla chili-marinated lamb chops with smoked bacon etole; and huarache de los hongos topped with black and royal trumpet mushrooms, black truffles and corn shoots.
Add to this Distrito's selection of fresh, house-made margaritas and more than 60 varieties of tequila, and you've got yourself a real Mexican meal to remember.
Atmosphere
Distrito's fun and striking décor includes a bight pink and green color scheme, a wall constructed from more than 600 colorful, campy masks of lucha libre, or "free fight," professional wrestlers, and a booth crafted from a Volkswagen Beetle, a typical Mexico City taxi cab.
Take a spin around the two-story restaurant and you'll also find a working jukebox, a vending machine equipped with Mexican action figures and toys, and an assortment of seats that swing, swivel and rotate.
Live Music at Distrito
Who doesn't like a little music during dinner?
Distrito features a singing guitar player every night (except Wednesday and Sunday) who will gladly serenade your table. As though your margaritas hadn't set the mood already.
PATH: http://www.uwishunu.com/tag/distrito/feed/image/
February 4, 2013Celebrate National Margarita Day At Distrito With Great Margarita And Food Specials, Friday, February 22

November 1, 2012Day Of The Dead Roundup: Where To Celebrate At Restaurants And Bars In Philadelphia Tonight Through This Weekend

September 24, 2012Distrito Kicks Off Football Season With A Weekly Monday Night Football Fiesta: Bottomless Tacos And Enchiladas, Plus $2 Dos Equis

Uwishunu covers everything fun and exciting happening in Philadelphia — read it daily for the latest on restaurants, bars, events, festivals, arts, music, hotels and more.
Details
Get Directions
3945 Chestnut Street
Philadelphia, PA 19104
(215) 222-1657
Website
Neighborhood:
Make a reservation.
Upcoming Events
Events could not be retrieved at this time
Related Tags
In the neighborhood
Accommodations

36th and Chestnut Streets Philadelphia, PA 19104
(215) 387-8000
Website

View more hotels

Museums & Attractions

3801 Chestnut St.
Philadelphia, PA 19104
(215) 222-1234
Website

View more attractions

Restaurants & Dining

2951 Market Street (In 30th Street Station)
Philadelphia, PA 19104
(215) 387-4787
Website

View more Restuarants & Dining
Find us on Facebook