Hot Diggity!
Hot dogs fit for foodies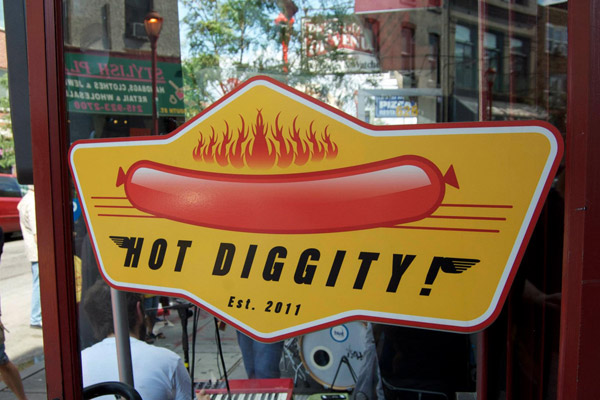 Description
South Street's friendly, colorful hot dog specialist does some of the best dogs in town, complemented by a crazy selection of housemade sodas you will never find anywhere else.
PATH: http://www.uwishunu.com/tag/hot-diggity/feed/image/
July 16, 2013South Street Headhouse District's Annual Hot Dog Cook-Off Returns With Inventive Dogs And Plenty Of Craft Beer, Saturday, July 20

July 18, 2012South Street Headhouse District Presents "The Dog Days Of Summer," Six Days Of Hot Dog Celebrations, July 19-23

June 26, 2012Summer Eats: Hot Diggity Owner Keith Garabedian, With Hawk Krall, To Give An All-Things-Hot-Dog Lesson At COOK, Saturday, July 28

Uwishunu covers everything fun and exciting happening in Philadelphia — read it daily for the latest on restaurants, bars, events, festivals, arts, music, hotels and more.
Details
Get Directions
630 South St.
Philadelphia, PA 19147
(267) 886-9253
Website
Neighborhood:
In the neighborhood
Restaurants & Dining

1017 S. 9th Street
Philadelphia, PA 19147
(215) 440-0371
Website

View more Restuarants & Dining

Museums & Attractions

614 S. Ninth St.
Philadelphia, PA 19147
(215) 625-0692
Website

View more attractions