Iron Hill Brewery & Restaurant
Six locations prove the staying power of this inviting beer and food haven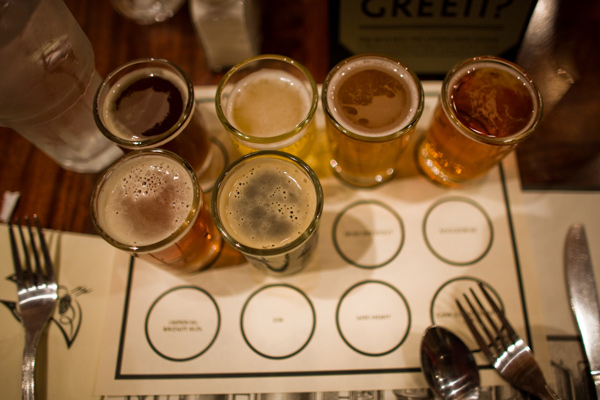 Description
The award-winning Iron Hill Brewery & Restaurant is the kind of place where old friends can enjoy a round of brews at the billiards tables, or dine on seared ahi tuna and prime rib.
The Brewery, which opened its first location in Newark, Delaware in 1996, takes its name from a historic Revolutionary War landmark in that state. In the ten years since, Iron Hill has opened six more locations in Pennsylvania and New Jersey.
The Brewery hangs its hat on producing distinctive, full-flavored handcrafted beers, accompanied by inspired yet informal New American cuisine in a comfortable, casual atmosphere.
The menu typically features an extensive array of light fare and small dishes, wood-oven pizzas, vegetarian selections, salads and entrées that cover a variety of cuisines from ethnic to hearty comfort foods.
Award-winning Beer
At each of the Iron Hill locations, beer enthusiasts can watch as the talented brewing team creates their award-winning beers, which include: Lager Light, brewed to give a crisp, clean and refreshing taste with subtle malt and hop flavors; Lodestone Lager, a German Helles style lager with a distinct malt flavor; Anvil Ale, an English bitter; Raspberry Wheat, an American wheat beer with a touch of natural Raspberry; Ironbound Ale, American pale ale with a robust hop characteristic; plus several, rotating seasonal beers.
Iron Hill's beers have been awarded top honors at the nation's most prestigious beer festival, the Great American Beer Festival (GABF) including "Large Brewpub of the Year 2005." In the nine years Iron Hill has participated in the GABF, it has received 19 medals for its beers including: Belgian Strong (Gold 2005); Kriek De Hill (Gold 2005); and Ironbound Ale (Bronze 2005).
Details
Get Directions
30 E. State Street
Media, PA 19063
(610) 627-9000
Website
Find us on Facebook