Johnny Brenda's
Delicious food + great beer + live music = a Fishtown landmark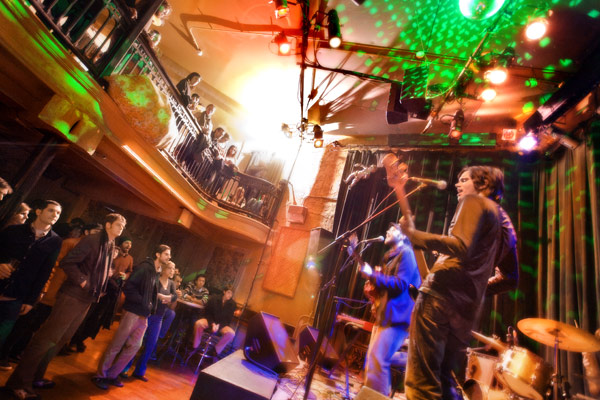 Description
Located at the intersection of Frankford and Girard Avenues on the Southern tip of Fishtown, Johnny Brenda's is, at once, the catalyst, champion, living room, kitchen/dining room and concert hall of its burgeoning neighborhood.
What was once a rough-around-the-edges neighborhood tavern — with a dilapidated boarding house above it — is now a chronically-filled gastro-pub, where table seats can be few and far between, with a beautifully restored, 250-person live music venue just up the stairs.
Champion
Everything about Johnny Brenda's shows the pride it has for its location. From the menu emphasizing locally-grown produce and the craft beer selection that only features beers from the region's many excellent breweries to the live music venue that showcases Philly's thriving indie rock scene, Johnny Brenda's is all about its hometown.
And with a full menu available 'til 1 a.m., we're all about Johnny Brenda's.
Living Room / Dining Room
The food at Johnny Brenda's is, in a word, delicious. A full menu is served from 11 a.m. to 1 a.m. each day, with brunch added on the weekends. The menu is written on chalkboards — it changes so often (multiple times a day) to reflect what's in season that printed menus just wouldn't make sense.
Everyone raves about the grilled octopus — and deservedly so. But there's much more to the changing menu at Johnny Brenda's. From creative sandwiches (like the grilled pork, the grilled sausage, the brie or JB's take on the Philly cheesesteak) and seafood or lamb kabobs, to smaller treats like hummus, tarts, soul-satisfying soups and addictive shoestring fries, the open kitchen at Johnny Brenda's consistently outputs some of the best food you will ever find in a "bar."
Concert Hall
The new music venue at Johnny Brenda's is an instant classic, showing off home-grown talent five nights a week. The two-tier space, with a gorgeous, handmade balcony overlooking the main stage, is the perfect place to sample Philadelphia's amazing indie rock scene. Many local bands are already claiming that Johnny Brendy's is their favorite place to play in Philadelphia.
What are you waiting for? Visit Johnny Brenda's online music calendar and experience it all for yourself.
Great Local Beer Selection on Tap
You won't find any Bud Light here. Johnny Brenda's, like its older sibling in Northern Liberties, the Standard Tap, is an unwavering advocate of the bevy of excellent craft breweries in the Philadelphia region, like Yards, Sly Fox, Troegs, Victory, Stoudt's, Flyish Fish, Dogfish Head, etc.
And this is very good news for you — these beers are so much better than normal beer you'll be clamoring to take six-packs home with you.
PATH: http://www.uwishunu.com/tag/johnny-brendas/feed/image/
November 22, 2013Roundup: Where To Dance, Drink And Celebrate On Thanksgiving Eve 2013 In Philadelphia, Wednesday, November 27

November 5, 2013The Craft Beer Express Returns To Transport You To 12 Well-Loved Craft Beer Bars This Saturday, November 9

October 24, 2013Halloween Night 2013: Where To Celebrate Halloween In Philadelphia On Thursday, October 31

October 10, 2013Tonight Picks: DesignPhiladelphia Continues, Night Skies In The Observatory At The Franklin Institute, Tele-Terror Fest At PhilaMOCA, Philly Give & Get And More

October 10, 2013Roundup: Where To Extend The Outdoor Dining Season In Philadelphia At Restaurants With Heat Lamps Or Fire Pits

Uwishunu covers everything fun and exciting happening in Philadelphia — read it daily for the latest on restaurants, bars, events, festivals, arts, music, hotels and more.
Details
Get Directions
1201 N. Frankford Avenue
(Corner of Frankford and Girard)
Philadelphia, PA 19125
(215) 739-9684
Website
Neighborhood:
Related Tags
In the neighborhood
Museums & Attractions

407-409 E. Girard Avenue
Philadelphia, PA 19125
(215) 427-7805
Website

View more attractions

Restaurants & Dining

250 E. Girard Avenue
Philadelphia, PA 19125
(215) 426-2277
Website

View more Restuarants & Dining
Find us on Facebook