Laurel
Intimate East Passyunk location for Top Chef winner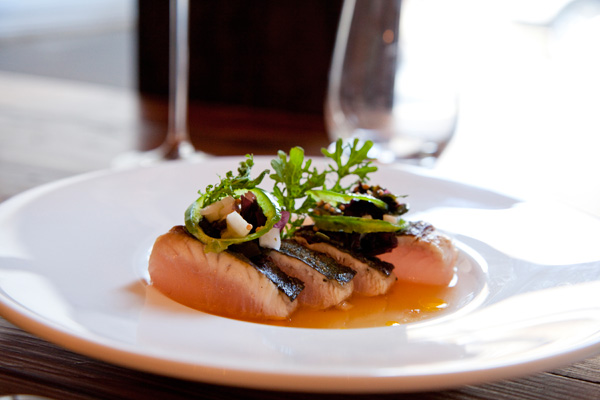 Description
Philadelphia's East Passyunk neighborhood is proud to welcome a Top Chef to the neighborhood. Chef Nicholas Elmi, winner of Top Chef New Orleans, continues his winning-streak with the modern French-influenced American BYOB Laurel.
The intimate, 26-seat restaurant serves as a blank canvas for Elmi's culinary creativity, allowing him focus on a highly edited menu of just over a dozen dishes. Highlights on the menu include a fresh ricotta gnocchi with pancetta, a favorite of Elmi's daughter and Top Chef judges, and a torn New Jersey Scallop served with gold apple.
Guests can expect personal, friendly service in the simple-yet-beautiful restaurant space.
Recently, Philadelphia Inquirer food critic Craig LaBan gave Laurel three bells, describing Elmi's torn New Jersey scallop as, "a gorgeous, refreshing, and elegant dish – complex, but in perfect tune."
Hours and Reservations
Laurel is open for dinner Tuesday through Sunday at 5 p.m.
Be sure to plan your visit well in advance, as Laurel's small size and growing popularity make it one of the harder reservations to get in Philadelphia.
For a complete menu and reservation information, click the button below.
PATH: http://www.uwishunu.com/tag/laurel/feed/image/
February 21, 2014More Love For Philly's Food Scene: GQ Magazine Names Two Philly Spots To Its List Of The 25 Best Restaurants in America

February 20, 2014Our Guide To East Passyunk Restaurant Week, Returning With Deals At 24 Restaurants Throughout The Neighborhood Corridor, February 23-March 1

February 6, 2014Awesome News Alert: Philadelphia Chef Nicholas Elmi Takes Home Top Honors, Winning Top Chef Season 11

February 5, 2014Tonight Picks: Root For Local Chef Nicholas Elmi On The Top Chef Season Finale, Chinese New Year Dinner Specials, Great Voyages Lecture Series At The Penn Museum And More

November 11, 2013Now Open: Chef Nicholas Elmi's New BYOB Laurel Brings Relaxed French-Inspired Cuisine To East Passyunk Avenue

Uwishunu covers everything fun and exciting happening in Philadelphia — read it daily for the latest on restaurants, bars, events, festivals, arts, music, hotels and more.
Details
Get Directions
1617 E. Passyunk Ave.
Philadelphia, PA 19148
Website
Neighborhood:
Make A Reservation
In the neighborhood
Restaurants & Dining

1823 E. Passyunk Ave.
Philadelphia, PA 19148
(215) 465-1000
Website

View more Restuarants & Dining
Find us on Facebook