Ms. Tootsie's Restaurant Bar Lounge
Soul-satisfying southern cuisine on South Street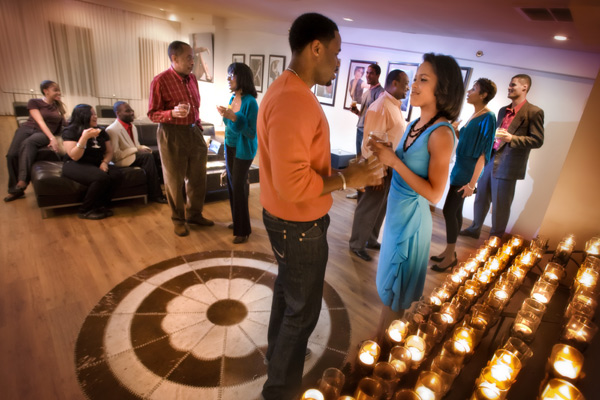 Description
Ms. Tootsie's Restaurant Bar Lounge, located one block off the Avenue of the Arts, puts a classy spin on down-home dining.
The charming bar and lounge restaurant has been a neighborhood favorite since opening in 2000. Ms. Tootsies built its reputation with some of the best southern comfort cuisine in the city and has recently redefined itself with a sleek lounge and bar.
Menu highlights include golden fried chicken, sinfully cheesy macaroni and cheese, turkey chops smothered in a delightful, peppery gravy and sweet caramelized candy yams. For dessert, the sweet potato cheesecake and lemon butter pound cake are both out of this world.
The multi-leveled bar and restaurant comes complete with stylish design, three bars, brown suede banquets, votive candles along the walls, chrome finished chandeliers and the exquisite Luxe Lounge Sky Bar on the third floor.
And be sure to try the signature drink: Ms. Tootsie's Tootsie Roll. It's a chocolate martini made with vanilla vodka in a cocoa-rimmed glass and has a Tootsie Roll as a garnish.
Events at Ms. Tootsie's
Ms. Tootsie's Lounge hosts weekly live entertainment including DJs, jazz ensembles and spoken word as well as occasional wine tasting events and fashion trunk shows.
PATH: http://www.uwishunu.com/tag/ms-tootsies/feed/image/
November 5, 2012Roundup: Where To Watch The 2012 Presidential Election Returns In Philadelphia, Tuesday, November 6

January 30, 2012Keven Parker And Ms. Tootsie's Launch "Spread The Love," A Citywide Initiative To Perform Random Acts Of Kindness

March 25, 2011Happy International Waffle Day: Our Top Picks For The Best And Most Unique Waffle Dishes Around Philadelphia

Uwishunu covers everything fun and exciting happening in Philadelphia — read it daily for the latest on restaurants, bars, events, festivals, arts, music, hotels and more.
Details
Get Directions
1312 South Street
Philadelphia, PA 19147
(215) 985-9001
Website
Neighborhood:
In the neighborhood
Accommodations

10 Avenue of the Arts
Philadelphia, PA 19102
(215) 523-8000
Website

View more hotels

Museums & Attractions

S. Front Street and Chestnut Street Philadelphia, PA 19106

View more attractions

Restaurants & Dining

12th and Arch Streets Reading Terminal Market Philadelphia, PA 19107
(215) 922-2317
Website

View more Restuarants & Dining
Find us on Facebook