Pho Ha
Amazing soup lies behind an unassuming storefront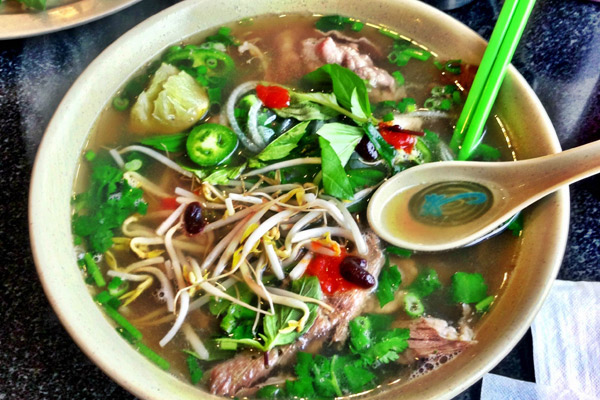 Description
Sometimes there is nothing in world that is going to make you feel better than a delicious steamy bowl of piping hot pho, the Vietnamese noodle soup. Fortunately, Philadelphia has a number of great places to go for excellent pho.
Among them: Pho Ha, one of South Philly's most popular spots for Pho. And for good reason, the soup here is extremely good.
Located in a super-busy Asian shopping center on Washington Avenue, Pho Ha has an interior that is typical of many of the Pho houses in South Philadelphia; a casual, open feel with plenty of windows. You can even take a sneak peek inside Pho Ha before visiting, courtesy Google Maps Street View.
The menu also provides helpful tips to patrons who may not be as well versed in the different types of Pho as some of the more veteran Pho aficionados.
All the better to help you find and enjoy the perfect bowl of soul-affirming Vietnamese noodle soup.
PATH: http://www.uwishunu.com/tag/pho/feed/image/
February 13, 2014Today/Tonight Picks, Snow-Day Edition: Warm Up With Fireside Dining, Pho And Ramen, Beer Olympics At The Cambridge, BalletX Opening Night And More

January 30, 2014Tonight Picks: Chinese New Year's Eve Midnight Parade In Chinatown, Center City Restaurant Week, Chocolate-Themed Dinner At Cedar Point Bar And Kitchen And More

January 29, 2014Tonight Picks: Center City Restaurant Week, Pay-What-You-Wish Wednesday At The Art Museum, Pho, Ramen, Fireside Dining And More

Uwishunu covers everything fun and exciting happening in Philadelphia — read it daily for the latest on restaurants, bars, events, festivals, arts, music, hotels and more.
Details
Get Directions
610 Washington Ave.
Philadelphia, PA 19147
(215) 599-0264

Neighborhood:
In the neighborhood
Restaurants & Dining

1163 S. Seventh St.
Philadelphia, PA 19147
(267) 886-9803
Website

View more Restuarants & Dining

Museums & Attractions

1100 South 2nd Street Philadelphia, PA 19147
(215) 336-3050
Website

View more attractions