Pizzeria Stella
Stephen Starr's Headhouse Square restaurant focuses on gourmet pies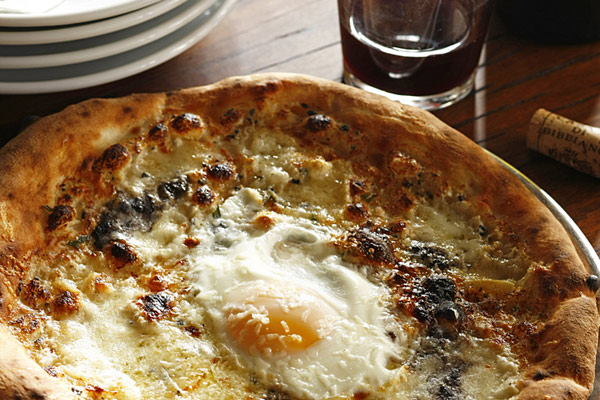 Description
Combining Philadelphia's love of pizza and Stephen Starr restaurants, the restaurateur has opened Pizzeria Stella, a gourmet-minded, neighborhood pizza shop.
Located in historic Society Hill at the corner of 2nd and Lombard Streets, Pizzeria Stella serves twelve signature wood-fired pizzas that are a cross between classic Neapolitan and New York style pizza.
Cuisine
Sure to tantalize the taste buds, Pizzeria Stella offers a selection of 12-inch pizzas, meats, salads and antipasti.
Your twelve pizza options range from the traditional Margherita to signature pies, such as: Sausage with sweet fennel sausage, hot peppers and garlic; Vongole with clams, guanciale and broccoli rabe; and Tartufo with black truffle, fontina cheese, egg and parmesan.
Choose, also, from antipasti selections (including asparagus with a sunny side up egg), salads (roasted beet and arugula is a standout), and sliced, cured meats.
Pizzeria Stella's small but creative wine list features an array of affordable, pizza-friendly Italian varietals available by the glass and by the bottle. Additional beverages include a selection of beers and non-alcoholic specialty sodas such as birch beer, cherry cream and house-made lemonade.
Atmosphere
Pizzeria Stella balances Starr's renowned aesthetic of contemporary cool with the coziness of your favorite neighborhood pizzeria. With concrete floors and steel beams, Pizzeria Stella's interior blends industrial elements with Italian accents such as wood paneling, postcards of Pisa and Chianti bottles lining the walls.
Oversized ceiling fans hang above a generous dining area filled with a mixture of slate-top tables and large family-style tables made of reclaimed wood from the Coney Island boardwalk. With seating for 75, the focus feature of Pizzeria Stella is the wood-burning oven, covered mosaic-style with white tile and red.
PATH: http://www.uwishunu.com/tag/pizzeria-stella/feed/image/
March 14, 2014Roundup: Best Pizza in Philadelphia — Where To Find The Best Pizza In Neighborhoods Across The City

January 21, 2014Roundup: Our Top Picks For Where To Watch The Snow Fall At Bars And Restaurants In Philadelphia

October 10, 2013Roundup: Where To Extend The Outdoor Dining Season In Philadelphia At Restaurants With Heat Lamps Or Fire Pits

October 3, 2013Tonight Picks: The Last Night Market Of The Year(!) Rolls Into Chinatown, Pizzeria Stella's Alfresco Birthday Celebration, PAFA After Dark And Much More

August 15, 2013Philadelphia Neighborhoods: Our Guide To The Restaurants, Bars, Markets And Cafes In The Queen Village Neighborhood Of Philadelphia

Uwishunu covers everything fun and exciting happening in Philadelphia — read it daily for the latest on restaurants, bars, events, festivals, arts, music, hotels and more.
Details
Get Directions
2nd and Lombard Streets
Philadelphia, PA 19106
(215) 320-8000
Website
In the neighborhood
Accommodations

201 S. Columbus Boulevard
Philadelphia, PA 19106
(215) 928-1234
Website

View more hotels

Museums & Attractions

334 South Street
Philadelphia, PA 19147
(215) 922-1011 (tickets)
Website

View more attractions

Restaurants & Dining
Find us on Facebook