Positano Coast
A bit of the Mediterranean coast in Old City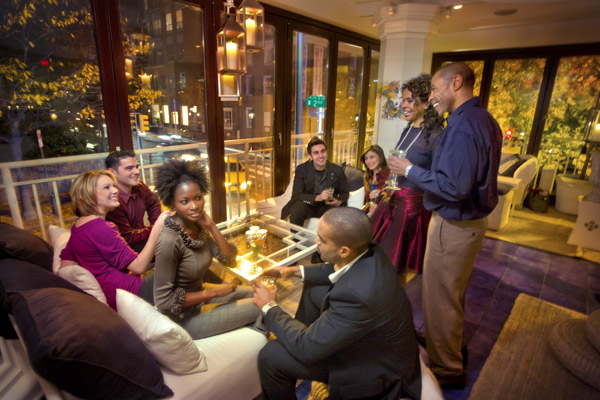 Description
Surrounded by a serene backdrop reminiscent of the Amalfi Coast, Positano Coast in Old City offers small-plate servings of modern Italian cuisine.
With a 360-degree view of Historic Philadelphia, the restaurant's lounge and terrace are wonderful spots for casual cocktails and dining under the stars.
Cuisine
Serving contemporary Italian cuisine in small portions designed for sharing, Positano Coast offers seafood, "crudo" (the Italian version of sushi) and creative variations on many classic Italian dishes.
Some delicious options to try are the rack of wild boar served with juniper berry and polenta, the "Positano Harvest" selection of fresh seafood, and the lobster truffle accompanied by fresh edamame.
Atmosphere
From Positano Coast's cobalt blue floor to the spectacular life-sized postcards covering the walls, the restaurant's décor evokes an Italian seaside holiday. Beautiful views and flowing white linen curtains accent the relaxing and fresh dining room.
In the warmer months, Positano Coast offers elegant alfresco dining. Two patios and a terrace allow you to enjoy their fine cuisine with 360-degree views of historic Old City from an elegant second-floor vantage point.
Insider Tip
Positano Coast offers a great list of creative cocktails, perfect for sampling during their Happy Hour at the bar only (Sunday through Friday, 4:30-7:30 p.m.).
And in addition to their full bar menu, Positano offers a BYOB option on Sunday and Monday nights.
Details
Get Directions
212 Walnut Street Philadelphia, PA 19106
(215) 238-0499
Website
Neighborhood:
Related Tags
In the neighborhood
Accommodations

401 Chestnut Street Philadelphia, PA 19106
(215) 925-0000
Website

View more hotels

Museums & Attractions

44 N. Fourth Street Philadelphia, PA 19106
(215) 922-5446
Website

View more attractions

Restaurants & Dining

138 Market Street
Philadelphia, PA 19103
(215) 923-6069
Website

View more Restuarants & Dining
Find us on Facebook