R2L Restaurant and Lounge
Fine dining in the skyline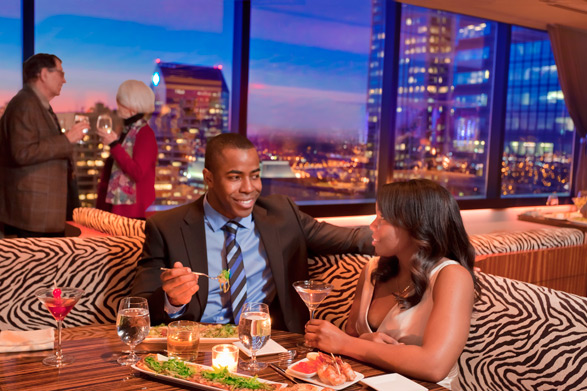 Description
A sleek, sophisticated restaurant and private event space soaring 37 floors above the city at Two Liberty Place, R2L brings together locals and visitors alike to meet, entertain, celebrate, dine and mingle.
With its bird's-eye views of Philadelphia and creative American cuisine by Chef Daniel Stern, R2L sets the scene for some of the city's most spectacular culinary experiences.
Bar2L, the bar and lounge within R2L, is open for happy hour or late night cocktails, where friends new and old meet over refined snacks and hand-crafted cocktails. There is no better to place to witness the sun as it melts into the western horizon or to watch the city lights flicker in the night.
Atmosphere
Perched on the 37th floor of Two Liberty Place, R2L is a piccture-perfect, Art Deco-inspired restaurant and lounge with sweeping views of Center City.
The lounge, BAR2L and main dining room combine the elegance of fine dining with the comfort and style of a home dinner party. Enjoy casual drinks and bar bites or savor extended lunches and romantic dinners.
Insider tip: Be sure to ask for the most swoon-worthy seats in the main dining room which feature breathtaking views stretching more than 40 miles.
Events
With several special event spaces available, R2L is the perfect spot to plan your next cocktail party, reception, corporate or social dinner. Enjoy custom catering and world-class service while being surrounded by spectacular views of Philadelphia.
PATH: http://www.uwishunu.com/tag/r2l/feed/image/
January 21, 2014Roundup: Our Top Picks For Where To Watch The Snow Fall At Bars And Restaurants In Philadelphia

December 11, 2013Roundup: Top Picks For Christmas Eve And Christmas Day Dinners In The Philadelphia Region For 2013

June 25, 2013Roundup: Our Guide To Breezy Rooftop Bars And Elevated Patios In And Around Philadelphia

May 7, 2013Roundup: Celebrate Mother's Day Across The City With Brunch, High Tea, Alfresco Fairs, Arts Events And More

Uwishunu covers everything fun and exciting happening in Philadelphia — read it daily for the latest on restaurants, bars, events, festivals, arts, music, hotels and more.
Details
Get Directions
50 South 16th Street Two Liberty Place, 37th floor Philadelphia, PA 19102
(215) 564-5337
Website
Neighborhood:
In the neighborhood
Accommodations

99 S. 17th Street
Philadelphia, PA 19103
(215) 563-1600
Website

View more hotels

Museums & Attractions

1412 Chestnut Street
Philadelphia, PA 19103
(215) 569-9700
Website

View more attractions

Restaurants & Dining

1523 Walnut Street
Philadelphia, PA 19102
(215) 567-1000
Website

View more Restuarants & Dining
Find us on Facebook