Sbraga
Modern American cuisine from Philly's Top Chef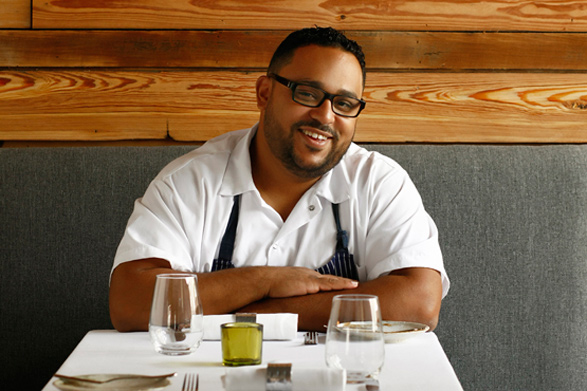 Description
Sbraga is a modern American restaurant located on Philadelphia's lively Avenue of the Arts. Owner and Executive Chef Kevin Sbraga prepares inventive, seasonal fare with a focus on local and sustainable ingredients.
The intimate 60-seat dining room features a $49, four-course prix fixe menu of Chef Sbraga's artful interpretations of American cuisine, as well as desserts from his talented wife, Pastry Chef Jesmary Sbraga.
A chef's tasting, ranging from eight to ten courses, is available as well for those who wish to experience an even broader range of Chef Sbraga's cuisine. Guests can also enjoy dishes from the menu a la carte.
"My cooking style is about redefining American cuisine. I'm constantly inspired to try and present the familiar in an unfamiliar way. This restaurant is a culmination of my cooking experiences so far and I hope our customers will enjoy our simple, yet artful dishes." – Chef Kevin Sbraga
The Decor
The comfortable, contemporary interior is made with 80% repurposed materials, making it one of Philadelphia's greenest dining rooms.
Reclaimed Douglas fir wood slats from an abandoned textile mill in Fishtown panel the restaurant walls while Edison-style antique lighting gives the space the appeal of a street-side cafe, the perfect vibe for one of the city's most trafficked streets.
PATH: http://www.uwishunu.com/tag/sbraga/feed/image/
January 30, 2014Chef Kevin Sbraga Serves Up Late-Night Fried Chicken At The Fat Ham In University City This Friday And Saturday, January 31 And February 1

December 9, 2013Now Open: Top Chef Kevin Sbraga Debuts The Fat Ham, A Southern-Inspired Eatery In University City

October 8, 2013More Love For Philly's Food Scene: Food And Wine Magazine's Restaurant Editor Heaps Praise On The Philadelphia Dining Landscape

April 4, 2013Top Chef Kevin Sbraga Serves Up A Fresh-For-Spring Menu At His Six-Seat Interactive Chef's Counter Throughout The Month Of April

March 27, 2013Tonight Picks: Chef Talk At The Free Library, Bourbon Battle At The Trestle Inn, Passover Celebrations, Macy's Fashion Show And More

Uwishunu covers everything fun and exciting happening in Philadelphia — read it daily for the latest on restaurants, bars, events, festivals, arts, music, hotels and more.
Details
Get Directions
440 S. Broad Street Philadelphia, PA 19146
(215) 735-1913
Website
Neighborhood:
Make a reservation
In the neighborhood
Accommodations

21 N. Juniper Street Philadelphia, PA 19107
(215) 496-3200
Website

View more hotels

Museums & Attractions

Restaurants & Dining
Find us on Facebook