Table 31 at the Comcast Center
An elegant Italian bistro covering three floors of Philadelphia's tallest building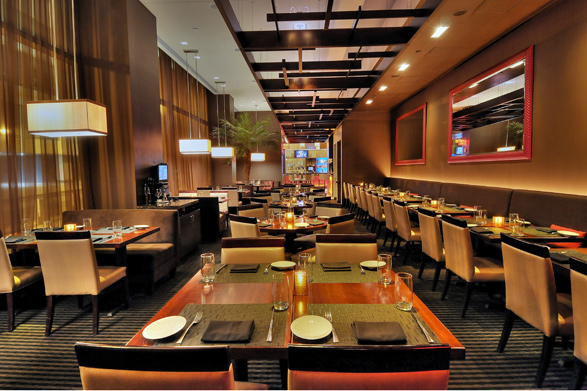 Description
A collaboration of Georges Perrier and Chris Scarduzio, Table 31 is an Italian bistro — also known for its exquisite steaks — located inside the Comcast Center.
And like the Comcast Center, Table 31 is sophisticated, visitor-friendly and definitely on the large side.
Named after the see-and-be-seen table at legendary restaurant Brasserie Perrier (now closed), Table 31 offers an upscale dining experience where steak, lobster and fresh fish make the meal just as breathtaking as the setting.
Cuisine
Table 31's menu is an exercise in ogling. Appetizers lead off with such delectable selections as potato and goat cheese terrine, broiled octopus and eggplant involtini.
Pasta entrees, the restaurant's speciality, include house-made Cavatelli with pancetta, crushed San Marzano tomatoes and basil; house-made gnocchi with hen of the woods mushrooms, red pepper duxelle and porcini sauce; and the house-made pappardelle with rosemary brown butter, wilted arugula, garlic confit and ricotta salata.
Main entrees include filet mignon, stuffed branzio and a paprika rubbed Delmonico steak with truffled Kennett Square mushrooms. Your taste buds will work overtime with the Table 31 Stuffed Porcetta, a pan-fried suckling pig stuffed with mushrooms and savory bread.
Several wines and champagnes are offered by the glass, while signature cocktails and craft beers are also available for the tasting.
Atmosphere
Table 31 is an expansive, diverse range of spaces covering three floors of the Comcast Center.
Choose to dine in the chic dining room, the banquet hall or one of several intimate lounges, including the second-floor mezzanine lounge.
Plaza Café
The restaurant's adjoining Plaza Café, meanwhile, is an outdoor area that sits next to a bubbling fountain. During warm-weather months, choose to dine here — undeniably one of the best alfresco dining experiences in the city — under delightful orange umbrellas while the cityscape unfolds before you.
Details
Get Directions
1701 John F. Kennedy Boulevard
The Comcast Center
Philadelphia, PA 19103
(215) 567-7111
Website
Neighborhood:
Related Tags
In the neighborhood
Accommodations

220 S 17th Street
Philadelphia, PA 19103
(215) 735-6000
Website

View more hotels

Museums & Attractions

JFK Boulevard and Broad Street Municipal Services Building Plaza Philadelphia, PA 19102

View more attractions

Restaurants & Dining
Find us on Facebook