Philadelphia Flyers
The Orange and The Black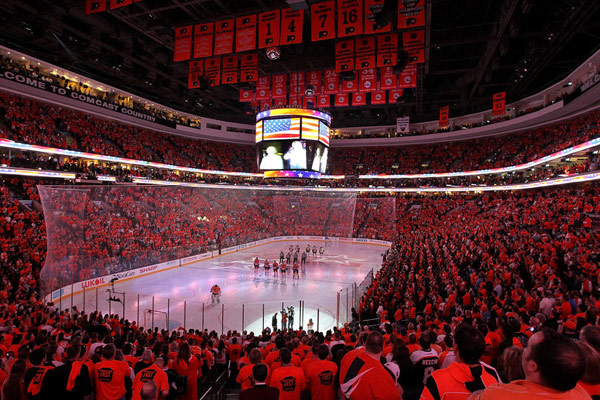 Description
Go Flyers!
The Philadelphia Flyers are once again on the road to the Stanley Cup as they take on the Boston Bruins in the Eastern Conference Semifinals. Go Flyers!
History
Established in 1967, the Flyers have consistently competed as one of the premier hockey teams in the NHL. They won the Stanley Cup in 1974 and 1975, as well as advanced to the finals in 1987, 1997 and 2010.
The Flyers play at the state-of-the-art Wells Fargo Center in South Philadelphia. The Center offers multiple bars and restaurants, including Finnigan's Wake — as well as the AT&T Pavilion, where you can find Philadelphia's famous Chickie and Pete's.
Details
Get Directions
3601 S. Broad Street
Wells Fargo Center
Philadelphia, PA 19143
(215) 218-PUCK
Website
Neighborhood:
In the neighborhood
Accommodations

Museums & Attractions

8000 Essington Avenue Philadelphia, PA 19153
215-937-6937
Website

View more attractions
Find us on Facebook