With Love, Philadelphia XOXO® Campaign
Since May 2009, people have been falling in love with the With Love, Philadelphia XOXO™ tourism marketing campaign. Originally created as a recessionary strategy to boost leisure visitation and overnight hotel stays in Philadelphia, the campaign embraces the voice of Philadelphia through Love Letters to travelers.
Launched in January 2014, Phillyosophy is an evolution of the With Love campaign. Phillyosophy reflects the city's confidence and history with beautiful visuals and a memorable message.
Explore Phillyosophy and With Love, Philadelphia XOXO™ campaigns, below.
Phillyosophy
The With Love, Philadelphia XOXO® campaign captured the voice of Philadelphia. It put words to our unique attitude, passion and perspective. The people who matter most—that's all of you who love this city from near and far—embraced this campaign in a big way.
2014 brings a refresh of our beloved campaign. With Love showed you how Philly speaks. Now we'll champion how Philly thinks.
The way we think is a robust mix of super passion, salt of the earth and perspective with a capital "P". It makes the Grand Hall at the Art Museum as exhilarating as the 400 level at the ballpark and the boutique hotels as intoxicating as the shopping on Walnut.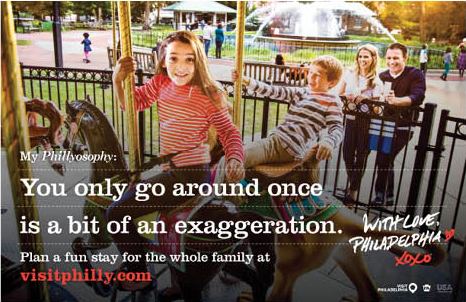 Our way of thinking makes you feel young at every old museum. It allows you to get away from it all without ever leaving the city. It makes every carefully prepared dish taste better than the last.
We know who we are, and we're proud to be just that. And we offer it all up to anyone and everyone with a lot of heart and even more love. We like to refer to it as Phillyosophy.
We hope you join us this year in celebrating Phillyosophy, the new theme of our With Love campaign. A new year brings a new perspective. That's our Phillyosophy.
Click Here to View More Phillyosophy Ads
With Love Letters

Penned by the city itself, the With Love letters let a bit of Philly "atty-tude" through while extending the invitation to visit. Love letters take all forms including printed ads, billboards, banners, social media messages, commercials and more.
Click here for With Love ad examples
Click here for With Love banner examples
With Love lines created for the Philadelphia Phillies
Visit the With Love line gallery on Facebook
Commercials
In addition to the written work, the With Love, Philadelphia XOXO™ extends into the world of television media with seasonal commercials highlighting the city of Philadelphia. These creative, innovative ads capture the lively spirit of the campaign while embracing the voice of Philadelphia.
The Summer 2011 With Love commercial evolves from animation style to a format that mixes photography, film and animation. The commercial conveys Philly's varied and fun offerings with quick cuts.
Check out the latest With Love commercial, below.
Partnership Opportunities
Organizations throughout the Philadelphia region may purchase elements of Visit Philadelphia's joint marketing program. This sponsorship offers partners the chance to stretch their marketing dollars, expand their consumer base by leveraging the buying and creative power of the popular With Love, Philadelphia XOXO™ campaign and be part of a seasonal destination media buy. Program benefits include customized creative that is part of a three year established brand message, collective media-buying power, integrated marketing promotion, prominent placement on visitphilly.com and post campaign performance tracking.
For more information contact Jim Werner at jim@gptmc.com