Summer Love Ale by Victory Brewing Company and With Love, Philadelphia XOXO®
A craft beer from Victory Brewing Company with an assist from With Love, Philadelphia XOXO®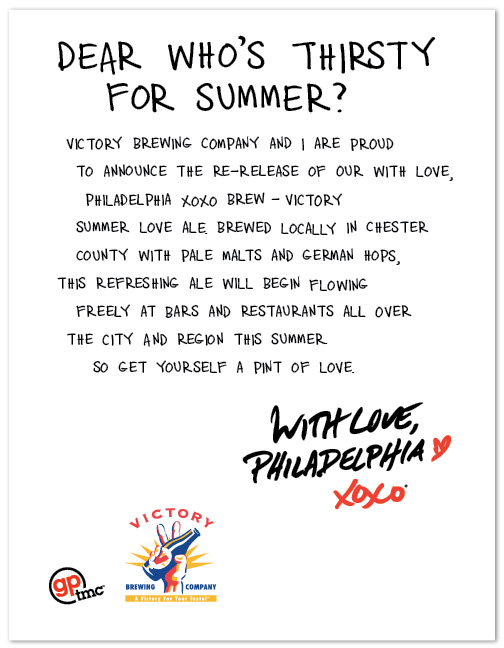 GPTMC is proud to announce the re-release of Victory Brewing Company's Summer Love Ale in 2012. Brewed locally in Chester County, PA with pale malts, German hops and Brandywine Creek water, the golden brew is returning for a third year.
The popular, refreshing summer ale was released in 2010 to critical acclaim and distribution was expanded to 29 states nationwide in 2011. Starting this May, you can find Summer Love Ale on tap or in the bottle at bars, brewpubs, restaurants and grocery stores near you..
With Love XOXO Summer Ale Locations
Visit victorybeer.com/beerfinder to find Summer Love Ale near you.
Find out where others have discovered Summer Love Ale and post your own sightings on foodspotting.com.
Latest News and Updates
Click here to keep up-to-date with special announcements and tasting events for the special edition, limited-time ale on Uwishunu all summer.