About Visit Philadelphia™
New name, same mission for the Greater Philadelphia Tourism Marketing Corporation (GPTMC)
About Visit Philadelphia™
Visit Philadelphia™, formerly the Greater Philadelphia Tourism Marketing Corporation (GPTMC), is the region's official destination marketing organization. It builds the brand and image of Greater Philadelphia, thus increasing business and economic impact for the five-county region.
Who We Are
Visit Philadelphia™ was founded in 1996 as Greater Philadelphia Tourism Marketing Corporation (GPTMC) by the Commonwealth of Pennsylvania, the City of Philadelphia and The Pew Charitable Trusts. Visit Philadelphia™ makes Philadelphia and The Countryside® a premier destination through marketing and image building that increases the number of visitors, the number of nights they stay and the number of things they do in the five-county area.
In 2012, the region welcomed 38.8 million domestic visitors — that's 12 million more than in 1997, when the company launched its first advertising campaign.
For more visitor stats, annual reports and other Visit Philadelphia™ publications, visit the research section.
Find all the major milestones in Philadelphia's tourism industry since the 1980s on the Tourism Timeline.
1. What does Visit Philadelphia do?
We bring people to Philadelphia. We get them to do and experience more while they're here, and to stay in hotels.
2. What is Visit Philadelphia's mission?
Visit Philadelphia increases the number of visitors, the number of nights they stay and the number of things they do. These marketing efforts also enhance the quality of life and sense of pride for residents.
Through Visit Philadelphia's campaigns, media relations, advertising, websites, social media and special projects, we build Philadelphia's brand and image. We give Philadelphia a voice. It's important that people feel like they know a destination—that's what makes them want to visit.
3. Who is Visit Philadelphia's audience?
Visit Philadelphia invites all travelers to visit the region, whether they're from around the block, across the country or beyond. Our marketing specifically focuses on North American leisure travelers—those who come to Philadelphia to have fun.
4. What is the impact of the travel industry in Philadelphia?
Travel is a very important industry in Philadelphia. Visitors generate taxes and jobs, and they support local businesses. The Greater Philadelphia travel economy generated $9.75 billion in economic impact in 2012.
Visitors to Greater Philadelphia generate $27 million every day for regional businesses. Travel spurs economic growth by bringing in new dollars from outside the region.
Visitor spending supported 89,000 full-time jobs for Greater Philadelphia residents in 2012, with a total paycheck of $2.94 billion.
Tourists also generate substantial tax revenue for the Commonwealth of Pennsylvania and its municipalities. In 2012, visitor spending generated $622 million in state and local taxes.

Visitor dollars also build the quality of life in Philadelphia. Travelers spend money at area hotels, stores, museums and restaurants. None of these places have a "Visitors Only" sign on them—the more people visit, the more vibrant the region.
5. What is the impact of Visit Philadelphia's work?
As Philadelphia's appeal as a destination has grown, the leisure segment has become a key driver of downtown hotel demand. Since 1997, when Visit Philadelphia began advertising, Center City Philadelphia has seen a 260% increase in leisure hotel demand.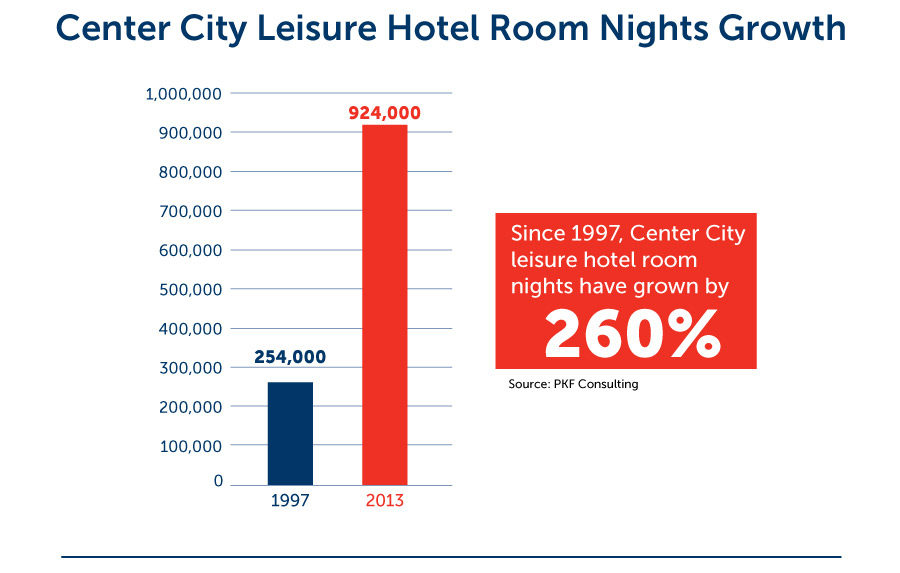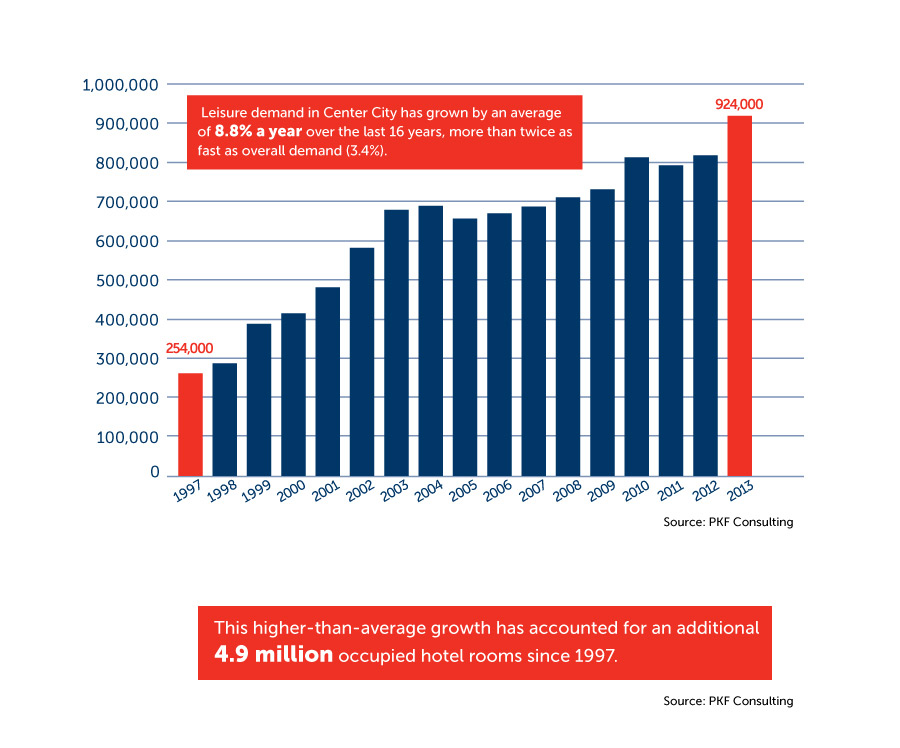 6. What are some key successes of Visit Philadelphia?
39 million Americans visited Greater Philadelphia in 2012. Since 1997, when Visit Philadelphia began advertising, Philadelphia has seen:
12 million more leisure visitors come to Philadelphia a year than when we began advertising in 1997 — 34.1 million leisure visitors in 2012 up from 22.8 million visitors in 1997.
75% growth in overnight trips, more than twice as fast as day trips
80% growth in overnight leisure, the fastest of any visitor segment

Thanks in part to Visit Philadelphia's effective and continuous marketing, leisure travelers make up 88% of domestic visitation to the region.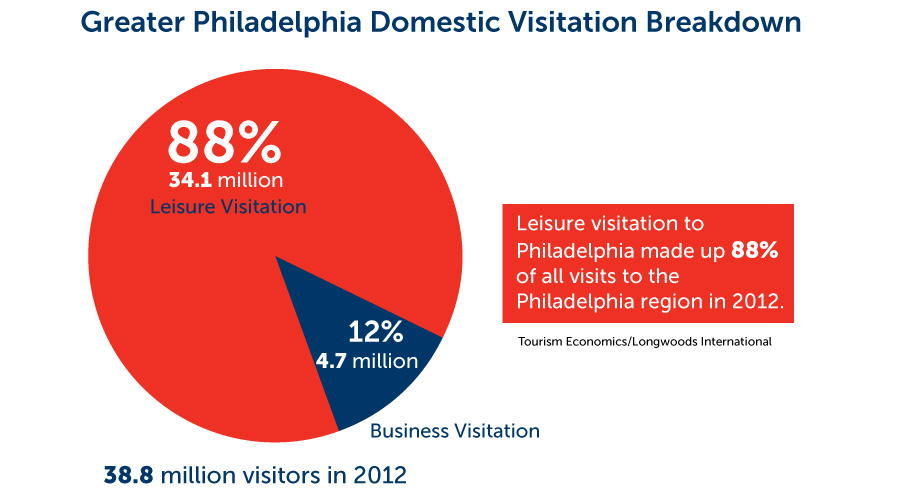 Visit Philadelphia marketing has helped Philadelphia's leisure tourism market not only survive, but grow through two major recessions. In fact, Smith Travel Research claimed that Philadelphia had the best post-9/11 tourism recovery in the nation.
7. What are Visit Philadelphia's most effective marketing tools?
Visitphilly.com and uwishunu.com, the region's official travel websites, are Visit Philadelphia's calls to action and the most powerful ways in which we communicate the Philadelphia's image and get people interested in visiting the region and all the businesses inside it.
The websites welcomed more than 11 million visits in 2013. In a reader survey, 75% of respondents said that visitphilly.com improved their impression of Philadelphia. 78% said the same thing about uwishunu.com.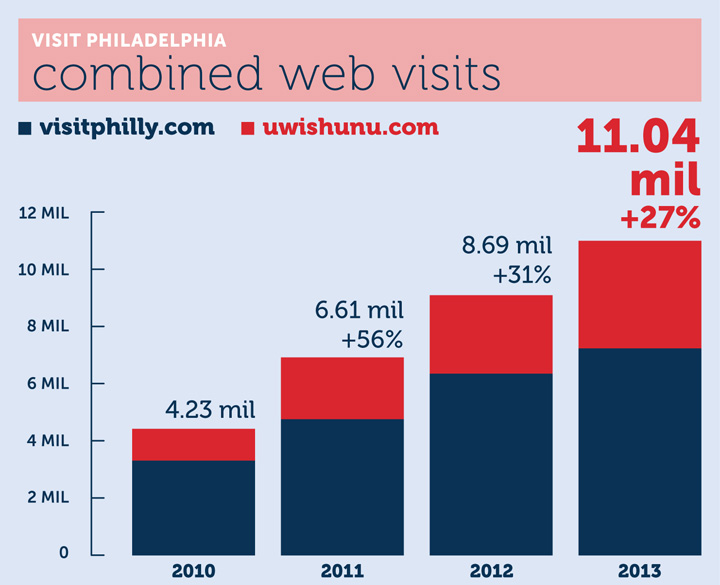 What do we do with all these visitors? We impress them by presenting a Greater Philadelphia as the diverse, vibrant and premier destination it is. That includes all the attractions, events and businesses within it.
Three-quarters of people who visit our sites walk away with a better impression of the region. The more often and the better people think of Philadelphia, the more they'll visit.
On social media, we point to our websites, where people find more about the Facebook post or tweet they just saw. We adopted social media early on, and we continue to invest and innovate. On a daily basis, we communicate with close to half a million fans and followers on social media.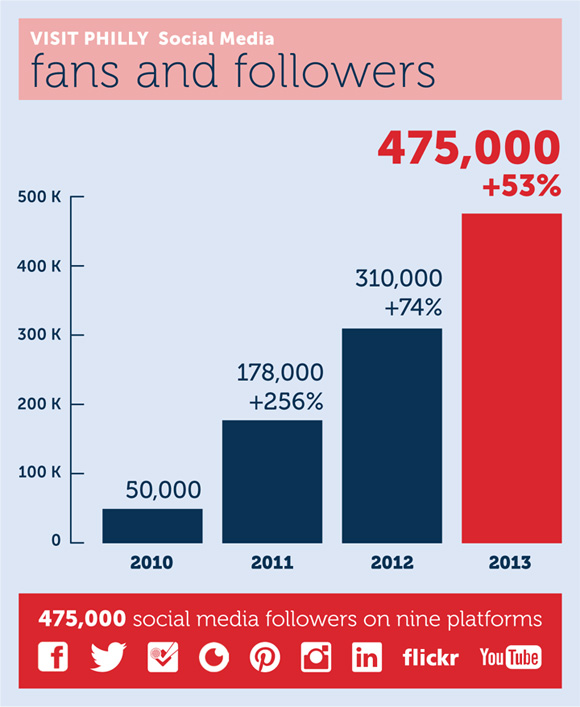 We know we motivate our fans to act. In response to posts from our social media accounts:
83% of our fans shared information about an attraction, restaurant, hotel or event with others
77% attended an event or attraction
67% ate at a restaurant
8. What is Visit Philadelphia's status in the travel marketing industry?
Visit Philadelphia is a well-respected leader in the travel marketing industry.
Travel industry news website Skift named Meryl Levitz, Visit Philadelphia's president and CEO, as one of "The World's Top Marketers" in 2013.
Visit Philadelphia has won two SMITTY (Social Media in Travel + Tourism) Awards from Travel + Leisure.
US Travel highlighted Philadelphia as the only city campaign (With Love, Philadelphia XOXO®) in its publication titled The Power of Destination Marketing. Pure Michigan was also featured.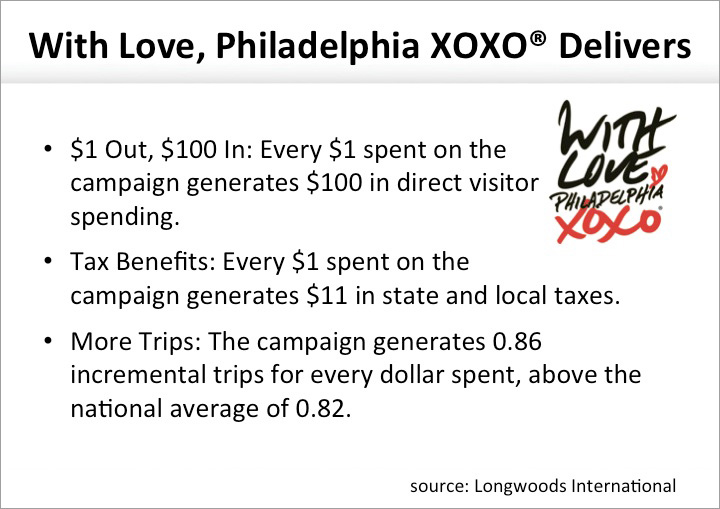 9. What separates Visit Philadelphia from other tourism organizations?
Visit Philadelphia does not sell conventions and meetings. Its focus is on destination branding and marketing to leisure travelers.
10. How does Visit Philadelphia work with hotels?
A dedicated hotel director ensures that Visit Philadelphia is in touch with Philadelphia hotels every day. We convene the hotels quarterly to review recent successes and new opportunities, and three hotel general managers sit on our board.
Most importantly, we sell hotel rooms by promoting all the reasons people should visit and stay for a night or two or three. Our Visit Philly Overnight Hotel Package™, which comes with free hotel parking, is one of the most popular offers for travelers.
We know we're succeeding. For the past 10 years, Saturday night has been the most popular night of the week for Center City hotels. What does that mean? People are coming to Philadelphia for fun.
Weekend occupancy is a key indicator of a city's image as a leisure destination. Saturday night has been the best night for Center City hotels for the last 11 years.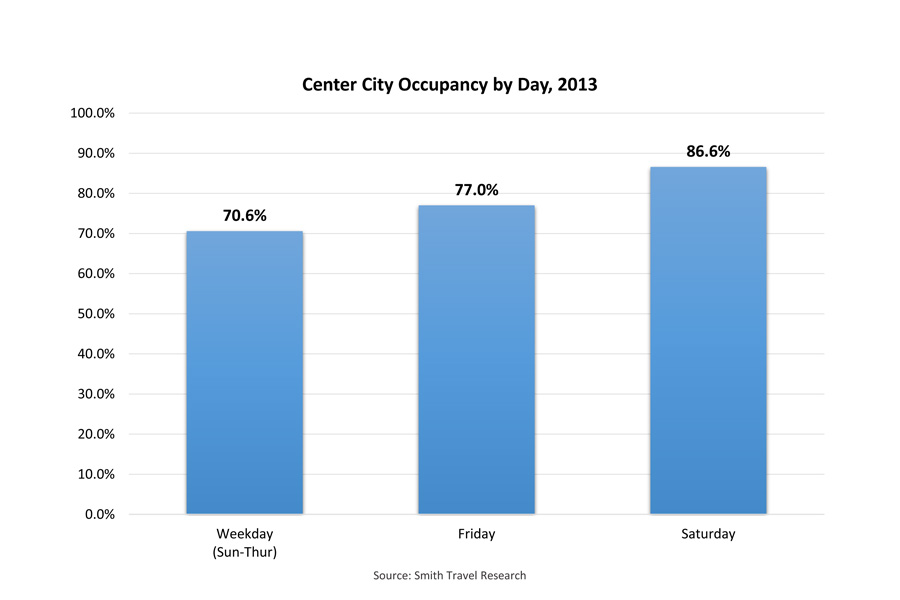 Saturday night occupancy in Philadelphia is even stronger than many similar city destinations nearby.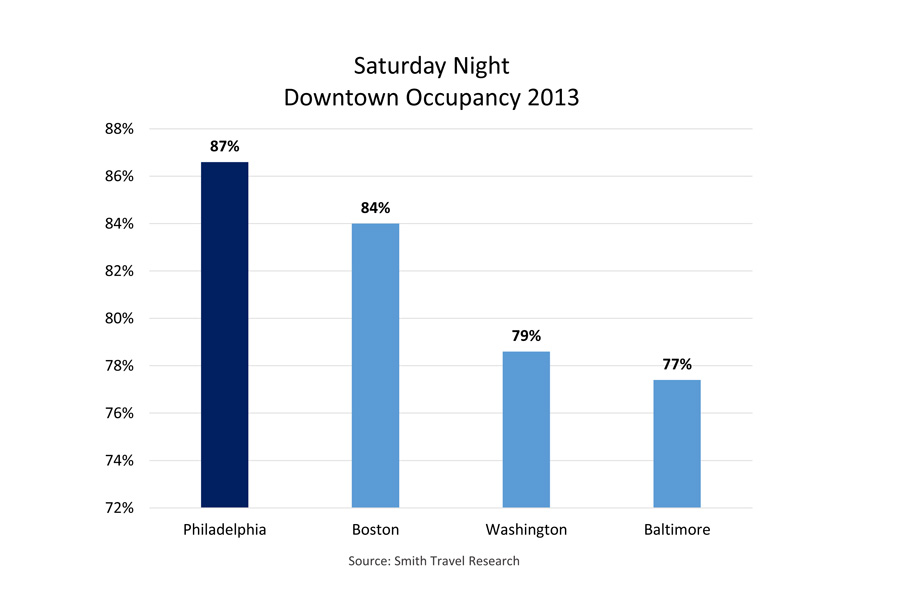 11. How do Philadelphia's two tourism marketing organizations complement each other? What is the difference?
The PHL Convention & Visitors Bureau promotes convention, meeting and business travel, as well as international visitation. Visit Philadelphia markets to leisure travelers and builds the brand and image of Greater Philadelphia. The better the brand of a place, the more business for its hotels, attractions, restaurants and events.
Plus, a destination with a strong brand attracts both leisure and business/convention travelers. Each segment affects the other—after all, a business person is a leisure traveler when they're on vacation.
A business traveler who visits Philadelphia may decide to extend their stay or come back as for a leisure trip. And conventions are attracted to places that are viewed as premier leisure destinations.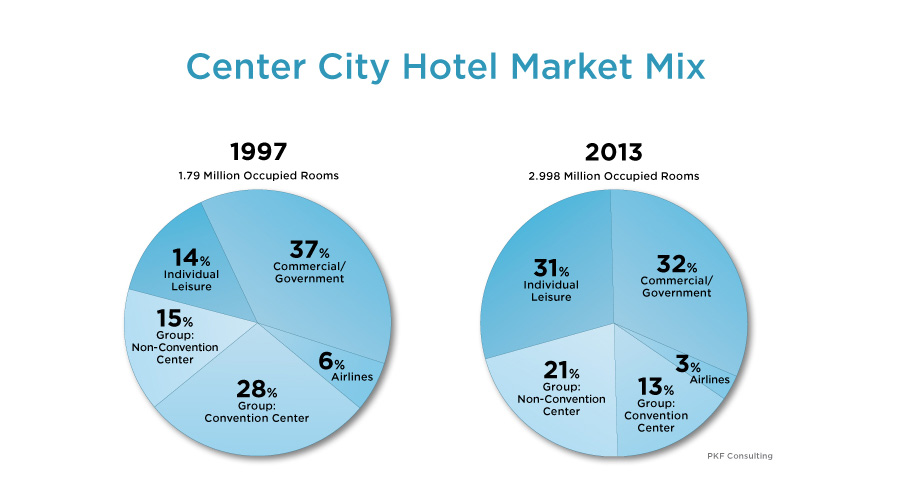 Visit Philadelphia™ Leadership
Board of Directors
Manuel N. Stamatakis, Chair
Founder and CEO, Capital Management Enterprises
Rhonda R. Cohen, Esquire, Vice Chair
Robert Asher
Co-Chairman Asher's Chocolates
Robert W. Bogle
President and CEO, The Philadelphia Tribune
Craig R. Carnaroli
Executive Vice President, University of Pennsylvania
Nicholas DeBenedictis
Chairman and CEO, Aqua America, Inc.
John H. Estey, Esquire
Executive Vice President, Administration, Hershey Trust Company
Jim Gratton
General Manager, Courtyard Philadelphia Hotel
Honorable James F. Kenney
Councilman-at-Large, Philadelphia City Council
Brent Martin
General Manager, Four Seasons Hotel Philadelphia
Jonathan Newman
CEO and Chairman, Newman Wine and Spirits
Agnes M. Ogletree
Marsha R. Perelman
Chair Emerita, The Franklin Institute
Desiree Peterkin-Bell
Communications Director / City Representative, City of Philadelphia
William R. Sasso, Esquire
Chairman, Stradley Ronon Stevens & Young, LLP
Greg Stafford
General Manager, The Inn at Penn, a Hilton Hotel
Richard Vague
Chairman, Governor's Woods Foundation
Honorable Tom Corbett
Governor, Commonwealth of Pennsylvania
Honorable Michael Nutter
Mayor, City of Philadelphia
Fred A. Shabel, Chairman Emeritus
Vice Chairman, Comcast Spectacor
Meryl Levitz
President and CEO, Visit Philadelphia™
Executive Bio
Meryl Levitz
President & Chief Executive Officer
As president and CEO of Visit Philadelphia™, Meryl Levitz is responsible for expanding Philadelphia's regional tourism, worth $8.7 billion in economic impact and accounting for more than 85,000 regional jobs annually. The region welcomed 37.4 million domestic visitors in 2010, 33.1 million of whom were leisure visitors. That's 10 million more leisure visitors than in 1997, when Visit Philadelphia™ first started marketing.
For Levitz, the key to building the economic engine of tourism is partnership — increasing visitor spending by bringing together groups with similar interests to develop promotional programs that reach high-yield markets. Partnerships with the hospitality community, arts and cultural institutions, restaurants and county visitor bureaus have proven to be vital to the success of the regional tourism industry.
Visit Philadelphia™ implements integrated marketing strategies to build image and visitation, using research, advertising, public relations and a strong online presence. Successful campaigns include: the fun and well-loved With Love, Philadelphia XOXO®; Philly's More Fun When You Sleep Over®, the most successful post-9/11 hospitality recovery campaign in the country; the groundbreaking Philadelphia – Get Your History Straight And Your Nightlife Gay®; and Philly 360°® for younger, tech-savvy African-American travelers.
Levitz is active on the U.S. Travel Association's Board of Directors, Policy Council and the newly formed Leisure Council. She also serves on the Philadelphia International Airport Advisory Board, on the Mayor's Cultural Advisory Council and on the boards of the Greater Philadelphia Chamber of Commerce, Independence Visitor Center, Governor's Pennsylvania Travel and Tourism Partnership and Historic Philadelphia, Inc.
After receiving Bachelor's and Master's degrees from the University of Illinois, Levitz began her career as an educator but soon began promoting Philadelphia, first as co-founder of the Center City Proprietors Association in 1978 and later at the Philadelphia Convention and Visitors Bureau, where she rose to vice president of tourism. There, she oversaw the opening of the Pennsylvania Convention Center and presided over the development of new celebrations — Jambalaya Jam, River Blues, Yo! Philadelphia and others — to draw crowds to the Great Plaza at Penn's Landing.
You can find more Visit Philadelphia™ executive bios here.
Research and Publications
Find Visit Philadelphia™ reports, visitor and hotel stats and other publications here.
VISIT PHILADELPHIA'S RESEARCH & REPORTS
FAQ
Find general information about visitphilly.com and Philadelphia, including how to list events or attractions on the site, here.
View Frequently Asked Questions
Contact Us
Find contact information, including our mailing address, telephone number and an inquiry form.
Review job openings at Visit Philadelphia™.
Stay in touch with Philadelphia all the time on social media.
About This Site
Intellectual Property
This website is published by the Greater Philadelphia Tourism Marketing Corporation d/b/a Visit Philadelphia™, 30 South 17th Street, Suite 2010, Philadelphia, Pennsylvania 19103 USA. Unless otherwise noted, Visit Philadelphia™ owns the copyright in all content contained in this website. © 2013 Visit Philadelphia™. All rights reserved.
• With Love, Philadelphia XOXO®
• Philly's More®
• Philly's More Fun®
• Philly's More Fun When You Sleep Over®
• Philly Overnight®
• Philadelphia and The Countryside®
• Philadelphia and Its Countryside®
• Philly 360°®
• Philly Te Ama!®
• Philly Homegrown®
• Philly Nuestra Cosecha®
• Nuestra Historia Es Tu Historia®
• Philadelphia – Get Your History Straight And Your Nightlife Gay®
• SoundAboutPhilly®
• Forever Independent®
• uwishunu®
• Philly. From The Inside Out.®
• Philly Like a Local®
• Boundless Philadelphia®
• Philly's Got Benergy!®
• IllaDates®
• Philadelphia. The Place That Loves You Back.®
• Liberty Bell design for Forever Independent
Trademarked Names (registration pending):
• Visit Philadelphia™
• Visit Philly Overnight Hotel Package™
• With Art Philadelphia™
The associated domain names, logos and designs are service marks owned by Visit Philadelphia™.
Except to the extent provided in the "click" license on the website's photo pages, nothing contained in this website confers (or should be construed to confer) by implication, estoppel or otherwise any license or right under any copyright, trademark or other proprietary right owned or licensed by Visit Philadelphia™. All trademarks, service marks, logos and slogans contained herein other than those listed above are the property of their respective owners and are used by Visit Philadelphia™ pursuant to a license.
Visit Philadelphia™ Website Intellectual Property Notice
Visit Philadelphia™ owns and operates Visitphilly.com as well as other associated websites (Visitphilly.com and other owned websites collectively referred to as "Visit Philadelphia™ Sites"). Unless otherwise noted, Visit Philadelphia™ owns the intellectual property rights in the content on the Visit Philadelphia™ Sites, including but not limited to, trademarks, service marks, trade names, and copyrighted content. Some of the content on the Visit Philadelphia™ Sites may belong to third parties, and therefore Visit Philadelphia™ uses such content by permission.
No content from any Visit Philadelphia™ Sites can be used without first getting express written permission from Visit Philadelphia™. This includes making copies, republishing, posting, modifying, editing, transmitting, distributing, framing, or using to create derivative works. Please contact questions@visitphilly.com to discuss obtaining permission from Visit Philadelphia™. Visit Philadelphia™ reserves the right to decline permission to use any content from Visit Philadelphia™ Sites for any reason.
Any permission granted to you to use content from Visit Philadelphia™ Sites does not convey to you any right, title, or interest in the same content.
If Visit Philadelphia™ becomes aware that you are using content from Visit Philadelphia Sites without permission, Visit Philadelphia™ reserves the right to pursue all legal remedies available to it.
Click the button below to view the full Visit Philadelphia™ Terms of Use.