Branding and Image Building
We bring people to Philadelphia and The Countryside®. We get them to experience more while they're here and to stay in hotels. How? Branding, image building and activating.
Everything we do — advertising, communications, visitphilly.com and uwishunu.com, social media, media relations, event and attraction promotion, hotel packages, product development and even playing up Philly's starring role in pop culture — showcases and strengthens the ever-evolving Philadelphia brand.
As a marketing agency, VISIT PHILADELPHIA is always open to adapting how we brand and market Philadelphia to ensure that our messages are heard clearly and convincingly. Here are some of the ways we achieve our mission.
---
VISIT PHILADELPHIA...ONLINE
The most powerful way we communicate the voice, essence and image of Philadelphia is through our two official websites, visitphilly.com and uwishunu.com.
The sites are powerful calls to action that move people to visit and help them find the region's hotels, restaurants and attractions.
In 2016 — VISIT PHILADELPHIA's 20th year — these two sites had a record 20 million visits. That's more than 1.5 million visits per month.
VISIT PHILADELPHIA seeks website visitors because we can convert "online visits" into "real-life visitors." Each web visit is an opportunity for VISIT PHILADELPHIA to improve that person's impression of Philadelphia, increase their desire to visit and get them to do more things while they're here.
And to that effect, great content is a conversion machine for VISIT PHILADELPHIA.
Getting People To Do More While They're Here
90% of survey respondents on visitphilly.com and uwishunu.com said the websites helped them find more things to see and do in Philadelphia.

Driving Referrals

Visitphilly.com and uwishunu.com sent 4 million clicks to our partner websites in 2016.
---
#Visitphilly on Social Media
Leveraging the Power of Digital Word-of-Mouth Marketing
Called one of "Social Media's Most Innovative Travel Companies" by Travel + Leisure, VISIT PHILADELPHIA takes its social standing seriously. We embraced social media as part of an integrated marketing strategy early on, breaking into the newest and most effective platforms, and we continue to refine our properties.
We now have more than 1.3 million fans on nine platforms, including:

Our social media marketing gets results.
Building Image
77% of our out-of-town fans said that being a fan of our social media pages improved their impression of Philadelphia.

Driving Visitation
87% of our out-of-town fans said that following our social media accounts made them more likely to visit Philadelphia.

Activating our Fans
79% of our fans said they visited the website of a place or company mentioned in a social post.

And our Facebook and Twitter accounts sent more than five million visits to visitphilly.com and uwishunu.com in 2016.
---
Advertising
VISIT PHILADELPHIA's advertising uses creative messaging that engages our key audiences and reaches them in locations where they're most receptive to our invitations to visit. We enhance our traditional media buys and search-engine marketing with buzz-worthy tactics such as station dominations in New York and Washington, DC.
2017 brings with it the continued evolution of our iconic
With Love, Philadelphia XOXO® advertising campaign.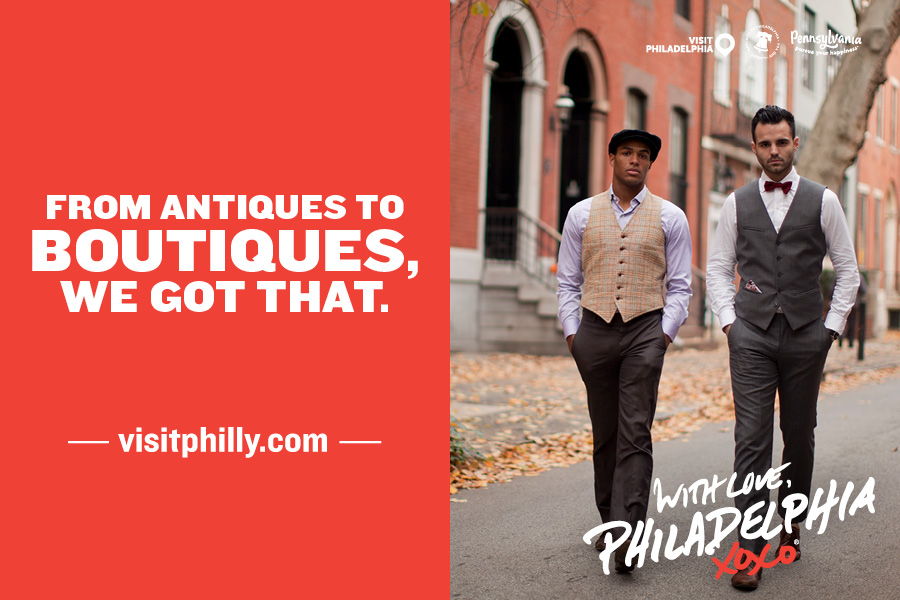 With Love shows you how Philly speaks — and thinks.
We know who we are, and we're proud to be just that. With Love showcases Philadelphia's robust cultural offerings — beyond the obvious — and invites travelers to come experience the unexpected. The campaign touts our great city's storied attractions and highlights under-the-radar activities for travelers' to-do-and-see lists.
Our With Love echo the city's new confidence, embodying how people are thinking, feeling and talking about Philadelphia today.
See more With love, Philadelphia XOXO
---
COMMUNICATIONS
Through high-quality content, direct pitches, media events, an ever-expanding Visiting Journalists Program and strong media relationships, our media relations team places thousands of positive stories each year about Greater Philadelphia in a blend of high-value print, television, websites and blogs. Here's just a sampling of some of the accolades Philadelphia won this year and a look at some of the 9,500 stories generated last year:
10 Must-Visit U.S. Hotspots for 2017, Smarter Travel

America's Favorite Cities, Travel + Leisure

The 26 Hottest Food Cities of 2016, Zagat
10 Best Food Cities in America Ranked, The Washington Post

The Best Cities In America For Street Art, Thrillist

Best in the U.S. 2016, Lonely Planet
View the VISIT PHILADELPHIA Pressroom
---
More About VISIT PHILADELPHIA's Work
In addition to the aforementioned web, social media, advertising and communications efforts, VISIT PHILADELPHIA has several other initiatives aimed at bringing even more people to the region.
We run multiple campaigns at any given time — efforts that speak directly to art lovers, urban adventurers and millennials, along with African-American, Latino, LGBT and Canadian travelers.
For more information on these and all of VISIT PHILADELPHIA's marketing initiatives, take a few minutes to review our full 2017 Annual Report.