Army – Navy Game
Land of the free, home of the game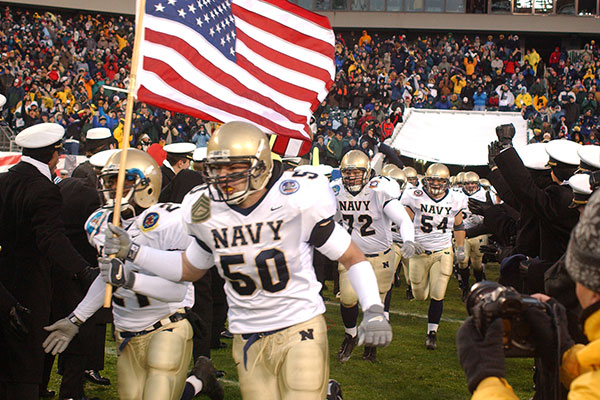 Description
Date:
December 14, 2013
Overview
The Army-Navy game makes its return to Philadelphia in 2013 . Cadets from West Point and and Midshipmen from Annapolis will square off at Lincoln Financial Field for the 114th matchup between the historic rivals.
Traditionally played on the second Saturday in December, the heated bout often marks the last game of the season for both teams.
For continuing coverage of this storied rivalry, visit www.phillylovesarmynavy.com.
History
One of the greatest rivalries in college football has called Philadelphia its home for the majority of its history. The fiercely competitive Army-Navy game has been played in Philadelphia for 84 times in its history. The current series standing is remarkably even: Navy has 57 wins; Army has 49 wins, while seven games have ended in ties.
As a neutral site conveniently located between the U.S. Military Academy in West Point, New York and the U.S. Naval Academy in Annapolis, Maryland, Philadelphia was an easy choice for the Army-Navy game, which the city now enjoys as its unofficial bowl game.
PATH: http://www.uwishunu.com/tag/armynavy-game/feed/image/
December 7, 2012Standing Room Tickets Now Available For Tomorrow's Sold-Out Army-Navy Game, Saturday, December 8

November 30, 2012The 113th Annual Army-Navy Game Returns To Philadelphia On Saturday, December 8 At Lincoln Financial Field

September 28, 2012Our Guide To College Football in Philadelphia: Temple, Penn, Villanova And The 2012 Army/Navy Game

August 6, 2012Intense Army-Navy Rivalry Takes To PPL Park For A Soccer Team Face-Off September 30, Setting The Groundwork For December's Epic Football Event At Lincoln Financial Field

December 10, 2010Weekend Picks: The Annual Army-Navy Game, A Winter Beer Festival, And Holiday Activities Galore!

Uwishunu covers everything fun and exciting happening in Philadelphia — read it daily for the latest on restaurants, bars, events, festivals, arts, music, hotels and more.
Details
Get Directions
1020 Pattison Avenue
Lincoln Financial Field
Philadelphia, PA 19148
(215) 463-2500
Website
Neighborhood:
Visit Official Website
Related Tags
In the neighborhood
Accommodations

4630 Island Avenue Philadelphia, PA 19153
(215) 492-1611
Website

View more hotels

Museums & Attractions

6825-31 Norwitch Drive Philadelphia, PA 19153
(215) 365-7233
Website

View more attractions

Restaurants & Dining

1100 Pattison Ave.
Philadelphia, PA 19148

View more Restuarants & Dining
Find us on Facebook