Baltimore Avenue Dollar Stroll
The buck stops here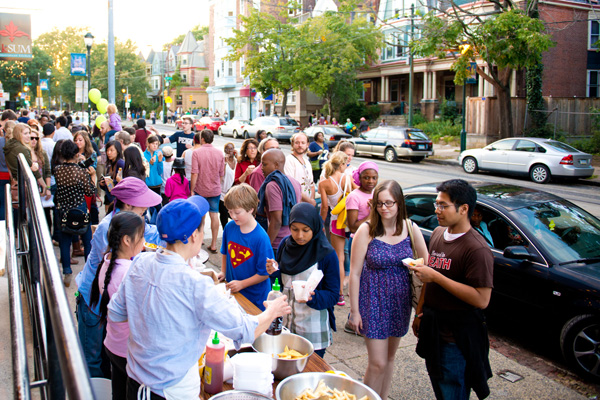 Description
Overview
The Dollar Stroll is an annual summer series that sees dozens of West Philly businesses setting up shop on the sidewalk and offering their wares for just $1. The cheap thrills are accompanied by live music and street performances.
Last year, more than 20,000 visitors packed Baltimore Avenue to take advantage of the summer savings.
Sample delicious dishes from local restaurants including Dock Street Brewery, Vientiane Café, Gojjo, Desi Village, Dahlak, the Green Line Cafe and many more. Local retail stores and businesses also get in on the action with specials at VIX Emporium, Firehouse Bicycles, The Green Tamborine and others.
For a complete list of participating vendors, click the button below.
PATH: http://www.uwishunu.com/tag/baltimore-avenue-dollar-strolls/feed/image/
September 12, 2013Tonight Picks: Baltimore Avenue Dollar Stroll, Free Movie Screening At Paine's Park, 5th Anniversary Celebration At Distrito And More

September 12, 2013Philadelphia Neighborhoods: Our Guide To The Restaurants, Bars And Markets In The Spruce Hill And Cedar Park Neighborhoods Of Philadelphia

September 11, 2013The Baltimore Avenue Dollar Stroll Returns This Thursday, September 12, With $1 Deals From More Than 30 Vendors, Live Music And More

Uwishunu covers everything fun and exciting happening in Philadelphia — read it daily for the latest on restaurants, bars, events, festivals, arts, music, hotels and more.
Details
Get Directions
Baltimore Avenue from 42nd to 50th Street
Philadelphia, PA
Website
Visit Official Website
In the neighborhood
Restaurants & Dining

3611 Walnut Street
Philadelphia, PA 19104
(215) 823-6222
Website

View more Restuarants & Dining

Museums & Attractions

Accommodations