Baltimore Avenue Dollar Stroll
Most affordable festival returns to West Philadelphia
Description
Date
June 21, 2015
Note: The information below is from 2014. Stay tuned for more information about this year's event as it becomes available.
Overview
After a successful summer event in June, the Baltimore Avenue Dollar Stroll is returning in September for an evening of live music and $1 deals.
The popular series features more than 30 West Philly businesses setting up shop on the sidewalk on Baltimore Avenue from 43rd to 51st Streets with a variety of foods, gifts and services available for just $1. The cheap thrills are accompanied by live music and street performances.
The Food and Drink
A wide array of restaurants set up shop outdoors along the sidewalks of Baltimore Avenue. Look for West Philly's Green Line Cafe to dish hot dogs and carrot dogs. Gold Standard Cafe will provide mini sandwiches, Desi Village will serve samosas and mango lassis and the popular Mariposa Food Co-op to satisfy the sweet tooth with banana whips
Plus, deals from Little Baby's Ice Cream, Dahlak Restaurant, Milk and Honey Market, Vientiane Cafe, Hibiscus Cafe and more will pop up along the avenue.
Numerous food trucks will also set up shop at the event. For brews, report to Dock Street Brewery at 50th Street and Baltimore Avenue to serve up seven-ounce pours of craft brews and pint glasses.
Shopping and Entertainment
The September Dollar Stroll will feature numerous performers including jugglers, fire artists and music from Y-Not Radio at the 46th Street Triangle.
In addition to food and drinks, guests can also expect performances from musicians, fire artists, jugglers and more.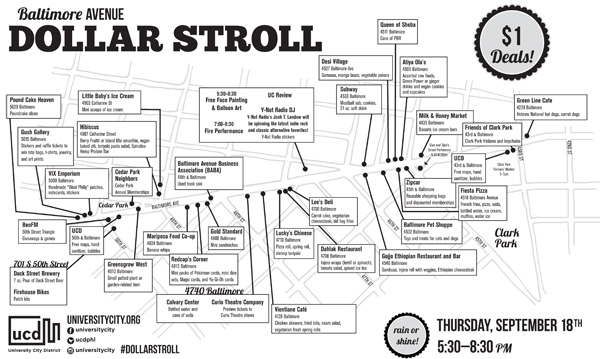 For a complete list of participating vendors and $1 offers, click the button below.
Details
Get Directions
Baltimore Avenue from 43rd to 50th Street
Philadelphia, PA
(215) 243-0555
Website
Visit Official Website
In the neighborhood
Accommodations

3600 Sansom Street
Philadelphia, PA 19104
(215) 222-0200
Website

View more hotels

Museums & Attractions

4243 Lancaster Avenue
Philadelphia, PA 19104
(215) 222-0520
Website

View more attractions

Restaurants & Dining

3701 Chestnut St
Philadelphia, Pennsylvania 19104
(215) 895-6551
Website

View more Restuarants & Dining
Find us on Facebook