Made In America Music Festival
Labor Day weekend festival on the Benjamin Franklin Parkway returns for its third year
Description
Dates:
August 30-31, 2014
Overview
The Budweiser Made In America Festival is a massive musical celebration that takes on the Benjamin Franklin Parkway over Labor Day weekend.
With dozens of top performers and multiple stages on the Benjamin Franklin Parkway, the two-day music festival, produced by Live Nation, Roc Nation and DPS, is one of the year's can't-miss events. New this year, the Made In America Festival is going bi-coastal with simultaneous festivals in Philadelphia and Los Angeles.
Read on for our detailed guide on how to make the most out of the weekend's awesome festivities.
The Music
As in the past, Jay Z has curated a stellar and eclectic mix of performers that should please even the pickiest of music fans.
On Saturday, August 30, attendees can look forward to headlining sets from hip-hop maven Kanye West and indie rockers The National. Other artists taking the stage include Steve Aoki, Chromeo, Mayer Hawthorne, J. Cole and many more.
Headliners southern rock crossovers Kings of Leon and EDM artist Tiesto will cap a day of performances on Sunday, August 31 from Pharrell Williams, Spoon, Girl Talk, Grimes, Danny Brown and more.
It all goes down on the three main stages: the Rocky Stage, the Liberty Stage and the Freedom Stage. Music kicks off at 1:30 p.m. each day and will end at midnight on Saturday and at 11 p.m. on Sunday. Click here for a full list of set times.
Plus, the Made in America Skate Park will feature a bevy of punk and shoegaze performers on both days, from Glassjaw and Bear Hands to local Philly-area favorites Nothing and The Menzingers.
For the full lineup of performers at Made In America, click the button below.
Visit Philly Overnight Hotel Package
With the festival lasting two nights over a long holiday weekend, the Visit Philly Overnight Hotel Package is the great choice for your Philly accommodations.
Book your stay and you'll get a two-night hotel stay, FREE hotel parking for both nights, a With Love, Philadelphia XOXO® welcome gift, and, for a limited time, two FREE all-day passes for the PHLASH bus with your reservation.
For more information and participating hotels, click the button below.
The Layout
The majestic Benjamin Franklin Parkway has been transformed into Made In America's festival grounds.
The festival will feature three entrances: the main entrance at 22nd Street and the Benjamin Franklin Parkway, a second general admission entrance at 23rd Street and Pennsylvania Avenue, and a VIP entrance at 24th Street and Martin Luther King Drive at Eakins Oval. In addition to the three stages, the festival grounds will also feature a specialized food truck area, merchandise tents and a bevy of beer gardens.
The gates to the festival grounds open at noon each day, the event is rain or shine and there's no re-entry on either day.
Wondering what you can and can't bring along? The festival does allow attendees to bring items like factory-sealed plastic water bottles or empty plastic water containers, a small non-framed backpack, blankets, non-professional cameras and small hand-held umbrellas. What you can't bring: outside food or drink, coolers and audio or video recording equipment.
Check out the full layout of the festival grounds by clicking the photo below.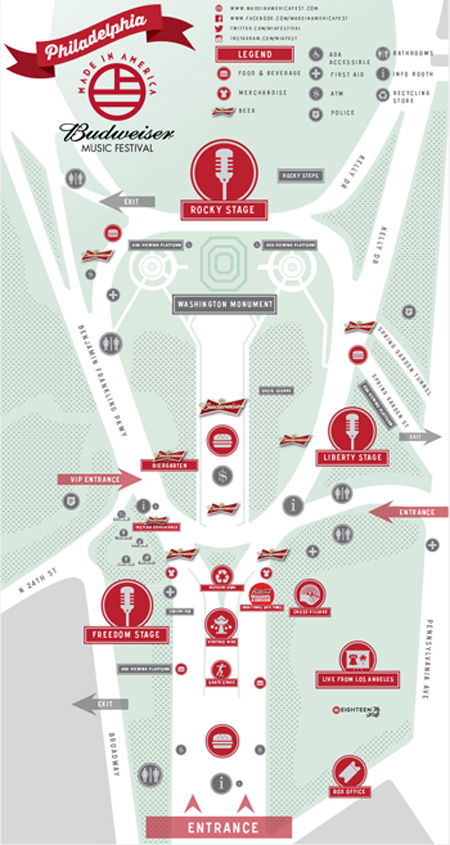 Food And Drink
Info is scant at the moment on specific food and drink options, but fans can look forward to a variety of appetizing food choices, from traditional festival and fair food to gourmet food trucks, as well as free filtered water service onsite at many stations.
In the Neighborhood
The Benjamin Franklin Parkway isn't just the setting for the Made In America Festival. It also hosts some of the country's top art museums and attractions.
And with the music not kicking off until 1:30 p.m., there's plenty of time to take in the neighborhoods surrounding festival and the attractions of the Parkway, including the Philadelphia Museum of Art, The Barnes Foundation and the Franklin Institute.
For those still ready to rock once the fest ends for the evening, there are a vast number of options. Nearby neighborhoods like Fairmount and Spring Garden offer fantastic dining options and relaxed nightlife for those looking for something to do after the show. Or, walk to the south and hit any number of bars, restaurants and clubs of Center City and nearby Rittenhouse Square.
Getting Around
If you're traveling to Philadelphia for Made in America, your best bet is to use public transportation to get to the Benjamin Franklin Parkway. NJ Transit will be operating under the normal weekend schedule and SEPTA will be adding service to the Broad Street and Market-Frankford subway lines during the two-day festival. Late-night service will also be extended on select Regional Rail lines. Extra late-night service also will be available on SEPTA's Regional Rail Lines on Saturday and Sunday Nights departing Center City. Suburban and 30th Street Stations are in closest walking distance to the festival.
Another option: the PHLASH bus, will operate on Saturday and Sunday and will stop along the Parkway. A ride costs $2, and an all-day pass is $5.
For a map of road closures, click the photo below.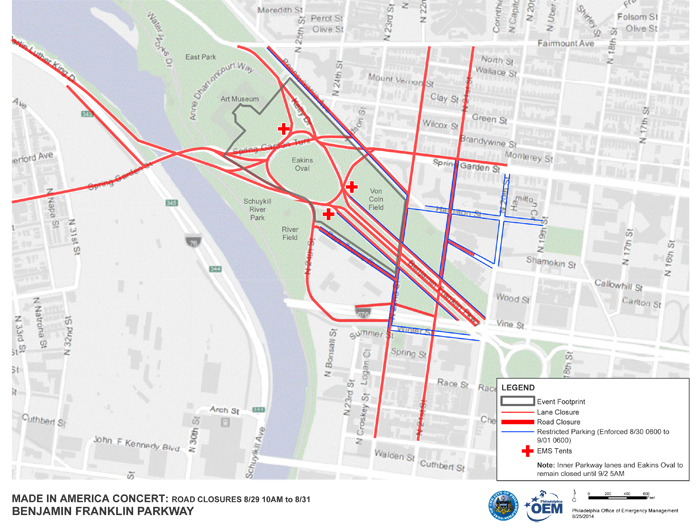 Tickets
If you haven't bought your ticket yet for the festival or are just deciding to go, you're in luck: Tickets are still available. One-day passes start at $89.50, two-day passes go for $150 per person and a limited number of VIP passes are available for $499 per person plus fees.
Remember, Made in America is a ticketed event and will not be open to the public for free.
Can't make the festival? Don't fret: You can livestream the festival at home and still feel part of the music magic.
For more information and to purchase tickets to Made in America, click the button below.
Details
Get Directions
The Benjamin Franklin Parkway
Philadelphia, PA
Website
Neighborhood:
Visit Official Website
In the neighborhood
Accommodations

Museums & Attractions

City Hall
15th and Market Streets
Philadelphia, PA 19107
(215) 440-5500
Website

View more attractions

Restaurants & Dining
Find us on Facebook