Made In America Music Festival
Labor Day weekend festival on the Benjamin Franklin Parkway returns for its fourth year
Description
Dates:
September 3-4, 2016
Note: The information below is from 2015. Stay tuned for more information about this year's event as it becomes available.
Overview
The Budweiser Made In America Festival is a massive musical celebration that takes on the Benjamin Franklin Parkway over Labor Day weekend.
With dozens of top performers and multiple stages on the Benjamin Franklin Parkway, the two-day music festival, produced by Live Nation, Roc Nation and DPS, is one of the year's can't-miss events.
The Lineup
As in the past, Jay Z has curated a stellar and eclectic mix of performers that should please even the pickiest of music fans. This year is going to be epic, with performances from Beyoncé, The Weeknd, J. Cole, Modest Mouse, Death Cab for Cutie, Meek Mill, Santigold, Del La Soul, Metric, Earl Sweatshirt and many more.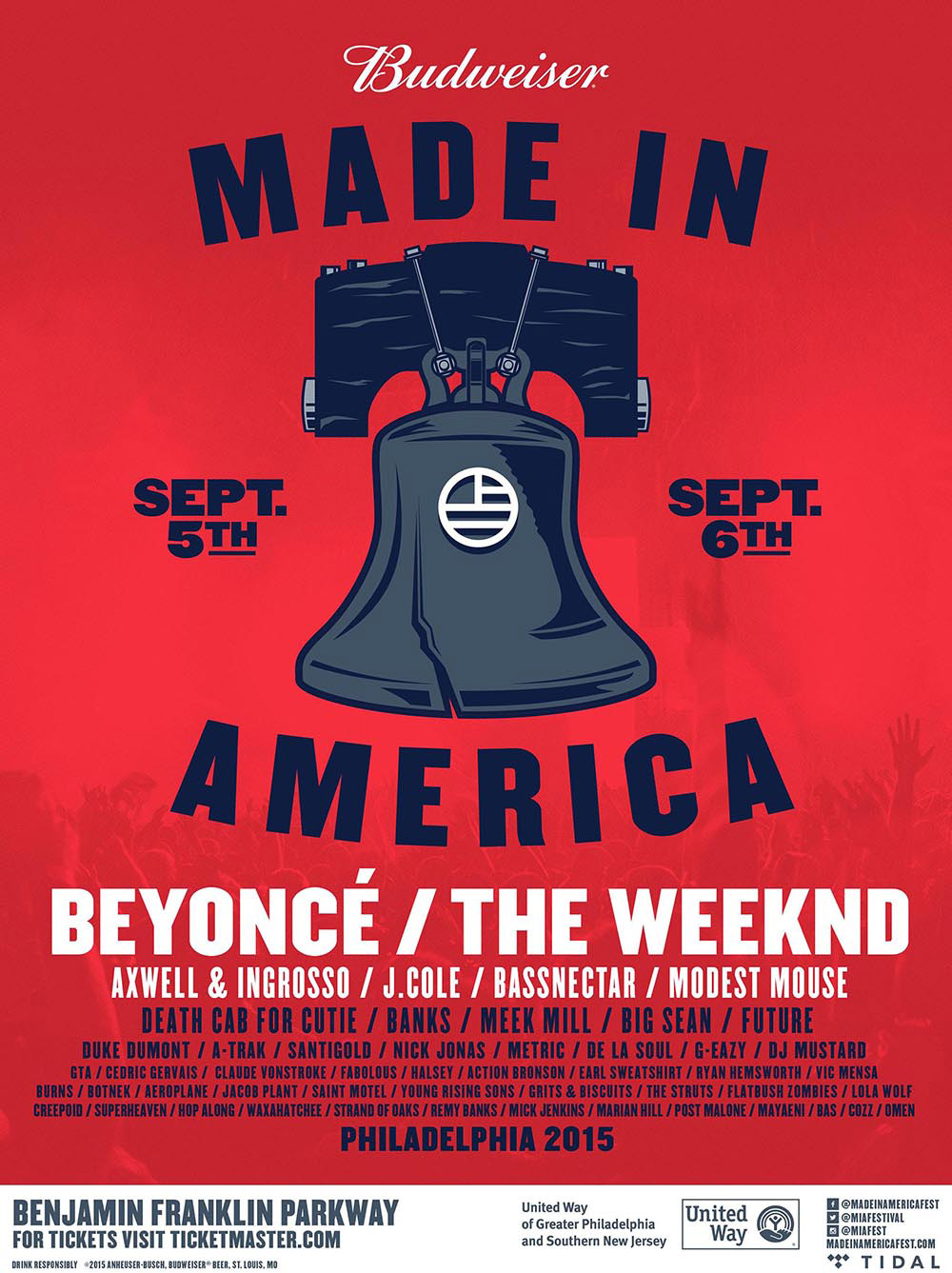 Tickets
Made in America is a ticketed event and will not be open to the public. Can't make the festival? Don't fret: You can livestream the festival at home and still feel part of the music magic.
For more information and to purchase tickets, click the button below.
The Layout
The majestic Benjamin Franklin Parkway will be transformed for Made In America's sprawling outdoor festival.
Last year's festival featured three entrances: the main entrance at 22nd Street and the Benjamin Franklin Parkway, a second general admission entrance at 23rd Street and Pennsylvania Avenue, and a VIP entrance at 24th Street and Martin Luther King Drive at Eakins Oval. In addition to the three stages, the festival grounds will also feature a specialized food truck area, merchandise tents and a bevy of beer gardens. Stay tuned for additional information about this year's festival.
Wondering what you can and can't bring along? The festival does allow attendees to bring items like factory-sealed plastic water bottles or empty plastic water containers, a small non-framed backpack, blankets, non-professional cameras and small hand-held umbrellas. What you can't bring: outside food or drink, coolers and audio or video recording equipment.
Food And Drink
Look forward to a variety of appetizing food choices from traditional festival and fair food to gourmet food trucks as well as free filtered water service onsite at many stations throughout the festival.
Visit Philly Overnight Hotel Package
With the festival lasting two nights over a long holiday weekend, the Visit Philly Overnight Hotel Package is the great choice for your Philly accommodations.
Book your stay and you'll get a two-night hotel stay, FREE hotel parking for both nights, a With Love, Philadelphia XOXO® welcome gift, and, for a limited time, two FREE all-day passes for the PHLASH bus with your reservation.
For more information and participating hotels, click the button below.
In the Neighborhood
The Benjamin Franklin Parkway isn't just the setting for the Made In America Festival. It also hosts some of the country's top art museums and attractions.
There's plenty of time to take in the neighborhoods surrounding festival and the attractions of the Parkway, including the Philadelphia Museum of Art, The Barnes Foundation and the Franklin Institute.
For those still ready to rock once the fest ends for the evening, there are a vast number of options. Nearby neighborhoods like Fairmount and Spring Garden offer fantastic dining options and relaxed nightlife for those looking for something to do after the show. Or, walk to the south and hit any number of bars, restaurants and clubs of Center City and nearby Rittenhouse Square.
Getting Around
If you're traveling to Philadelphia for Made in America, your best bet is to use public transportation to get to the Benjamin Franklin Parkway. NJ Transit will be operating under the normal weekend schedule and SEPTA will be adding service to the Broad Street and Market-Frankford subway lines during the two-day festival. Late-night service will also be extended on select Regional Rail lines. Extra late-night service also will be available on SEPTA's Regional Rail Lines on Saturday and Sunday Nights departing Center City. Suburban and 30th Street Stations are in closest walking distance to the festival.
Also be sure to check out the PHLASH, offering convenient access to the city's most popular attractions starting at $2 per ride or $5 for an all-day pass.
Details
Get Directions
The Benjamin Franklin Parkway
Philadelphia, PA
Website
Neighborhood:
Visit Official Website
In the neighborhood
Accommodations

1776 Benjamin Franklin Parkway
Philadelphia, PA 19103
(215) 561-1776
Website

View more hotels

Museums & Attractions

18th Street and Logan Square Philadelphia, PA 19102
1-800-537-7676
Website

View more attractions

Restaurants & Dining

2601 Benjamin Franklin Pkwy Philadelphia, PA 19130
(215) 684-7990
Website

View more Restuarants & Dining
Find us on Facebook