Made In America Music Festival
Labor Day weekend festival on the Benjamin Franklin Parkway returns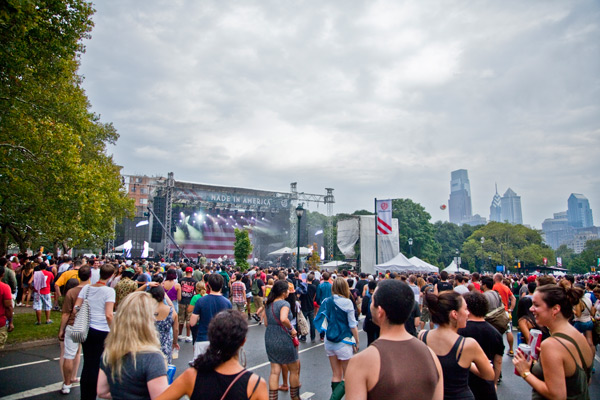 Description
Dates:
August 31-September 1, 2013
Overview
Now in its second year, the Budweiser Made In America Festival is once again taking over the Benjamin Franklin Parkway on Labor Day weekend.
With nearly 30 acts performing across three stages on the Benjamin Franklin Parkway, the two-day music festival is going to be one of the year's can't-miss events.
This year's lineup is incredible, with highly-anticipated performances from Beyoncé, Nine Inch Nails, Public Enemy, Emilee Sandé, Solange and more.
Festival Grounds
Concert goers at the Made In America Festival will be able to choose from three stages, a specialized food truck area, merchandise tents and a bevy of beer gardens. Get a lay of the land in advance of the show with the map below.
Getting Around
If you are traveling to Philadelphia for Made In America, your best bet is to use public transportation to get to the Benjamin Franklin Parkway. NJ Transit will be operating under the normal weekend schedule and SEPTA will be adding service to the Broad Street and Market-Frankford subway lines during the two-day festival. Late-night service will also be extended on select Regional Rail lines.
For a complete list of street closures, schedule changes and parking tips, click the button below.
Tickets
Tickets for the Made In America Festival are available as two-day passes or single day admission. Note: Passes are subject to availability and prices may be higher than listed below.
Two-day passes from $150
One-day passes from $89.50
VIP Passes from $499
Listen Online
Get a sneak preview of this year's Made In America Festival with a special Spotify playlist. Click here to listen online
In The Neighborhood
The Benjamin Franklin Parkway is not just the setting for the Made In America Festival, it also host some of the country's top art museums and attractions including the Philadelphia Museum of Art, the Barnes Foundation and the Franklin Institute.
Nearby neighborhoods like Fairmount and Spring Garden offer fantastic dining options and relaxed nightlife for those looking for something to do after the show. For more in the area, check out our neighborhood guide below.
PATH: http://www.uwishunu.com/tag/budweiser-made-in-america-music-festival/feed/image/
August 27, 2013A Guide To Labor Day Weekend In Philadelphia: Special Events, Exhibitions, Festivals, Fireworks, Barbecues, Beer Gardens And More

September 5, 2012Scenes From Jay-Z's "Made In America" Music Festival, Which Rocked The Benjamin Franklin Parkway For Two Days This Weekend With Nearly 30 Musical Acts, Surprise Guest Appearances And More

August 31, 2012Weekend Picks, Labor Day Edition: Made In America Music Festival Takes Over The Benjamin Franklin Parkway, Bruce Springsteen Concert At Citizens Bank Park, Final Friday Night Lights Fireworks And Much More

Uwishunu covers everything fun and exciting happening in Philadelphia — read it daily for the latest on restaurants, bars, events, festivals, arts, music, hotels and more.
Details
Get Directions
The Benjamin Franklin Parkway
Philadelphia, PA
Website
Neighborhood:
Visit Official Website
In the neighborhood
Accommodations

1700 Benjamin Franklin Parkway Philadelphia, PA 19103
(215) 981-5678
Website

View more hotels

Museums & Attractions

2600 Benjamin Franklin Pkwy Philadelphia Museum of Art's East Terrace steps, facing the Benjamin Franklin Parkway

View more attractions

Restaurants & Dining

16th Street and the Benjamin Franklin Parkway
Philadelphia, PA 19102
(215) 735-9797
Website

View more Restuarants & Dining
Find us on Facebook