DesignPhiladelphia
Philadelphia's city-wide celebration of design and innovation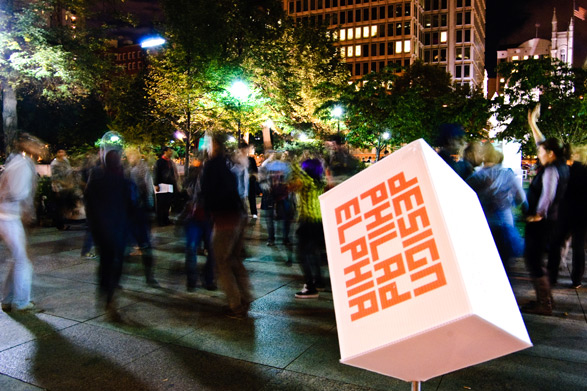 Description
Dates
October 9-17, 2014
Overview
Every fall, the city celebrates the historic role of design in the region while showcasing the innovation yet to come during DesignPhiladelphia. The annual city-wide festival, one of the largest of its kind in the nation, highlights Philadelphia's vibrant creative culture.
During the nine-day festival, approximately 200,000 people are estimated to explore the world of design during more than 120 events held throughout the city. DesignPhiladelphia aims to celebrate and promote Philadelphia a design capital and destination.
More than 400 artists, professionals and students alike, will be represented in practically every design discipline, including automotive, product and interior design, graphic design, architecture, multi-media and urban planning. Events included exhibitions, lectures, workshops and demonstrations to help shine a light on the city's design scene and history.
Most events are free and open to the public.
For more on DesignPhiladelphia and complete listing of events, click the button below.
PATH: http://www.uwishunu.com/tag/design-philadelphia/feed/image/
October 18, 2013The DesignPhiladelphia Festival Wraps Its Annual City-Wide Showcase Of Artists And Designers Tonight, Friday, October 18

October 9, 2013Tonight Picks: Kick-Off Party For DesignPhiladelphia, Free Music At The Kimmel Center, Shacktoberfest At Shake Shack And More

October 9, 2013Reminder: DesignPhiladelphia Kicks Off Tonight With Pop-Up Place, A Cocktail Party And Benefit Showcasing Interactive Design, Live Music And More, Tonight, Wednesday, October 9

October 7, 2013The DesignPhiladelphia Festival Returns This Week With 120 Events At Venues Throughout The City Showcasing Hundreds Of Artists And Designers, October 10-18

September 5, 2013Roundup: A Guide To The More Than 50 Late-Summer And Early-Fall Festivals Coming Your Way In Philadelphia

Uwishunu covers everything fun and exciting happening in Philadelphia — read it daily for the latest on restaurants, bars, events, festivals, arts, music, hotels and more.
Details
Get Directions
(Multiple Locations)
320 South Broad Street
Philadelphia, PA 19102
Website
Visit Official Website
Find us on Facebook