First Friday
Monthly open house for galleries in Philadelphia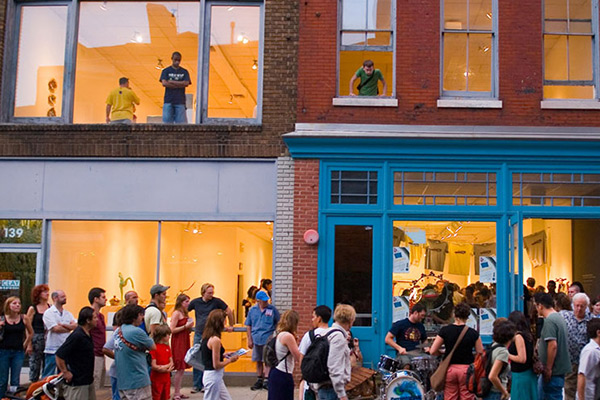 Description
When
The First Friday evening of each month, rain or shine, year-round. Hours: 5 to 9 p.m.
Where
A large number of galleries can be found between Front and Third, and Market and Vine Streets.
The Experience
Want proof of Philadelphia's happening art scene? On the first Friday evening of every month the streets fill with art lovers of all kinds who wander among the neighborhood's 40-plus galleries, most of them open from 5 until 9 p.m.
A casual atmosphere encourages art and people watching, eating at Philadelphia's fantastic restaurants and just plain mingling. There's diversity both in the crowd and among the galleries, adding flavor to the experience. Most galleries can be found between Front and Third, and Market and Vine Streets.
History
Started in 1991 by a group of galleries as a collaborative open house evening, First Fridays grew quickly into one of Philly's most vital, signature cultural events. Old City's historic commercial buildings have fostered a SoHo-like cultural ambience with the densest network of galleries in the city.
Some of the arts organizations you can visit on First Fridays include the Clay Studio; the Temple Gallery; the cooperative galleries Nexus, Highwire, Muse and Third Street Gallery; and collaborative Space 1026.
Gallery Information
To learn what galleries are having receptions on a given month, you'll want to check out the special First Friday page on PhillyFunGuide.
Also be sure to check out the First Saturday activities as well.
Insider Tip
Bird Park, a pocket park on Third Street just below Arch, features changing installations by sculptors invited by nearby Gallery Joe. View, converse, relax – it's free.
And after you hit the galleries, don't miss out on the superb dining and nightlife that Old City has to offer. The neighborhood is filled with great restaurants, bars, lounges and cafes — Amada, Buddakan, Farmicia, Continental, Fork and Cuba Libre are but a few of the great spots at which to enjoy dinner, drinks, good company and more.
PATH: http://www.uwishunu.com/tag/first-friday/feed/image/
December 5, 2013Our Top Picks For Celebrating First Friday In Philadelphia With Live Music At The Barnes, A Philly-Themed Party In Old City, S'Mores In Graduate Hospital And More On Friday, December 6

October 31, 2013Our Picks For Celebrating First Friday In Philadelphia With Art Openings, Free Music, Festive Soirees And S'Mores On Friday, November 1

October 29, 2013Art In The Age Launches A Brand-New Line Of Philadelphia-Inspired Apparel And Accessories At Its Old City Boutique This Friday, November 1

October 28, 2013The National Constitution Center Celebrates First Friday With $5 Admission, Extended Hours, Free Drinks And More, Friday, November 1

October 4, 2013Celebrate First Friday, October 4, In Neighborhoods Across Philadelphia With Art Openings, A Film Screening, StorySlams And S'mores

Uwishunu covers everything fun and exciting happening in Philadelphia — read it daily for the latest on restaurants, bars, events, festivals, arts, music, hotels and more.
Details
Get Directions
230 Vine Street
And locations throughout Old City
Philadelphia, PA 19106
(215) 625-9200 / (800) 555-5191
Website
Neighborhood:
Related Tags
In the neighborhood
Accommodations

14 N. Front Street
Philadelphia, PA 19106
(215) 922-7600
Website

View more hotels

Museums & Attractions

143 South 3rd Street
Philadelphia, PA 19106

View more attractions

Restaurants & Dining

117-121 Chestnut Street
Philadelphia, PA 19106
(215) 625-0855
Website

View more Restuarants & Dining
Find us on Facebook