Independence Day Parade
Patriotic celebration in America's birthplace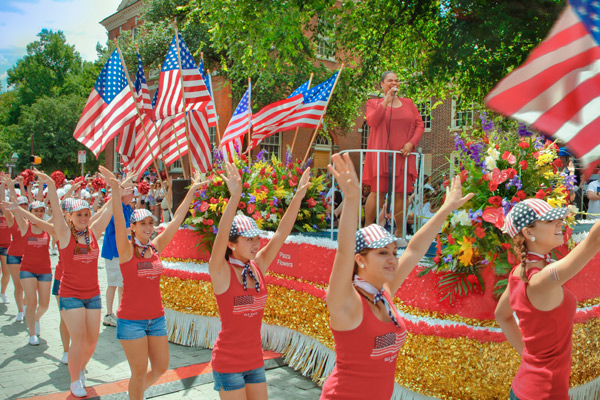 Description
Date:
July 4, 2013
10 a.m. – 2 p.m
Details: Parade starts at 5th and Chestnut Streets; ends at Front and Market Streets.
PLEASE NOTE: All fireworks shows and events are scheduled rain or shine. In case of inclement weather, follow @July4thPhilly on Twitter and Wawa Welcome America on Facebook for up-to-the-minute information.
Celebration of Freedom Ceremony
Time: 10-11 a.m.
Independence Day in Philadelphia begins with a morning of patriotic music, speeches and readings from the Declaration of Independence. This year's ceremony will honor the 150th anniversary of the Emancipation Proclamation and the 50th anniversary of the Civil Rights Movement.
Independence Day Parade
Time: 11 a.m. – 12:30 p.m.
The Wawa Welcome America! Independence Day Parade is bigger and better than ever in 2013 with more than 5,000 participants from a dozen states. The parade kicks off at 11 a.m. and features marching musical groups, floats, military branches and special guests marching through the nation's most historic square mile.
Let Freedom Ring
Time: 1-2 p.m.
The morning celebrations conclude at 5th and Market Streets with the symbolic tapping of the LIberty Bell. Tip: Arrive at the Liberty Bell Center by 1:30 p.m. to view the bell tapping.
Details
Get Directions
Parade begins at 5th and Chestnut Streets
Ends at Front and Market Streets
Website
Neighborhood:
In the neighborhood
Accommodations

201 S. Columbus Boulevard
Philadelphia, PA 19106
(215) 928-1234
Website

View more hotels

Museums & Attractions

104 S. 5th Street
Philadelphia, PA 19106
(215) 440-3442.
Website

View more attractions

Restaurants & Dining

21 S. 5th Street
Philadelphia, PA 19106
(215) 625-0300
Website

View more Restuarants & Dining
Find us on Facebook