Manayunk Arts Festival
One of the largest outdoor arts festivals in the region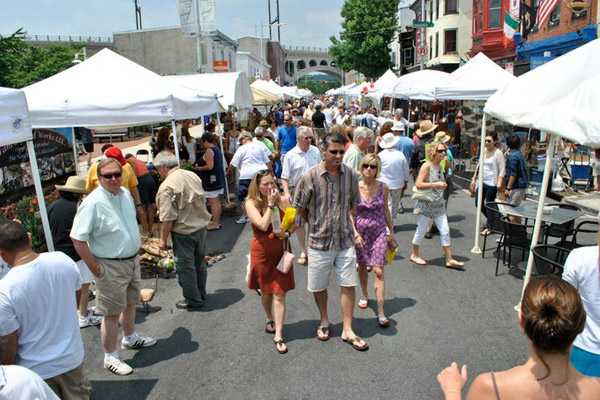 Description
Dates:
June 21-22, 2014
The Experience
One of the largest outdoor arts festivals in the Delaware Valley, the Manayunk Arts Festival draws thousands of people to its historic Main Street for a two-day festival of arts, crafts, music, food and more.
Celebrating its 25th anniversary, the region's largest outdoor, juried arts festival features more than 275 artists from across the country.
In addition to the exhibit areas, Manayunk's award winning restaurants will be serving up delicious dishes and specials while various vendors will supply plenty of traditional festival foods.
The unique shops, galleries and boutiques — that line Main Street and provide for a great shopping experience every day of the year — will also be open throughout the festival.
What's more, there will even be plenty of entertainment and fun activities for kids.
PATH: http://www.uwishunu.com/tag/manayunk-arts-festival/feed/image/
June 19, 2013Our Guide To The 2013 Manayunk Arts Festival With More Than 300 Artists, Food Trucks, Shopping And More This Weekend, June 22-23

June 20, 2012Our Guide To The 2012 Manayunk Arts Fest, June 23-24, Taking Over 10 Blocks Of Main Street With 300+ Artists, Food, Shopping And More

June 19, 2012Manayunk Development Corporation And Mural Arts Unveil A Cool New Water Sculpture At Canal View Park Called "Escaped Infrastructure," Encompassing 50 Feet Of PVC Piping And An LED Light Display

June 23, 2011Reminder: The Annual Manayunk Arts Festival Returns This Weekend With Two Days Of Arts, Crafts, Music, Food And Entertainment, June 25-26

Uwishunu covers everything fun and exciting happening in Philadelphia — read it daily for the latest on restaurants, bars, events, festivals, arts, music, hotels and more.
Details
Get Directions
Main Street and Levering Street
(Festival is along Main Street from Carson to Shurs Lane)
Philadelphia, PA 19127
Website
Neighborhood:
Visit Official Website
In the neighborhood
Museums & Attractions

22nd Street and Benjamin Franklin Parkway
Along Benjamin Franklin Parkway
Philadelphia, PA 19109
(215) 988-1707
Website

View more attractions

Restaurants & Dining

4120 Main Street
Philadelphia, PA 19127
(215) 482-8220
Website

View more Restuarants & Dining
Find us on Facebook