PECO Multicultural Series at Penn's Landing
A series of festivals that celebrate the city's diversity all summer long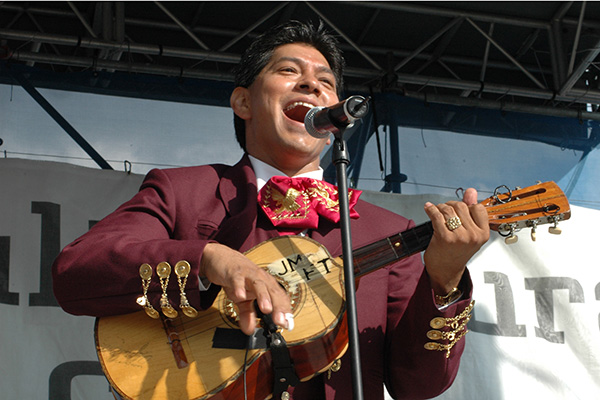 Description
You don't have to go overseas for a taste of all the world cultures that make Philadelphia such a diverse and interesting city. Just head over to Penn's Landing for its PECO Multicultural Series, a succession of outdoor festivals that celebrate cultural traditions from across the globe.
The PECO Energy Multicultural Festival season runs on weekends all summer long.
What could be better than enjoying some amazing salsa performances on the banks of the Delaware River? Or how about savoring authentic dishes from the Caribbean, Ireland or Mexico?
Now in its 15th year, the PECO Multicultural Series features free events at Penn's Landing throughout the summer. So check out the schedule, call some friends and get down to Penn's Landing to experience some of the many cultures that thrive in the vibrant communities of Philadelphia.
Multicultural Series Calendar
(All events at the Great Plaza unless noted)
Irish Festival
Sunday, June 2
Noon-8 p.m.
Celebrate all of Ireland's cultural gems, from music to dancing to food. Enjoy performances from notable Irish musicians, famous dance schools, bagpipers, and of course, traditional foods like shepherd's pie and bangers and mash. Browse the outdoor shops for authentic and traditional Irish goods.
Islamic Heritage Festival
Saturday, June 8
2-8 p.m.
The Islamic Heritage Festival and Parade begins with the Unity in Diversity Parade through the Historic District, Old City, ending at Penn's Landing. Following the parade, the 21st Annual Islamic Heritage Festival will kick-off with family-friendly games, face painting, boat rides, a health & wellness fair, free giveaways, entertainment, speakers, and a global open market bazaar. Enjoy performances from jazz artist Jamaladin Tucoma, sensational World Champion UPK Pasha Generals and the Universal African Dance and Drum Ensemble, Ebony Khan, Khalil Ishmael, Moses the Comic, the AICP Madiah Islamic chores group, Miss Unda-stood female Muslim rap artist, Blessings, and Mahogany- female R&B vocalists.
Finns and Swedes in America Since 1638
Saturday, June 15, 2013
Noon-6 p.m.
Finns and Swedes in America Since 1638 Festival is a family-friendly celebration of Finnish and Swedish music, culture and food. Enjoy the sounds of Finnish pop and folk groups all day long. Participated in traditional Scandinavian games, enjoy food and gifts, and take a tour aboard a docked replica of the ship that brought Finnish and Swedish settlers to the Delaware Valley. Later in the evening, the Independence Seaport Museum will host a Jubilee Symphonic Concert with musicians from Philadelphia, the Delaware Symphony, and Finland, led by maestro David Amado and featuring Finnish pianist Marja Kaisla as the soloist. The evening will end with a traditional Scandinavian bonfire floating on the Delaware River.
Portuguese Festival
Sunday, June 16, 2013
1-7 p.m.
Experience Portuguese customs and culture through traditional music, folklore, and food. This year's festival features six International Portuguese Music Award
nominees, the ceremonial Raising of the Flag, revolutionary arts and crafts, four folklore dance groups, Ednilson Santos Capoeira Group, traditional costumes, and the blessing of the Gazela. Musical performers include Priscilla Paige, Six Behind Wednesday, Xaque, Philadelphia's own Sierra Hurt, along with Hejira, The Black Mamba, and Frankie Chavez directly from Portugal.
Hispanic Fiesta
July 13-14
2-8 p.m.
One of the region's premier Latino events attracting more than 15,000 people, the Hispanic Fiesta at Penn's Landing is a celebration to unite and raise awareness of Latino culture and community. Enjoy music, dance, entertainment, ethnic foods, and artisan crafts from nearly all Latin American countries. Performances will include various Latin dance groups, a Youth Dance Competition sponsored by Goya, a vignette from Broadway's In the Heights, Latin folkloric dance, merengue sensation Tony Tun Tun and salsa favorite Tony Vega.
ACANA Festival
Saturday, August 3
2-8 p.m.
The 6th annual African Festival hosted by The African Cultural Alliance of North America Inc. (ACANA) is proud to host the 6th Annual African Festival brings artists, groups, and dance troupes from around the African continent to perform at Penn's Landing. The Festival provides a wide range of African entertainment including traditional dance performances, modern Afropop and Reggae musical performances. Dine on delicious African food and shop for traditional and modern clothing, arts and crafts.
Southeast Asian Dragon Boat Festival
Saturday August 10
12-8 p.m.
Honor the rich cultural heritage of the people of Southeast Asia with traditional Dragon Boat Racing celebrating both the Water Festival holiday and the use of these boats for maritime and naval activities. The RiverStage will come alive with Southeast Asian-inspired traditional entertainment as well as contemporary and non-traditional performances.
Festival of India
Saturday, August 17
1-7 p.m.
The annual Festival of India hosted by the Council of Indian Organizations (CIO) of Greater Philadelphia celebrates India's Independence Day while highlighting the vibrant Indian American community. Now in its 20th year, the free festival is a colorful panorama of art, music, dance, and cuisine.
Caribbean Festival
Sunday, August 18
Noon-8 p.m.
Celebrate the culture, music, and food from 14 Caribbean islands during the 27th annual Carribean Festival at Penn's Landing. Benefiting college students of Carribean descent, this year's festival will feature a Caribbean workshop, a children's corner, a marketplace and music by the Philly Pan Stars Steel Ban.
Mexican Independence Day Festival
Sunday, September 15
1-7 p.m.
Celebrate Mexican Independence with music, food, dancing, and more. Browse traditional arts and crafts, dance with Mexican rock bands and enjoy face painting and giveaways during the popular event at Penn's Landing.
For more information on all upcoming events, click the button below.
Details
Get Directions
101 Columbus Boulevard
The Great Plaza at Penn's Landing
Philadelphia, PA 19106
(215) 922-2FUN
Website
Find us on Facebook