PHS Pop Up Garden
Temporary outdoor escape in the city's vacant spaces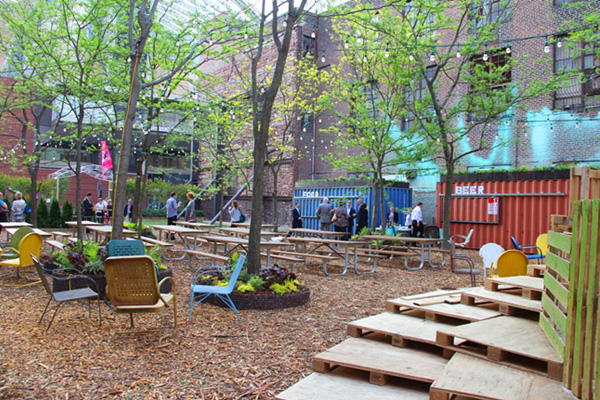 Description
Dates:
Through October 2013
Overview
The Pennsylvania Horticultural Society's annual Pop Up Garden returns for its third year, transforming a forgotten outdoor area into a gorgeous, landscaped community space.
For 2013, the PHS is creating a literal beer garden on South Broad Street on the campus of the University of the Arts. The space, located across the street from the Kimmel Center for the Performing Arts, is a refreshing escape with lush landscaping and an on-site beer garden and restaurant.
The picnic-inspired menu, created by the Garces Group, features savory sandwiches including house smoked turkey with red onion marmalade, a South Philly hot dog and a chipotle short rib topped with a buttermilk fried onion. Lighter options include a grilled veggie sandwich, salads, fresh fruit and more. Don't forget dessert, especially with incredible pies in a jar and ice cream sandwiches.
Quench your thirst with local craft beer from Philly favorites Victory Brewing Company, Yards Brewing Company and Philadelphia Brewing Company and non-alcoholic refreshments including iced coffee and tea, lemonade and cucumber mint water.
In addition to the serene surroundings and satisfying menu, visitors can expect occasional impromptu performances and exhibitions of music, dance, theater, sculpture, photography and other visual arts by both undergrad and graduate UArts Students.
But just like the leaves on the vibrant trees, the PHS Pop Up Garden will disappear in the fall.
Hours
PHS hours:
Monday-Friday: 11 a.m.-2 p.m.
Beer Garden:
Monday-Thursday: 5-10 p.m.
Friday-Saturday: 1-11 p.m.
Sunday: noon-10 p.m.
PATH: http://www.uwishunu.com/tag/phs-pop-up/feed/image/
February 14, 2014Reminder: A Winter Edition Of PHS' Pop-Up Garden Opens Today With Yards Brews, Warming Tents And Free Flower Show Tickets For The First 50 Visitors

February 11, 2014The PHS Pop-Up Beer Garden Returns To The Avenue Of The Arts For A Weekend-Long Winter Edition With Yards Brews And Warming Tents, February 14-16

October 10, 2013Last Chance! The Pennsylvania Horticultural Society's Pop-Up Garden On The Avenue Of The Arts Closes Tomorrow, Friday, October 11

August 6, 2013Reminder: Quizzo Night Comes To The Pennsylvania Horticultural Society's Pop-Up Garden On The Avenue Of The Arts Tonight, August 6

July 30, 2013The PHS Pop-Up Garden Hosts An Afternoon Of Magic And Interactive Storytelling, This Monday, August 5

Uwishunu covers everything fun and exciting happening in Philadelphia — read it daily for the latest on restaurants, bars, events, festivals, arts, music, hotels and more.
Details
Get Directions
313 S. Broad Street Philadelphia, PA 19107
Website
Neighborhood:
Visit Official Website
In the neighborhood
Accommodations

21 N. Juniper Street Philadelphia, PA 19107
(215) 496-3200
Website

View more hotels

Museums & Attractions

Broad and Spruce Streets
The Kimmel Center for the Performing Arts
Philadelphia, PA 19102
(215) 893-1999
Website

View more attractions

Restaurants & Dining

200 S. Broad Street
Philadelphia, PA 19102
(215) 790-1919
Website

View more Restuarants & Dining
Find us on Facebook